Sophie Of Wessex 'Copies' Meghan Markle By Doing This At Wimbledon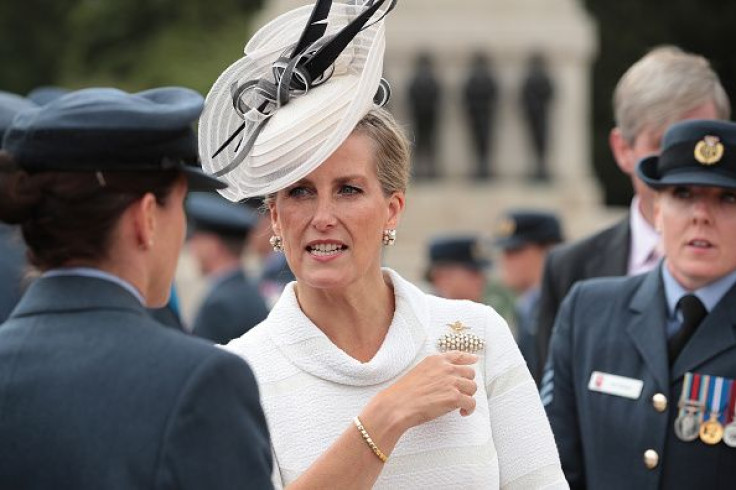 Sophie, Countess of Wessex, may have just copied Meghan Markle's style at this year's Wimbledon.
The 53-year-old was photographed in her blue jumpsuit designed by Emilia Wickstead. Her attire, which was pleated on the legs and nipped at the waist, reportedly costs over $2,600.
Markle also wore a dress designed by Wickstead in Dublin on Wednesday night. Even though she and Sophie weren't together at Wimbledon, royal fans were convinced that Sophie was inspired by the Duchess of Sussex's fashion. The mom of two also chose the same designer to create a jumpsuit for her when she attended the Royal Ascot.
Last month, Sophie also made headlines after it was reported that she was snubbed by Queen Elizabeth II. Francesca Specter, a journalist for Express, claimed that the Queen once considered Sophie as her favorite female royal. However, the British clan now includes Kate Middleton and Markle, who are the wives of the Queen's grandsons.
According to the journalist, the Queen snubbed Sophie at the Royal Ascot when she didn't greet her and Prince Edward on their 19th wedding anniversary. The royal couple's special day fell on the same day as the Royal Ascot, and the Queen was preoccupied at the horse-racing event.
Typically, the royal family will post a greeting addressed to Sophie and Prince Edward via their official Twitter accounts. However, they were unable to do so this year.
Sophie once again became the talk of the town after she shared a sweet but hilarious moment with Markle at the Royal Ascot. The two women rode the same carriage to the Buckingham Palace, and Sophie was attacked by a bug. Markle immediately came to her rescue and comforted her by tapping her shoulder. Prince Harry's wife reportedly asked Sophie if she was feeling well after the incident.
© Copyright IBTimes 2023. All rights reserved.