Sports On Snapchat: How 2015 Became The Year NBA, NFL, MLB, NHL Snapped Stories To Millennials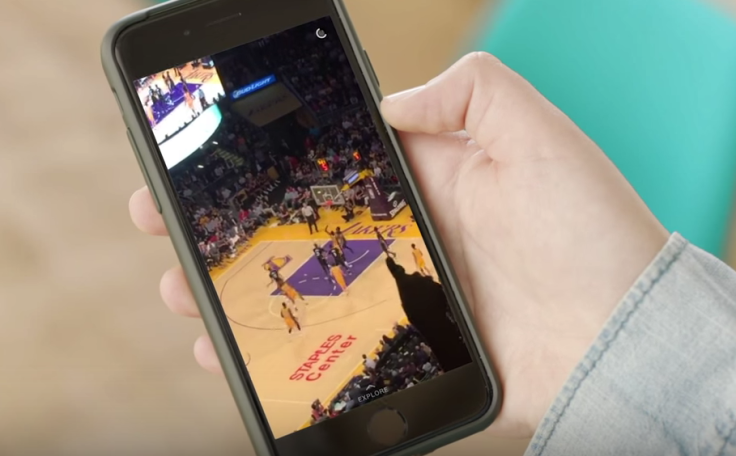 After Thanksgiving feasts, families across the U.S. may flip on the TV and tune into one of three NFL games that air that day. But millennials may not run to the tube: They're probably already following the game under the table on Snapchat.
In the four years since Snapchat burst on the scene as a one-to-one ephemeral messaging app, it has evolved into a mobile media platform. "I feel like it's almost completely different," Christopher Hong, 25, an analyst at Nielsen Company who first downloaded the app in 2012 during college, said.
All the major U.S. sports leagues have embraced Snapchat "Stories," the stitched-together videos from friends and celebrities organized around topics. In September, the NFL inked a one-year deal with Snapchat to run weekly content as well as split revenue on advertising, joining the MLB, NHL, NBA, PGA and the NCAA. The partnerships are helping Snapchat grow as a content hub and earn ad revenue. The leagues in tow are tapping into a new revenue stream and gaining more exposure among young viewers.
For Hong, one of more than 100 million daily Snapchat users, Snapchat has become a go-to source for sports. "The Stories do a good job of capturing a key moment of the game but from different vantage points, from someone on the sidelines or for the NFL draft they had snaps from actual players," he said.
While even advertisers have a hard time getting real data from Snapchat, the signals are compelling. Snapchat is a "direct conduit into a highly engaged younger audience," Melissa Rosenthal Brenner, NBA's senior vice president of digital media, said. "As a proof point, half of our social media actions for tip-off came from Snapchat." And now the NBA, and other major leagues, are shooting for more.
The First Draft
Andrew Patterson, MLB Advanced Media's senior director of new media, said the league's partnership with Snapchat grew out of the fact they were using it. "We're social people ourselves. We're avid users. Before Snapchat was a business, it was a personal platform," he said.
But it wasn't until a couple years later that Snapchat took a prominent role in the leagues' conversations around social strategy. "We first started brainstorming about Snapchat in 2013. Around then there was a lot of press, and we had people using it personally," Morgan Dewan, the senior director of social media for Turner Sports, said.
In 2013, Snapchat was still new. Users and views were still below the levels of Facebook and Twitter. Advertising options were nonexistent. The content itself -- live, vertical video that fits phones -- was something that the leagues weren't familiar with. "Because Snapchat has to be shot -- and I use the word shot in quotations -- it requires a different type of content production mentality and access," Dewan said.
By 2014, the leagues were all in. The NBA created and promoted its own account on February 13, 2014 and shared behind-the-scenes shots from the All-Star Game in New Orleans, Louisiana.
Just days later, the MLB signed on. Discussions had begun in 2013 following the World Series. "In the off-season we think about what platforms we should be on and what we want to do. Snapchat seemed like a natural fit," Patterson said. The NHL's and the NFL's accounts came soon thereafter.
A Big Play
The game changer was the introduction of "Our Stories" in 2014; no longer did Snapchat users have to follow an account to get content. Now, Stories have become a centerpiece of the app -- literally since July -- and the strategy for the leagues. On average, Snapchat's Live Stories pull in between 10 to 20 million unique viewers. The NBA has worked with Snapchat on 12 Stories. The NHL has had three. The MLB had partnered with Snapchat for Derek Jeter's final game at Yankee Stadium in September 2014 and again for Opening Day in April 2015.
Before the NFL inked its own partnership, MLB signed a deal that brought weekly content -- called "MLB Wednesdays" -- to Snapchat. "We saw the number of people that were not only viewing but submitting," MLB's Patterson said. "What's great about Snapchat is telling the narrative of fans around the game. There's a story happening on the seats."
Snapchat's latest update now allows Stories to show even more fans' content. A new feature called Story Explorer lets Stories show multiple photos or videos related to one moment. Snapchat's 35-second video about the feature concludes with five seconds of sports content.
Prior to Explorer, Snapchat users were more in competition for selection around a specific moment. "I've submitted but never been selected. I guess they don't think my clips are cool enough," Hong, the Snapchat user, said.
Fans also competed for cell phone signal. Patterson pointed to cell phone reception as one of the barriers for the league embracing Snapchat. MLB shelled out $300 million to bring Wi-Fi and a distributed antenna system to every baseball stadium.
Each partner works with Snapchat to provide graphics, flag certain accounts to follow for submissions and note potential moments to capture. Leagues must also collaborate with Snapchat on exactly what games to include. Snapchat has a calendar of Live Stories to control how much they put in front of a user and how much the staff can monitor.
"We don't have NHL employees at every game," said John Pacino, NHL's VP of content strategy. "Snapchat can source any content that they want, but in order to leverage our brand we entered an agreement with them … We continue to work with Snapchat to pick different games."
New Line-Up
Even so, Snapchat is increasingly getting competition from the other social networks, most notably Twitter. "If you had asked three months ago, I would say we have an ecosystem of content. Each platform offers a very unique point of view for fans. I think those lines are increasingly blurred now," said the NBA's Rosenthal Brenner.
Interactive, user-generated stories are no longer just on Snapchat. In October, Twitter introduced Moments. The struggling social network chose MLB, with the World Series, as a launch partner. The NHL secured the second sponsored Moment and has continued to create Moments. "We know how important each one is," said NHL's Pacino. "There's obviously overlap, but we try get our players in front of all our fans, whether it's through Twitter or Snapchat."
The plays of the week in the NHL

Snapchat Stories and Twitter Moments may overlap in topics, but the content does differ. Snapchat is the "things that happen in the moment. Things that are more casual," MLB's Patterson said. "With Snapchat, you capture it and if the phone goes down for a second, and it comes back up, that can be there."
For Moments, leagues can have video content, not taken from a smartphone, on the feeds. For Live Stories, Snapchat also has the final say over the narrative. "One of the cool things about Twitter Moments is that they're releasing a tool to help you string [tweets] together. Brands and publishers can help control that narrative," Turner Sports' Dewan said.
Yet, Snapchat does have an opportunity for editorial control: Discover. With the edition of Vox on Monday, Snapchat in the United States now has 15 publishers creating exclusive, daily content for the mobile app. NBA's Rosenthal Brenner said, "In full transparency what I'm asking for is probably what every media companies is asking for: a channel on Discover."
In a world of unlimited resources, NHL's Senior Manager of Social Media Sean Dennison shared the longing for Discover, "Permanent placement in an app that has millions of users? We're obviously interested."
© Copyright IBTimes 2022. All rights reserved.
FOLLOW MORE IBT NEWS ON THE BELOW CHANNELS