Snapchat Adds Weekly Baseball Channel With MLB Partnership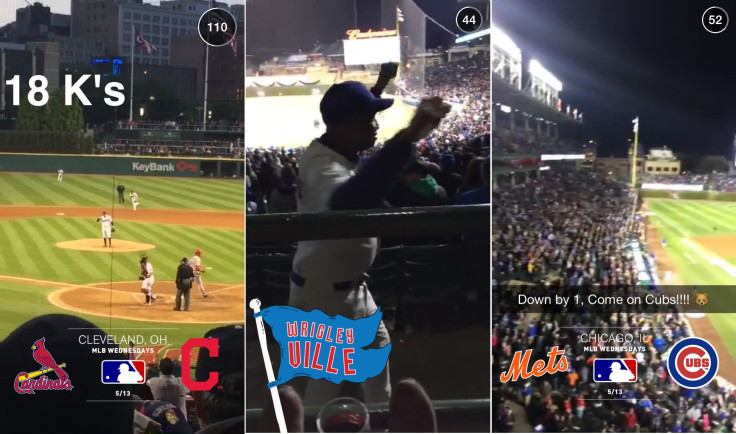 Snapchat is now a destination for baseball footage and commentary. The popular disappearing photo and video messaging app has partnered with Major League Baseball Advanced Media to create weekly shows with contributions from players, commentators and fans.
The content will appear as a video in the app's main feed, accessible to all of Snapchat's reported 200 million users. These are known as Snapchat "Stories" and appear in the app's "Live" section, below where users can see recent updates from the people they follow.
The first MLB story appeared Wednesday, featuring videos from several games, including the Nationals-Diamonds, Mets-Cubs, Cardinals-Indians and Marlins-Dodgers. Like all Snapchat Stories, these posts are available for 24 hours. The video series is currently titled "MLB Wednesday," but videos may also appear on Thursdays, the Wall Street Journal reports.
MLB began using Snapchat early in 2014 with accounts for each of the teams. In order to see the content, Snapchat users had to follow these accounts. Now, through this partnership, content is pushed to all users. Snapchat Stories have been created by other networks, including the National Football League and the National Hockey League. And iHeartMedia has repeatedly teamed up with Snapchat to show footage from concerts and events.
These partnerships are currently free and do not feature advertising, for now. As of April, Snapchat, based in Venice, California, is no longer selling Branded Stories where networks can pay to be featured, Re/code reports.
This partnership with MLB represents Snapchat's first entry into its own weekly programming. The app currently offers daily content from media companies, including ESPN, CNN and Vice, through its Discover network. But it is expected that Snapchat will soon offer more news commentary, as the company has hired former CNN national political reporter Peter Hamby as head of news.
© Copyright IBTimes 2023. All rights reserved.