Snapchat Update Story Explorer Adds More Algorithms, Reporting To Mobile App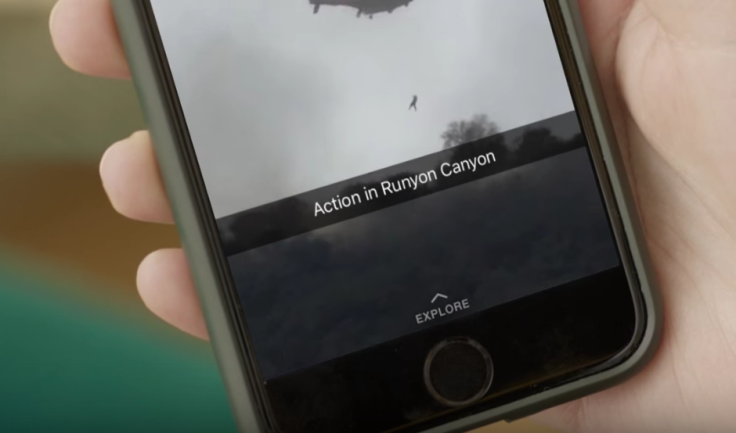 Snapchat is not leaving humans behind, but it is relying more on computers. As the company has grown from a disappearing-message app to a "mobile storytelling platform," Snapchat has added more algorithms for creating, and monitoring, its own content.
The privately held company's latest feature, called Story Explorer, is a setting that will let Snapchat users swipe down for more perspectives of the same moment within a Live Story; it will rely on users and new technology to select submissions as well as monitor for inappropriate content. "Story Explorer relies on technology developed by our research team to provide more depth to every Snap in a Story," Snapchat wrote in the announcement on its blog.
As the Los Angeles Times reported, "Since workers don't prescreen Story Explorer, users are asked to report inappropriate content, including violent or sexually explicit images, by holding down on a video."
Previously, Snapchat Live Stories were purely stitched-together moments overseen by a team of human curators. These chosen stories were curated by the Snapchat team, in collaboration with the event coordinators. For example, for Live Stories from the iHeartRadio music festivals, the mass media company told Snapchat to flag certain accounts in its content management system, iHeartMedia's Chief Product Officer Chris Williams told International Business Times in July.
Snapchat CEO Evan Spiegel has repeatedly spoken of the vital role of the human editor. "There's a sort of weird obsession with the idea that data can solve anything," he told Bloomberg in May. "I really haven't seen data deliver the results that I've seen a great editor deliver."
Spiegel also cited "strong editors" as helping create the best content on Snapchat's Discover network. "One of the things we said that was really different was, we said that editors are really important. … We've seen channels with really strong editors outperform other channels," he said at the Cannes, France, advertising festival in June, according to VentureBeat.
Editors still have a part in selecting the stories and moments that could become a part of Story Explorer, yet the algorithms -- and the data -- are expanding. Reuters reported Friday that some ad agency executives are frustrated by the lack of data on performance. "If Snapchat doesn't get that figured out, they're in trouble," Nick Godfrey, chief operating officer at RAIN, told Reuters. Now, Story Explorer lets Snapchat and creators learn from what moments are the most valuable, given the number of views.
While for some companies, introducing more algorithms eliminates human jobs, adding more opportunities for content can mean bringing on more staff. Anonymous app Whisper employs more than 130 people to monitor the activity of 10 million active monthly users. Snapchat declined to disclose to IBT if it brought in new hires for the feature and if these moderators are all in-house.
Competing For Content
Snapchat now boasts more than 6 billion video views per day, and clearly, Story Explorer could expand that count and also help compete with Twitter's Moments feature. For comparison, Facebook touts 8 billion video views daily, the company reported in November. Snapchat claims more than 100 million daily active users.
Giving Snapchat users more opportunity to contribute also comes with more responsibility to report and more risk for Snapchat. Indeed, Facebook and Twitter repeatedly deal with false reports based on algorithms. For example, Facebook's monitoring system failed to identify a death threat to comedian Hari Kondabolu as a violation of its community standards.
But Snapchat says it has faith in its users. "Our community makes this possible by sharing Snaps in the moment and contributing so many diverse perspectives - a huge thank you to Snapchatters everywhere for making this dream a reality," the company wrote in Monday's blog post.
At Cannes in June, Spiegel had said, in regards to targeting ads, "We care about not being creepy. That's something that's really important to us."
© Copyright IBTimes 2023. All rights reserved.
FOLLOW MORE IBT NEWS ON THE BELOW CHANNELS