The Stanford Experiment: Juggling The Mommy Track With A Doctor's Career; Most Women Can't Do Both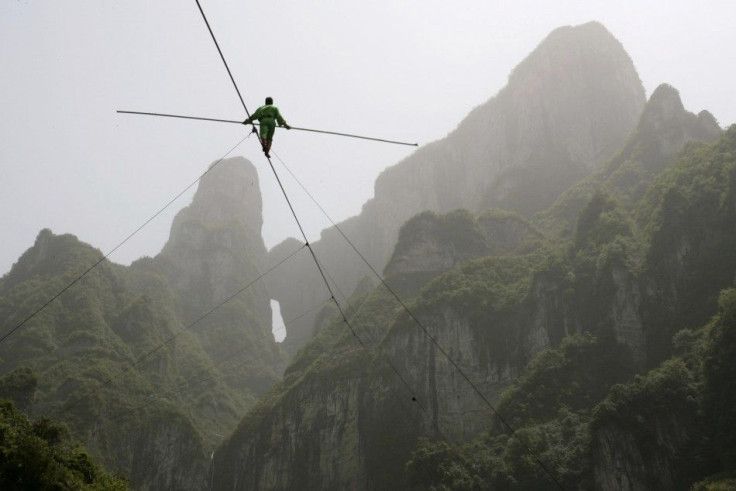 Alexandra Pucsek had long felt that she wouldn't start a family until she was well into the beginning of her career.
But three years after graduating from Harvard University with a degree in biology and while working as a laboratory technician, Pucsek extended this time frame significantly. She decided to go back to school and earn the dual doctor of medicine and doctoral, or M.D./Ph.D., degree in oncology, which would mean at least eight more years of school. Pucsek, 25, knew she would have to hold off even thinking about having a child at least until she was in a residency program.
"I imagine we will be having our first kid while I'm in a program somewhere," said Pucsek, who got married last February and is now studying for the Medical College Admission Test. "We definitely wouldn't have children until I was admitted to a program and we were stationed somewhere for the eight or nine years that would take. It's a daunting thing to think about having kids before residency."
The dual M.D./Ph.D. degree is among the most rigorous academic tracks -- and it is especially difficult for a young woman with plans to have a family in her 20s or early 30s. Given the long days in classrooms, hours on the job during residency, dissertation requirements, research, teaching, the pressure to publish, and the struggle to achieve tenure, when is there time to have and raise a child?
The answer that many women doctors and professors have found is, well, "Never" -- and some opt to drop their pursuit of a tenured teaching or research position at a university in favor of their family, strangling their career hopes and depriving top universities and laboratories of a substantial portion of the talent pool.
"We have internalized this idea of what it takes to be successful in this field, and that's by staying on this particular straight, upright path, and any deviation from that path means suffering a terrible disservice to your career," said Dr. Hannah Valantine, a physician and professor at the Stanford School of Medicine.
Indeed, the decision by many women to choose family over profession is not just limited to medicine: Virtually all women on the academic tenure track face the same challenge. This is clearly shown in the skewed employment ratios at Stanford University, which has one of the more gender-equal faculties in the U.S. As of September 2011, only 26.4 percent of the school's faculty members were female, and women made up only 21.3 percent of tenured faculty, according to the Stanford Faculty Development and Diversity Office.
Some of this disparity may be the result of discrimination against women, particularly in the sciences, which only makes the situation more untenable for female Ph.D. candidates who are postponing having children until they are tenured. In choosing to initially pursue their careers, they could very well be heading toward a dead end.
"It's kind of like other forms of discrimination that are no longer socially accepted," said Jessica Green, 36, an assistant professor of political science at Case Western Reserve University. "You don't see out-and out blatant statements of 'You can't do this because you're a woman,' but it's there."
Green just gave birth last month and is taking a paid semester off -- a benefit that Case Western extended despite having to offer only 12 weeks of unpaid maternity leave under current federal law. But Green worries that this blip in her career will count against her at her tenure review. "I was allowed to extend the tenure clock," she said. "The question is: When you go up for tenure, do they say, 'Well, she really took seven years instead of six [to complete requirements],' and kind of sotto voce adjust their expectations accordingly?"
"There's no evidence that that will happen," Green added. "The University is very supportive. But you can't help but think about that."
To navigate the tricky terrain of raising a child and maintaining a high-pressure, high-level career in academic or medical research spheres, women are often forced to come up with creative -- though not always fully palatable -- solutions.
For example, Amy Wrzesniewski, an associate professor of organizational behavior at the Yale School of Management who has 3- and 5-year-old children at home and is up for tenure next year, is taking advantage of the flexible hours that academia offers. "Academia is a brutal number of hours, but you get to choose what hours those are," Wrzesniewski said. "The way I worked it out was to work during crazy hours while [the children are] sleeping. For me and a lot of other people, that's been the way we dealt with it."
Other women simply don't take maternity leave. Kaiama Glover, a recently tenured professor of French at Barnard College, said that when her daughter, now 5, was born, she worked right through her legally permissible time off, although she was relieved of her teaching duties.
"I wasn't up for tenure yet," Glover said. "Looking back, I have some regret about not really being on break with the baby because of the stress and working for tenure. When you take maternity leave, the clock technically stops, but as any academic knows, taking time away from your career never really happens. Having the leave does not alleviate the anxiety ... to move quickly."
Similarly, Ashleigh Shelby Rosette, an associate professor of management and organizations at Duke University's Fuqua School of Business, said she cut her teaching load when her twins, now 4, were born: "But I didn't stop my research. I just kind of slowed down. I think the internal pressure to keep working is far greater than the external pressure. You can't turn it off. The drive you have doesn't just peter out."
And Dr. Laurie Kohen, an attending physician in dermatology at Henry Ford Hospital in Detroit who has a 2-1/2-year-old toddler and a 4-month-old baby, said that she and other women will frequently narrow their choices and gravitate toward medical specialties with more flexible hours to balance home and work demands. "Dermatology is very woman-friendly," Kohen said. "It's easier to see patients on a part-time basis. It's not as easy to do surgery on a part-time basis."
Faced with overwhelming evidence that women are under-represented in top academic ranks and specifically in medical and scientific research and other advanced healthcare professions, Stanford's Valantine decided to tackle this problem head-on.
"Women make up 50 percent of graduates from medical school, but they have less than 20 percent of tenured faculty positions," said Valantine who estimated that even with a concerted effort to improve tenure opportunities for women it could take 28 years to get to a 50/50 gender ratio at full professor rank at Stanford alone. At the national level, she said, it might take 48 years. "We better do something rapidly. If we're not drawing from our entire intellectual capital, we're really not going to be leaders in research and education."
After two years of planning, Valantine and Caroline Simard, a social science researcher and PhD herself, began a pilot program at Stanford this year in which participants will do self-reflection exercises to better define their life goals. After that, each student will work closely with their department chairs to plan their tenure track and careers, with the aim of creating more flexibility and a culture that nurtures it.
"We ask them to imagine what career and life is now, and try to imagine what it might be in three and ten years," Valantine said. "You can say, I'm going gung-ho and working full time right now, but in three years, I would like to back off a little bit on my clinical role and have time to write papers, or have a child."
The initial groups at Stanford Medical School consist of 50 to 60 men and women, divided up by specialization, with between five and 20 people in each team. Importantly, each group is coached on how to talk to their supervisors about their specific home and work balance choices, without feeling defensive or, if they are taking a slower career path, inferior to their full-speed ahead colleagues. Part of the program even involves trying to arrange for baby-sitting services or home delivery of meals if necessary.
"These are the conversations not occurring, they're almost taboo to talk about," Valantine said.
"It's not just a women's issue," she added. "It's a path to excellence."
Editor's note: This piece was updated at 12:27 pm EST to reflect the correct spelling of Mrs. Pucsek's name. It is Pucsek, not Puscek.
This piece was updated at 8:45 am EST on February 28 to correct a factual error. Professor Jessica Green is taking a full paid semester of leave off, not an unpaid leave. More about Case Western's maternity leave policies can be seen here.
© Copyright IBTimes 2023. All rights reserved.