'Star Wars Battlefront 2' Open Beta Begins On Oct. 6; Space Battles Confirmed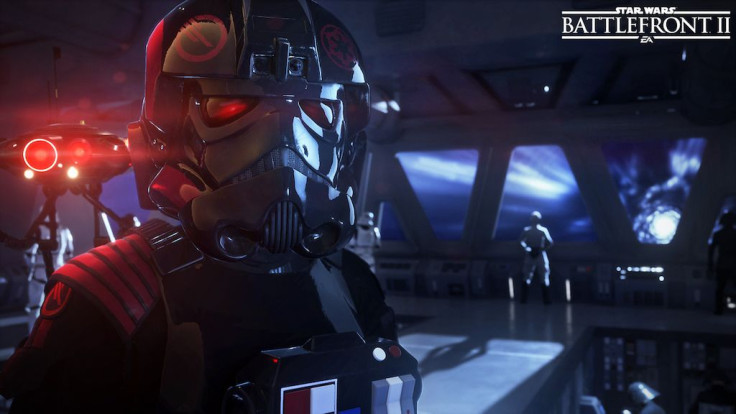 Electronic Arts has announced that the open beta for "Star Wars Battlefront 2" for the PlayStation 4 will begin on Oct. 6. Those who pre-ordered the game will also be able to take part in the beta two days earlier on Oct. 4.
The open beta for "Star Wars Battlefront 2" begins on Oct. 6 and lasts through Oct. 9. EA has confirmed that the open beta will let players take part in the online multiplayer gameplay of the Galactic Assault on Naboo. This is also the same map that was played at EA Play during E3 2017 last month, as pointed out by GameSpot.
Participants will be able to play as Separatist droid or Republic Clone troopers to fight in the streets of Theed and in the palace. This will be a massive 20 vs. 20 online multiplayer mode where the invading team must complete three objectives, while the opposing team tries to thwart them.
The set of objectives in Galactic Assault mode are unique to each planet. On the planet Hoth for example, Galactic Assault will be similar to the Walker Assault game mode from the 2015 "Star Wars Battlefront."
READ: 'Star Wars Battlefront 2' alpha gameplay codes already being emailed to PC players
Participants in the open beta will be able to choose from four different trooper classes: Assault, Heavy, Officers and Specialists. Assault troopers are described as flankers that would be the ones to push the line forward, while Heavy troopers are equipped with high-powered weapons to defend objectives and provide cover for teammates. Officers will be able to provide teammates power ups and deploy remote weapons that can provide assistance, and Specialists are defined as the snipers of the team that can also lay traps for enemies. EA says that players in the open beta will also be able to take control of heroes and pilot vehicles.
The most interesting thing that EA confirmed with its announcement of the open beta for "Battlefront 2" is the return of space battles with Starfighter Assault mode. "We're not sharing all the details around this yet, but we can tell you that you'll be able to take part in an epic starfighter assault set during the original trilogy era, piloting an assortment of Star Wars' greatest ships in an objective-based, multi-stage battle," EA said on the PlayStation Blog.
The publisher also said that it will give out more details about Starfighter Assault for "Battlefront 2" during Gamescom 2017. Gamescom 2017 will take place in Cologne, Germany from Aug. 22 to Aug. 26.
READ: 'Star Wars: Battlefront II': EA expects to ship 14 million units in five months
"Star Wars Battlefront 2" has a scheduled release date of Nov. 17 for the PlayStation 4, Xbox One and the PC. EA and developer DICE have confirmed that the game's DLC maps and characters will be available to everyone for free, but it will have a microtransaction system where players can spend money on extra customization items.
EA hasn't officially revealed the full list of playable heroes for "Battlefront 2," but an alleged leak from last week shows that the game will have 16 playable "Star Wars" heroes. This includes new characters like Rey, Kylo Ren, Captain Phasma and Iden Versio. Versio is also the protagonist of single-player story mode.
© Copyright IBTimes 2023. All rights reserved.
FOLLOW MORE IBT NEWS ON THE BELOW CHANNELS