'Star Wars: The Force Awakens': Billie Lourd, Daughter Of Carrie Fisher, Won't Play A Young Princess Leia In The Movie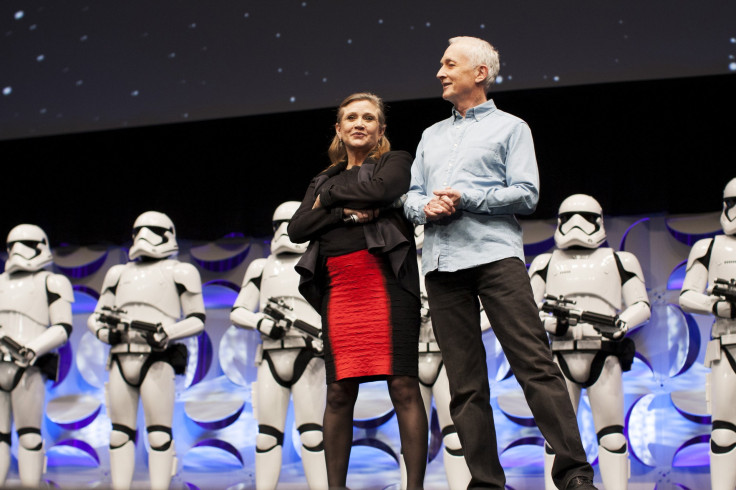 Billie Lourd will not play a young Princess Leia in "Star Wars: The Force Awakens," the actress revealed recently. Fans of the franchise had been expecting to see a flashback scene of a young Princess Leia when Carrie Fisher's daughter was announced as a cast member in the movie.
Princess Leia was played by Fisher in the original "Star Wars" trilogy. In this video posted on Entertainment Tonight's YouTube channel, Lourd said the rumors about her playing a young Princess Leia were a lie. The actress did, however, express interest in playing the character sometime in the future.
"I wish I played a young Princess Leia. Disney, I'm available," Lourd says in the video. The actress did not reveal her actual role in the upcoming movie, citing a contractual obligation requiring her not to disclose details. "I will get arrested if I speak to you about that," she says in the video.
"Star Wars: The Force Awakens" will feature both Fisher and her daughter, but the two actresses have not been seen in the trailers of the movie released so far. Fisher spoke about what it was like for her to return to the popular movie franchise at the recent Star Wars Celebration convention in Anaheim, California. The veteran actress talked about how she did not know about the popularity of Leia among fans until recently. It has been over 30 years since the actress was seen playing Leia. The prequel movies did not feature the character and the last movie of the original trilogy was released in 1983.
When asked about what makes Leia still relevant after so many years, Fisher said that the character was relevant because of the "impact" she had on so many people. "Anyone that I got sort of focused on as a kid, then it would remain that way," she said.
The actress did not reveal any details about her character in "Star Wars: The Force Awakens," nor about whether Leia and Han Solo were still together in the movie after so many years. The romance between the two characters was one of the major elements in the original trilogy.
For questions/comments regarding the article, you may email the writer at s.trivedi@ibtimes.com.au.
Source – YouTube/ Star Wars
Source – YouTube/ Star Wars
© Copyright IBTimes 2023. All rights reserved.