'Star Wars: Old Republic' Arriving on Dec. 20 [VIDEO]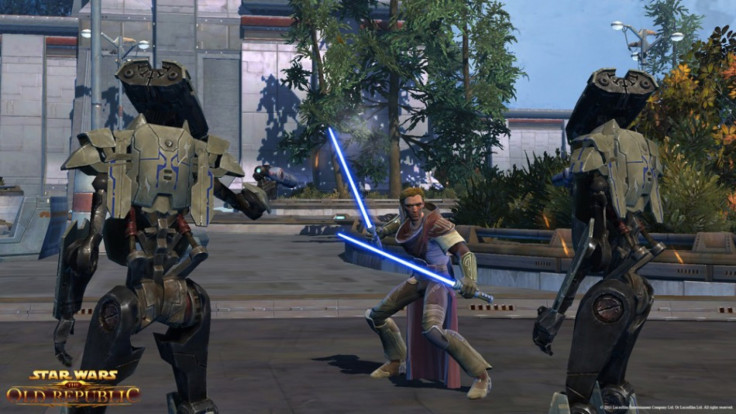 BioWare and LucasArts have announced that the upcoming Star Wars MMOG (massively multiplayer online game), Star Wars: Old Republic will be officially debuting in North America on Dec. 20 and in Europe on Dec. 22.
The announcement was made by BioWare co-founders Dr. Ray Muzyka and Dr. Greg Zeschuk during their keynote address at the 2011 Eurogamer Expo in London.
This is an incredible moment for everyone at BioWare and our partners at LucasArts who have dedicated their lives to build this extraordinary game. We appreciate the patience from the millions of fans who have been waiting for the game's release, said Dr. Ray Muzyka.
The details revealed about the upcoming game said that each copy of Star Wars: The Old Republic will come with 30 days of subscription time. The user, however, will still have the option to continue playing with monthly subscription fees.
A month's subscription for the game will be available for $14.99. In order to get three months subscription, the user will have to shell out $13.99 per month, while one-time charge of $41.97 is also available. A six-month subscription is available for $12.99 per month with one-time charge of $77.94.
The company said that those who have pre-ordered the game and entered their pre-order code on starwarstheoldrepublic.com are eligible for Early Game Access. Preorders for each of the game's three editions - Collector's, Digital Deluxe, and Standard - will come with special early access to the MMO. It is, however, unknown as to how early gamers will be allowed to access it before the MMO's official release.
The price tag for these editions, which come with a range of special bonuses depending on the version of the game the user picks up, start at $60 for the Standard version of the game. The Digital Deluxe version of the game includes five additional in-game items for a total of $80.
The Collector's Edition of the game, arriving with seven in-game items including a Gentle Giant Darth Malgus statue, a printed map, and other collector's stuff, would be up-for grabs for $150, the official website reported.
© Copyright IBTimes 2023. All rights reserved.