Starring Jeff Lynne: Mr. Blue Sky Will Be Honored on Hollywood Walk Of Fame, Electric Light Orchestra 40th Anniversary Reissues Out Now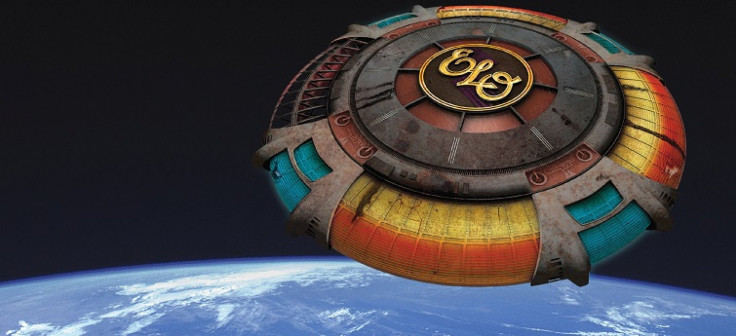 Mr. Blue Sky will be getting the star treatment in Hollywood next year.
Jeff Lynne, the ingenious frontman, songwriter and producer of Electric Light Orchestra, will be honored with his very own star on the Hollywood Walk of Fame.
Lynne, who co-founded ELO in 1971, was one of seven honorees in the 2014 recording category. "I'm thrilled to be recognized by the Hollywood Chamber of Commerce and feel honored to be in the great company of some of my biggest heroes," the bearded Brit recently said. "Growing up in Birmingham, England, I never imagined my name on the Hollywood Walk of Fame -- it really is fantastic."
Lynne's honor coincides with the 40th anniversary of Electric Light Orchestra, a band that has sold more than 50 million albums and has delighted critics and fans alike with an exhilarating blend of Beatles-style rock, classical elements and futuristic themes. The anniversary arrives with the reissues of ELO's "Electric Light Orchestra Live" and "Zoom" and the Lynne solo album "Armchair Theatre." Plus, last year, the Grammy Museum in Los Angeles held a special evening in Lynn's honor, with the debut of the film "Mr. Blue Sky: The Story of Jeff Lynne and ELO."
In the documentary (which also aired on VH1 and Palladia), Lynn tells his own musically rich story, and while doing so, gets a little help from his friends, including Paul McCartney, Ringo Starr, Tom Petty, Joe Walsh, Eric Idle, Olivia and Dhani Harrison and the late Roy Orbison. Ultimately, the film reveals a deeply passionate, technically savvy studio wizard, a songwriting dynamo and an unmistakable frontman and guitarist. But that's certainly not all. Lynne is planning to release another album of all-new material in 2014.
When Lynne is honored with his five-point brass and terracotta star next year, he'll be joining an elite bunch -- a group of musicians, producers and other musical movers and shakers whose stars sit beside a film- and television-dominated majority. A few in that bunch are some of his dearest studio mates.
Each Beatle, of course, has a star there, as do the Beatles as a group. Lynne has learned much from the Fab Four, something that's more than obvious when you listen to just about any ELO album. But he also learned from the Beatles by being their producer. He worked with Paul McCartney, Ringo Starr and the late George Harrison -- with each man separately on various landmark projects, and with all three simultaneously: In 1994, while he and three surviving Beatles worked on two "new" Beatles songs, "Free As a Bird" and "Real Love," Lynn, as producer, restored John Lennon's vocals from badly preserved mono tapes.
The ELO mastermind explained to Uncut magazine what it was like working with the three Beatles on those songs: "There was no real tension," Lynne said. "They would take the piss, but it was good-natured. 
I loved it, but it was tough. At Paul's studio it was just me and them, and I'm listening to all this amazing Liverpool folklore -- Hamburg stories, the lot."
But as it turns out, Lynne's first meeting with the Beatles wasn't as a producer, or any kind of recording artist. In 1968, an impressionable, talented Lynne encountered the Beatles while they were recording "The White Album." It obviously left a huge impression on the young man, who eventually decided that he wanted ELO to continue "where the Beatles had left off, and to present it on stage," Lynne has said.
Lynne also recorded with Harrison in the Grammy Award-winning Traveling Wilburys, a supergroup that recorded some incredible music. The group, which also featured Bob Dylan, Tom Petty and the late Roy Orbison, represented three generations of all-star rock. By 2014, Dylan will be the only Wilbury to not have a star on the Hollywood Walk of Fame.
When Lynne co-formed Electric Light Orchestra back in the early 1970s, he was reuniting with the members of his previous band, the eccentric art-pop outfit the Move. After original ELO singer Roy Wood left the lineup, Lynne took over as vocalist, and his John Lennon-like tenor certainly bolstered the band's irresistible melodies on "ELO II," which featured a feverish cover of Chuck Berry's "Roll Over Beethoven." Many more unforgettable tunes followed. On "Face the Music," there was the song "Evil Woman," a devilishly delivered earworm. On the rabidly praised "A New World Record," there were the pop-rock gems "Telephone Line" and "So Fine." Meanwhile, the band's live shows were becoming out-of-this-world, partly due to the presence of a large spaceship onstage.
In 1977, the band released the double LP "Out of the Blue," which many consider to be the band's ultimate blending of all things ELO. The quintessential record features the Lynne signature song "Mr. Blue Sky."
In later years, there was "Discovery," "Time," "Secret Messages" and "Zoom," which was recorded almost solely by Mr. Blue himself.
In 2012, Lynne returned to ELO, this time with, well, "Mr. Blue Sky," an album of re-recorded Electric Light Orchestra songs. That year also saw the release "Long Wave," Lynn's solo album of '50s and '60s pop hits.
If all that wasn't enough -- it actually wasn't -- Lynne produced on Harrison's "Brainwashed." Harrison died before completing the album, but his son, Dhani, and Lynne, finished the recordings. The end result: one of Harrison's best albums.
In 2006, Lynne produced on Petty's 2006 solo album "Highway Companion."
Lynne has also performed his production magic on albums by Regina Spekter, Del Shannon and Joe Walsh. For instance, he produced the Eagles guitarist's 2012 solo album, "Analog Man." "I love Joe," Lynne told Reuters. "He's a terrific guy, and we'll probably mess around and come up with some ideas together."
So, with all these musical adventures behind him and probably many more in front of him, one could easily conclude that Jeff Lynne has enjoyed one of the most fruitful and passionate recording careers ever. Another thing that should be noted, finally, is that Mr. Blue Sky got into music at a very early age, and he never, ever got out of it. "I've been in love with music since I was probably just 5 years old," Lynn recently said. "I was mad for music then, and I still am today."
Katy Perry and the late Tupac Shakur will also be getting stars on the Hollywood Walk of Fame in 2014.
FOR FREE to continue reading
✔️ Unlock the full content of International Business Times UK for free
offer available for a limited time only
✔️ Easily manage your Newsletters subscriptions and save your favourite articles
✔️ No payment method required
Already have an account?
Log in
© Copyright IBTimes 2023. All rights reserved.