Stephen Amell Teases Epic DC TV Crossover; 5 Things We Want To See When 'Arrow,' 'Flash,' 'Supergirl' And 'Legends Of Tomorrow' Meet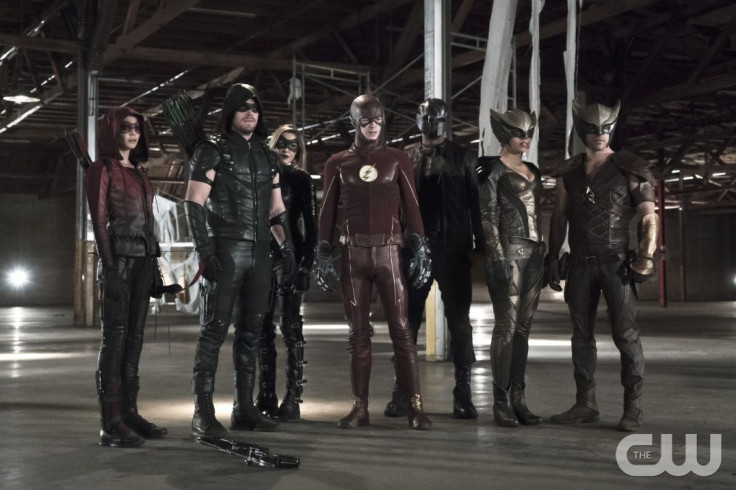 Stephen Amell knows how to get audiences excited. The "Arrow" star posted a behind-the-scenes photo on social media of feet. These weren't just any feet, though. They were unmistakably the boots of The Atom, The Flash, White Canary, Supergirl and the Green Arrow.
Fans of "Arrow," "The Flash," "Supergirl" and "DC's Legends of Tomorrow" know that the shows are preparing for a big crossover. The event probably isn't being filmed yet since CW crossovers usually air in late fall. It's more likely that this is just a promo photoshoot. Nonetheless, it got us thinking about what we want to see when the DC superhero dramas have their epic, four-way team up.
1. An Amazing Villain — Executive producer Greg Berlanti promised that the crossover would feature all four shows fighting one villain. "I'm going to probably try to have one unifying threat, as opposed to different things on different ones, which is what the first year was," he told Entertainment Weekly. But if it takes this many heroes to fight the bad guy, this villain needs to be more than just an uncontrolled metahuman.
2. Oliver Reacting To Kara — Oliver (Amell) wasn't overly surprised when Damien Dahrk (Neal McDonough) whipped out his magic powers, but how does he react to aliens like Kara (Melissa Benoist)? The archer has to be in disbelief at some point.
3. Nerds Team Up — Yeah, of course it's a superhero crossover, but these heroes always need the computer geeks that help them. Felicity (Emily Bett Rickards), Cisco (Carlos Valdes), Winn (Jeremy Jordan) and Gideon (voiced by Amy Pemberton) need to meet up and work together.
4. Iris — She kind of got ditched in the last "Flarrow" crossover. It's time to let Iris (Candice Patton) in on the superhero team up action.
5. A Musical Number — So many actors in these casts have musical theater backgrounds. Just give us one little "Glee"-like dream sequence! Amell probably isn't going to let that happen, though.
An air date for the "Arrow," "The Flash," "Supergirl" and "DC's Legends of Tomorrow" crossover has not been announced yet. All shows will return to the CW in October.
© Copyright IBTimes 2022. All rights reserved.
FOLLOW MORE IBT NEWS ON THE BELOW CHANNELS