Steve Harvey Breakdown: Watch Talk Show Host Hold Back Tears After 'Surprise' Call From Rich And Becky Liss [VIDEO]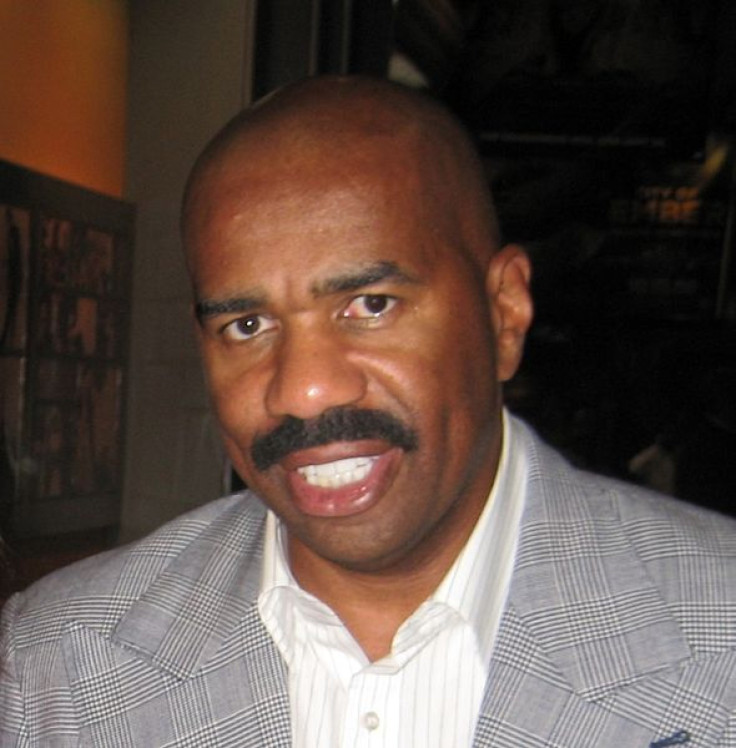 Steve Harvey is usually known for his laughs, but it was his tears that made news after he had a breakdown on the set of his talk show during a "surprise" segment on his birthday.
The segment was taped on Jan. 17, when Harvey turned 56-years old, but the video of Harvey's breakdown went viral on Monday. You can view the above video, which has amassed nearly two million YouTube hits since it was uploaded.
The "surprise" that caused Harvey to have an emotional breakdown turned out to be Rich Liss of Orlando, Fla. Liss and his wife, Becky, extended a line of credit to the then-fledgling comedian 30 years ago, when Harvey was working as a carpet cleaner while cutting his comical teeth.
Harvey explained to his audience why he broke down in tears after seeing Liss appear on the surprise satellite feed.
"I was 26 years old, struggling," the comedian and talk show host said, holding back tears. "I didn't have nothing, and these people owned a furniture store in Cleveland and they took me in and gave me my first contract with my little carpet cleaning company.
"When I became a comedian at 27, I didn't have money to travel. They gave me an account at their travel agency. And man, I ran up a bill like $11,000 just traveling and make it. Them people right there, man, they helped me out."
After trying to suppress sobs, Harvey turned to his comical side.
"Hey man, I got money now, Rich," he said.
Harvey then paid it forward and gave back to the couple that gave him so much to start his comedy career.
"Matter of fact – Hey Rich – I'm [going to] send a plane, pick up you and Becky. I'm a fly ya'll to Chicago for the show," he said. "I've been looking for you for years, man."
"You bailed me man," Harvey continued. "I never forgot it. Thank you, man."
FOLLOW MORE IBT NEWS ON THE BELOW CHANNELS