Strangers On A Train: 32 Hours From New Orleans To New York On The Amtrak Crescent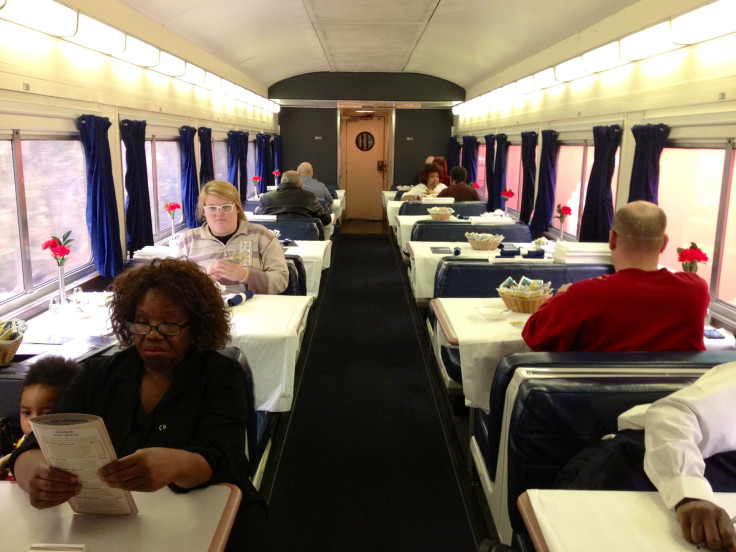 ABOARD THE AMTRAK CRESCENT – Before the train is even across Louisiana's Lake Ponchartrain, it's clear this trip is going to be about the passengers on board. More than the rhythmic motion of the train or the scenes unfolding beyond the windows, it is the cast of characters – diverse, randomly grouped together, for long duration – who will tell the tale.
The first one out of the gate, literally, is an elderly, immaculately dressed man who precedes us across the platform of the New Orleans station. Dressed in a dark suit and tie, sunglasses and newsboy cap, he shuffles along with a cane, guided by a porter who holds him gently by one elbow. Seeing that his own locomotion is limited by blindness, advanced age and bad knees, I wonder where he's going, and how he manages to travel alone.
It will take many hours to find out. But this is a train; we will have time.
Perhaps 20 minutes into the trip, as the Crescent rocks slowly along the tracks that run beside Lake Ponchartrain, I approach the older man sitting quietly in his seat. His name, he says, is Lucius Newell; he's on his way to Laurel, Miss., and is happy to talk.
Newell tells me he divides his time between New Orleans and Sandersville, Miss., where he was born in 1924. That is how it begins. From there, our conversation will continue nonstop for the three hours that it takes for the Crescent to reach Laurel, the nearest stop to Sandersville, population 789 – a trip Newell has made once a month for many years. The precise number of years is hard to say, because at 89 he prefaces his stories with phrases like, "It was in 1968, 1967, 1969, in the month before April, or maybe the last month of 1959." Time is like the clocks in the New Orleans station, all of which indicate different hours for the same zone, or the views that scroll past the windows, which run together in a way that makes it hard to say whether we're still in Louisiana or passing through Mississippi now.
It seems logical to ask why anyone would take the train today, when it is typically more expensive than flying, slower than a bus, and lacks the freedom of a car. This much is apparent from the makeup of the passengers: It isn't likely about the romance of the rails. Our group ranges from gritty Euro-backpackers to young honeymooners to a surprising number of people of all ages and economic backgrounds who use canes. (For people like Newell, who are handicapped in some way, the train is the only way to safely and comfortably travel alone.) It's hard to imagine such a diverse assemblage coming together in close proximity under any other circumstances.
Newell explains how he came to be here in a rambling montage as the placid lake drifts past our windows, slowly giving way to cypress swamps and rolling forests of pine. His family, which is African American, owns a farm near Sandersville, and 30 years ago got rich through the discovery of oil. An uncle, he notes in one of many asides, was implicated in the murder of a man whose body was buried in the local Tallahala swamp, which the Crescent will pass over near Laurel.
Newell recalls the time that he, as a young soldier in the U.S. Army during World War II, got thrown in the brig in Liverpool. Then he became a preacher, stole another man's wife, bought a '57 Chevy and went blind. Now, he travels aboard the Crescent between the two poles of his existence: the two houses he owns, in New Orleans and Sandersville. He has been riding this route since the 1930s, and has an unofficially designated seat aboard the train, second row from the back, by the aisle, left-hand side, though on this trip a new coach-car attendant has unknowingly placed her carry-on there, requiring him to move one row forward. "All the conductors, all the people at the station, they know me," he observes.
The attendant – the train's equivalent of a flight attendant, whose name is Rosy and who bears a striking resemblance to the R&B singer Keri Hilson – noted in her welcome aboard that the Crescent is "a historical train." It once served as the favored link for politicians and wealthy Southerners to the nation's capital, and though the passenger demographics have changed, it still feels as if we are passing through history.
The Crescent nearly disappeared from the rails when the old Southern Railroad, which owned it, discontinued passenger service in 1979 but was saved from extinction through its purchase by Amtrak under the auspices of the taxpayer-subsidized National Railroad Passenger Corporation. Today, it is a dubious economic enterprise at best, despite the fact that ridership is up.
During our trip, the Crescent will carry between 100 and 250 passengers aboard 10 cars, which means that for a while it will run at maximum capacity. More than 300,000 people ride the Crescent each year, an increase of 55 percent since 1997, according to Amtrak. But much of that gain is aboard the more lucrative intracity sections between Washington, D.C., and New York City. Overall, Amtrak (including the Crescent) is hemorrhaging money; the system required $1.4 billion in congressional funding last year to ensure it remained solvent. There is an effort under way to reduce federal funding for long-distance routes like the Crescent's – anything longer than 750 miles – and shift the burden of maintaining these rail corridors to the states.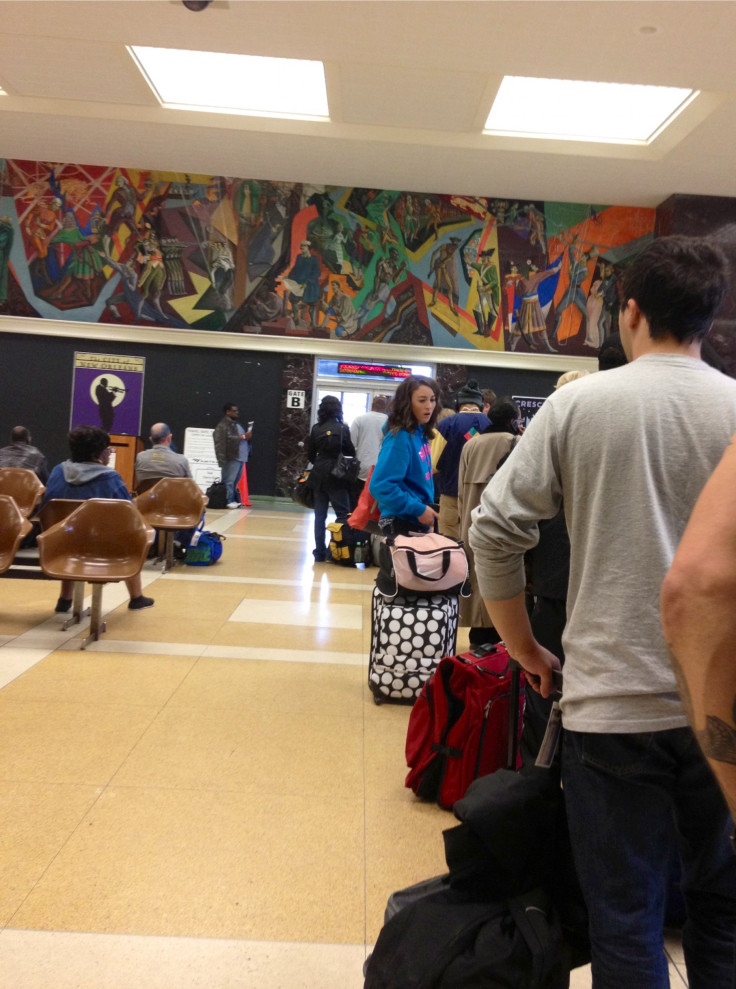 I'm here to explore a comparatively hidden side of American life, to see the country in a different light, and to assess the value of a form of transportation that often comes under the withering gaze of government budget-cutters. I started out in Jackson, Miss., 150 miles north of New Orleans, where I boarded the train known as the City of New Orleans, and in its namesake city transferred to the Crescent the following day, an overnight stay being necessary because there is only one train daily in each direction on each line and their schedules do not jibe.
Over the course of 1,377 miles, the lives of the passengers I meet will unfold slowly, in a way that only long-distance rail travel affords, full of poignant detail, before our temporary community is inevitably redistributed into the wider world. Along the way, there will be that endless reel of images passing beyond the windows – moss-draped swamps, shimmering expanses of water, piney woods, anachronistic towns built facing the tracks, and now and then, children waving at us as we pass. At one point a solitary man drifts by outside, pausing from the task of splitting wood with an axe to silently note our passage.
Later, on the outskirts of Birmingham, Ala., we pass a homeless camp, like a melancholy holdout from the Great Depression, and farther on, lovely mountain vistas, a succession of junkyards and suburban backyards, and miles of aging row houses and graffiti-tagged industrial ruins along the East Coast. At times the view framed by the windows gives context; at others, it becomes strangely disengaged, like some sort of art-house video installation:
The scenes are different than one might observe from a highway or, certainly, from the air. But they are just the backdrops. While on board, our community becomes its own moving, self-contained world.
Many Americans have a romanticized view of trains, rooted in a bygone era of elaborately adorned rail cars lit by flickering gas lamps and pulled by smoke-belching steam locomotives. Train travel along the Crescent's route dates to before the American Civil War, and beginning in 1906, what was known as the New York and New Orleans Limited went through a series of route and name changes, becoming, in 1970, the Southern Crescent, named for the arc of its route. By the '70s, the heyday was long past. In 1978, NBC News ran a feature on the Southern Crescent, then the last privately owned passenger train in America, noting that it was losing $6 million a year and seldom more than a third full.
My own experience with trains dates to long-ago childhood trips with my family in Mississippi to see my grandmother off at the station in Jackson, bound for Memphis. Later, in high school, I traveled with friends aboard the City of New Orleans to Chicago and to New Orleans for Mardi Gras. One year, the woman on the Amtrak reservation line informed me that the Mardi Gras-bound train was full, which struck me as absurd, considering that any 12-year-old boy with an electric train knows that all you'd need to do is add a car. The fact that Amtrak didn't recognize that may explain why the company is perennially in financial trouble.
Over the years I've also taken trains along better-traveled and more-profitable routes -- up and down the East Coast of the United States as well as in Europe, where rail travel is more efficient and commonly used. Each journey produced indelible memories: the conductor outside Venice who slapped me impatiently on the head as I attempted to retrieve a shoe dropped onto the tracks by a friend while boarding, which delayed our train's departure; being forcibly ejected from a train euphemistically known as the Balkan Express, along with every other passenger, in the middle of nowhere and for unknown reasons, between Istanbul and Sophia, Bulgaria; meeting an elderly Frenchman, a World War II vet, on a trip aboard a high-speed train to the Riviera, who broke down in tears as he described the woman he had married in London during the war and had never seen again. These sorts of things happen only aboard a train, and add a measure of credibility to Amtrak's current slogan, "Enjoy the Journey."
There are downsides, of course. The slow pace of trains in the U.S. can be maddening, particularly during delays on rail sidings for an hour or more to enable freight trains -- which have the right-of-way -- to pass. Yet who can watch the Hitchcock thriller "Strangers on a Train," in which two men meet and plot to commit murder for each other, or the similarly themed "Murder on the Orient Express," without wanting to join the cast? There's that inevitable air of romance, as illustrated by numerous songs devoted to the Crescent itself, including REM's "Driver 8" and other country and blues ballads that I have included in my iPod soundtrack.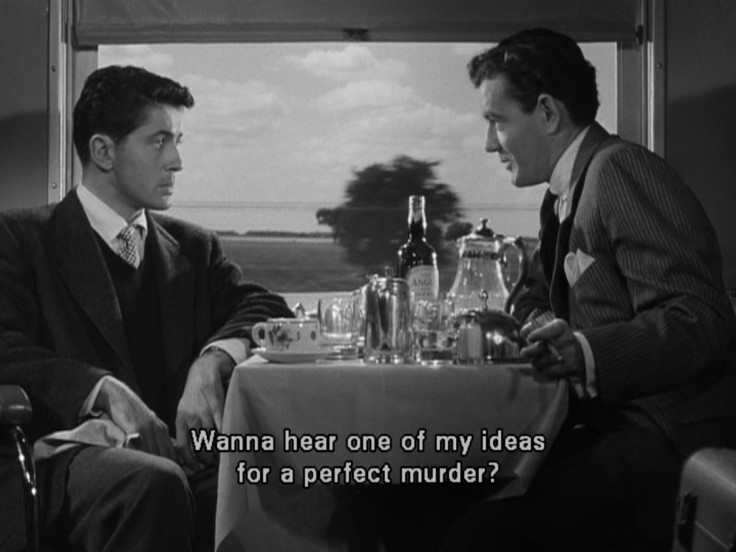 As I move about the train, I see passengers watching movies on their personal devices, reading, playing solitaire or sleeping, and I search for excuses to strike up conversations. Long-distance train conversations are unlike the perfunctory exchanges one normally associates with strangers, or the truncated, cut-to-the-chase kind that sometimes take place between seatmates on a plane. On a train, you're likely to sit together for long periods of time, because who wants to go 32 hours without talking to anyone? You watch the scenery drifting past, offer occasional commentary, triangulate, compare notes. Unless you opt for a sleeper berth, you will likely turn in for the night alongside a stranger, wake up beside him or her in the morning, and perhaps stagger down the aisle together for breakfast.
In the 1980s -- the first time I rode the Crescent, I traveled from Mississippi to New York and on to Boston, and got to know a woman who was an artist. She had traveled across the U.S. to California and back to New Orleans aboard the train known as the Sunset Limited, and was on her way home. By the time we reached Boston, we had become oddly close, to the point that the people who met us at the station – her husband and a friend of mine – were confused and bewildered by our eager introductions. She and I exchanged letters for a time, but I no longer remember her name. We were our own version of strangers on a train.
Fortunately, for people accustomed to getting from point A to point B as quickly as possible, the train is comfortable. The seats aboard the Crescent are wide and almost fully recline, with plenty of legroom, which means that whomever is sitting behind you doesn't resent you for cramping their space. We have so much personal space that prior to the influx of 150 new passengers in Atlanta, one woman in my coach-car transformed two seats into a homey little sitting room, with an Afghan draped across the back, a reading light and book on her tray table, and an open suitcase beside her with everything she needed easy access to. Carry-on bags do not have to fit under the seat in front of you, there are no seatbelts, and the lack of meaningful security restrictions means that you just arrive at the station, show your ticket and climb aboard. Carry-ons have weight limits, but enforcement of even the 50-lb. limit on the Crescent is lax. There are also electrical plugs for charging things. I decided against reserving a berth in a sleeper car (which costs more than $700, compared with about $250 for a coach seat). Sleeper-car status equates with traveling first class on a plane, and includes access to a private lounge in the New Orleans station.
Sleeper-car passengers board before coach, and, as with a plane, passengers who require assistance are allowed to pre-board, which is how I spotted Newell.
Our introduction comes when I stop by his seat on my way to the club car for coffee and offer to bring him something back. He doesn't need anything, but he appreciates the attention, so we begin to talk. He explains that though he is originally from Sandersville, he began spending a good bit of time in New Orleans when he was 15, mostly to get away from his authoritarian grandfather. His father, a teacher who rode a mule to a three-room school, died when he was 6. He tells me about the Liverpool stockade during World War II, when he and a buddy decided to make unauthorized use of a weapons carrier to drive to an area where they were told they might meet "colored girls." He was later discharged, he says, due to "an attack of nerves." Then he gets to the part about the oil well.
"When we get the oil well, white folks messed the well up," he says. "Dumped something in the well to stop us from getting the money. That was in… 1985." He doesn't say who the vandals were, but he adds that the drilling company repaired the damage, and soon the checks started coming in. Then we scroll back to 1910, when his uncle allegedly pulled the trigger on the man who ended up buried in the Tallahala swamp, who was killed, as Newell puts it, "because he got a baby by his daughter." Newell's grandparents lived in a log cabin nearby, and the murder was considered appropriate, though the uncle felt pressed to leave town for about 20 years.
Newell moved to New Orleans when he was 23, in 1947, became a Baptist minister, then ran a forklift at the Kaiser aluminum plant, where he started at $1.16 an hour.
"I was light-skinned, and they had enough of us to have eight light-skins on the day shift, with the dark-skins working at night," he explains. In 1955, during the early push for integration, the Kaiser company discontinued the tonal segregation, he says. He realized he was going blind one night while driving his '57 Chevy but kept it secret from his employer. With the largess from oil, he bought houses in Sandersville and New Orleans and a succession of top-of-the-line Chevrolets (though he has since switched to Nissans). It was at that time that he began living his tandem lives, one in New Orleans, where his surname was pronounced "New-ELL," the other in Mississippi, where it was "NEW-uhl."
As he talks, we pass through Picayune, Miss., a small town of old storefronts, small houses and mobile homes. A family waves as we pass. In the coach car, passengers lurch toward us when the train hits a rough patch.
"I was poor for a long time, but it worked out, and I worked half-blind for God knows how long," Newell says. "I'm not rich, but I feel good!"
He says he returns to Sandersville each month to check on the oil well, for which he receives declining returns as the reserves are depleted. He can travel there regularly only because of the Crescent.
During our conversation, it occurs to me several times that Newell is unsure whether I'm black or white, and now he asks, pointedly, "What do you think of the president?" I like him, I say. "You know, he killed a man," he says. "Went overseas and killed that man that set the city on fire."
Then he asks if we're nearing Laurel. We are, and the conversation ends abruptly, as all inevitably do aboard a train. He tells me to look for the Tallahala swamp after the train passes Laurel. I help him to his feet and hand him off to the porter, to whom Newell says something that I can't make out, to which the porter replies, "It's always nice to make a new friend."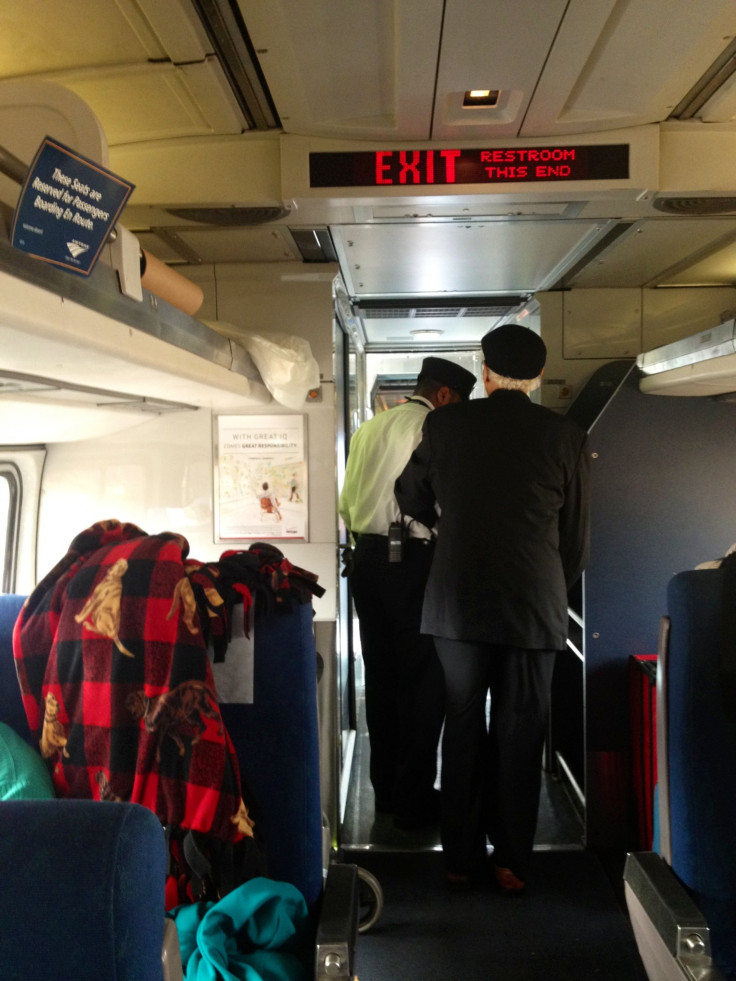 Through the window I watch as Newell's granddaughter receives him at the station. Then he's gone.
I see the swamp, a thicket of sweetbay magnolias and pines bisected by a small stream, as the train moves on toward Meridian, Miss., near the Alabama line.
I stroll the aisles of the train and note that each passenger's final destination is delineated by a paper card inserted in the luggage rack above their seat: "NYP" for New York-Penn Station, with similar abbreviations for Meridian, Birmingham, Atlanta, Charlottesville, Washington, D.C., Philadelphia, Newark and points in-between. Beyond the windows I catch glimpses of small towns where American flags fly and cars and pickups wait at crossings. For an instant, our passage is heralded by flashing red lights and warning bells. I hear the mournful sound of our own horn far ahead as I shoot iPhone videos -- moving snapshots of scenes aboard the train.
In many cases, the train provides a view of towns as they were meant to be, with storefronts facing the tracks on both sides, framing the scene, so that you pass through them, not along their generic, chain-store outskirts. The lawns of old houses slope down to the tracks. Then there are the towns that present their ugly truths "down by the tracks" – abandoned buildings and ravines in which old refrigerators, sofas and worn-out tires are dumped.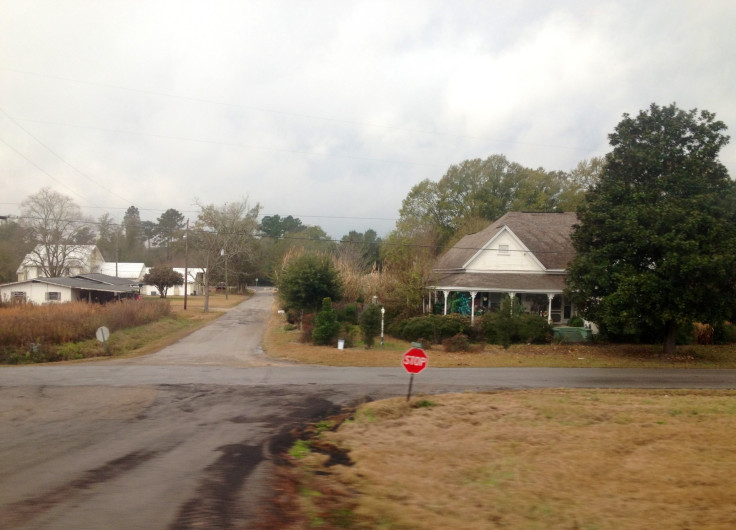 I spend a good bit of time watching these disparate images pass by the windows of the club car, then return to my seat, where a heavyset woman in the seat behind me, who boarded with the help of a walker in Picayune, and who is white, has struck up a conversation with the woman across the aisle who has created her own sitting room, who is from Bogalusa, La., and is black. They appear to be in the tentative, early stages of train friendship.
Soon the conductor informs us that we should tighten up in anticipation of an influx of new passengers in Atlanta, though the city is still hours away. Hearing this, the women from Picayune and Bogalusa decide to commit, the latter relocating her sitting room across the aisle to the seat beside the other.
I listen to music for a while, stare at the fields and forests passing by the windows. Eventually, we pass through Tuscaloosa, Ala., and returning to the club car, I meet Charlotta Griffin in a narrow corridor as we're being thrown about by the sudden rocking of the train. She steps back and extends her arms, indicating that I should come on by, sighs as I pass and says, "Can you tell I'm tired?" I sense that we are also lurching toward a conversation, and a few minutes later, as we sit at adjacent tables in the club car, she rolls her eyes as a woman at another table talks loudly on her cell phone. I smile; she smiles. I move to her table, say I'm working on a story. This interests her.
Griffin says she's tired because she has health problems and is traveling with her brother, who is blind and deaf in one ear, and needs her. She teaches ballet and hip-hop, among other dance styles, to inner-city youth in Charlotte, N.C., but grew up in Jackson and in Harlem, a combination that she says instilled in her "Southern values and street smarts." She and her brother are on their way home from spending Thanksgiving with relatives in Mississippi. She likes the train because the crew has been helpful and nice, which she says "took the stress and anxiety off me." She also got a companion rate for her brother. She recently turned 50, has lupus and has suffered eight strokes and three brain surgeries, she says, which is when I notice she has an impressive scar on her left elbow, with massive stitch marks. Yet she smiles. "I look at it this way," she says. "It's like in 'Shawshank Redemption' – you get busy living or get busy dying. That's my motto."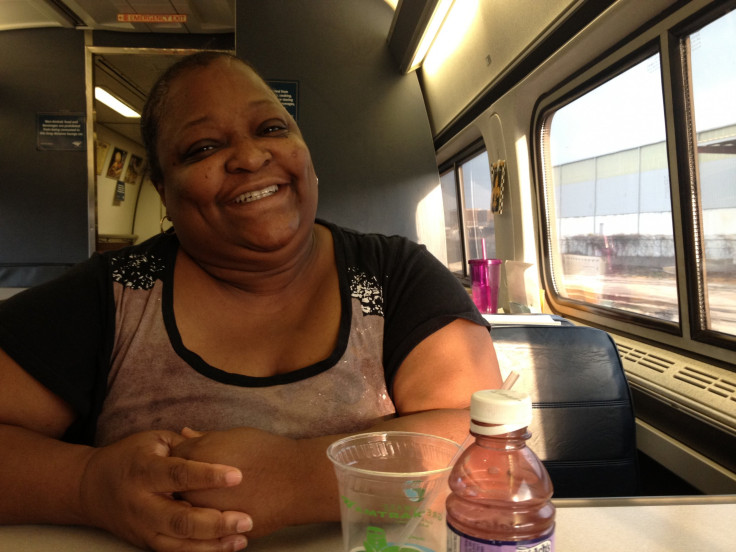 Soon the Crescent passes through the city of Birmingham, which presents itself as a series of warehouses and factories with disused smokestacks – relics of the old steel industry, and the back sides of historic brick buildings. Farther on, as Griffin talks, we pass the encampment of blue-tarp tents in the woods beside the tracks, and she asks, "What is that?" I explain that it's a homeless camp. She looks sad, and watches intently as the camp slowly disappears from view. She stares silently out the window, at a succession of poor houses and trailers, then says, "I was surprised by the shacks, and the crime, back in Mississippi. But the old people in my family there, they're content." We talk for a while, until she says she needs to check on her brother back in the coach car. They will get off in Charlotte at around 1 a.m., she says. She offers me her leftover turkey.
I glance out the windows. Dusk is beginning to fall.
After dark, I take my only meal in the diner car, which strives to recreate the days of old with waiter service, white tablecloths and vases of red carnations, and gourmet-sounding cuisine. Unfortunately, the food is mediocre and grandly overpriced.
Most of the passengers in the diner car have sleeper berths, and are older and white. The rest of the passengers appear to subsist on club-car fare such as hotdogs and chips, or, if they thought ahead, their own food. My on-board diet is a mix of all three.
In the diner car I listen to two elderly couples seated at an adjacent table discussing things they don't like, such as the strong, somewhat bitter coffee with chicory of New Orleans. It appears that for them the train trip is a lark, like an ocean cruise, and generally disappointing. At one point one of the women remarks, "You know, I met Elvis before he was famous. I was not impressed. His neck was dirty."
There are 12 diners in all, temporarily ensconced in a restaurant barreling cross-country. After dinner, the older man and the woman who didn't like Elvis retire to the club car for gin rummy and scrabble. Another woman sits at a table nearby, nervous, craving a cigarette, talking manically on her cell phone. She asks a sullen porter how long we have until Atlanta, which is the next smoking break, then sighs loudly when he says it's a little less than an hour. She calls someone on her cell phone to fuss at them for not buying her a lottery ticket.
It is now 6:30 p.m. and perhaps half of the passengers in the coach cars are asleep, buried beneath blankets and comforters. A few watch movies. There is no Wi-Fi on the Crescent, and when I try to log on somewhere in Georgia, hoping to tap an unlocked signal, all that comes up is a network named "I dont like u." I see a disabled vet rollicking awkwardly down the aisle, and it occurs to me that the train's rocking motion poses difficulties for the handicapped aboard. I often have to catch myself. Not surprisingly, the least agile passengers tend to remain in their seats until it is absolutely necessary to move. Behind me, the women from Picayune and Bogalusa continue to converse. The one from Bogalusa wears an Obama inauguration commemorative sweatshirt; the one from Picayune is basically immobile on the train, her walker stashed behind her with her bags.
Christmas decorations and lights flash past in small towns. It starts to rain. The Mmes. Picayune and Bogalusa chat away, striving to find common ground, to agree with one another on various subjects, such as griping grandchildren and aches and pains. I drift off to sleep as they talk, awaken briefly when the new passengers board in Atlanta, then fall asleep again. There isn't much to see out the windows now, and most of the passengers have settled in. I awaken a few times to moonlit fields and isolated houses with smoke wafting from their chimneys; otherwise, darkness. Sometime during the night we pass through Spartanburg, S.C., where the Crescent derailed a week before, though fortunately there were no injuries. At some point Charlotta Griffin and her brother depart.
At dawn, the disembodied voices from Picayune and Bogalusa resume. We pass through Charlottesville. It is disappointing. Picayune tells Bogalusa that things are looking up for her. Though she's still too heavy, she's lost enough weight that she has graduated from a wheelchair to a walker, and takes seven medications rather than the previous 15. She has been able to wean herself from her C-PAP machine that assisted her breathing at night. "So, everything's great," she says, illustrating that everything is relative. Bogalusa is glad. They ask our Keri Hilson lookalike to bring them some coffee, and while she's gone they agree that it takes a long time for her to fulfill the request. An ancient man who has been on since New Orleans says to no one in particular, "I think that guy who just walked by is a member of the Rolling Stones."
At breakfast in the club car – for me, a Snickers bar and weak coffee – I overhear a man complaining to one of the conductors about the train. "This is a miserable trip," he says. "This is the last time I'll take the choo-choo." During the night the roof leaked on him. Someone had affixed cups to the ceiling to catch the drips, to no avail, he points out. Also, he says, it is hot in his car. The conductor laments that adjusting the heat requires stopping the train and doing something under the car, which riles the angry passenger. The conductor says, with resignation, "This is 1971 equipment," and adds that they're scheduled to get new cars next year. "I'll never ride the train again," the passenger says.
Beyond the windows, Blue Ridge mountains and meadows drift past. A pot-bellied conductor, a new one, staggers by, spewing radio static from various appurtenances affixed to his belt. We're running about 30 minutes late arriving in Culpepper, Va., where the view from the window is of rows and rows of Civil War graves. "Wonder how many people will get on here," the woman from Picayune absently remarks to the one from Bogalusa, who responds that there is no way to know – until it happens. Picayune agrees.
Our next stop is Manassas, site of another famous Civil War battle – two of them, in fact. I visited the battlefields with friends years ago, by car, and we took photographs of ourselves standing beneath the "Manassas" sign at the depot, made famous by the cover of an album by musician Stephen Stills' band, which was named Manassas. I note that the sign has been replaced. The town is a mix of dumpy buildings and McMansions, with a few historic buildings thrown in. We're now an hour and a half from Washington, D.C. Alexandria, Va. is next.
Across the aisle sits a man I will soon know as Frankie Hatcher. He's in Lucius Newell's old seat, and had intended to watch movies on his iPad but has spent most of his time talking to a jolly man with one bad eye. They have become friends. Frankie also flirts with Rosy/Keri, who is unmoved. As we near D.C., metro trains appear on adjacent tracks. The feeling changes. We are entering the East Coast corridor, leaving the long Southern journey behind. On my iPod, Michael Stipe sings, "And the train conductor says, 'Take a break Driver 8, Driver 8 take a break; we can reach our destination, but we're still a ways away."
In Alexandria, the railroad infrastructure continues to expand. There are metro trains everywhere, destined for Washington with local stops in the Virginia suburbs. Our track is one among a dozen or more. Big commuter stations loom above us, surrounded by office buildings. In D.C., we stop to switch engines, and I meet Hatcher outside, smoking a cigarette. He is a gregarious guy, and talks expansively about a range of disjointed topics. He, too, is originally from Mississippi, says he's half black and half Choctaw Indian, and has white relatives, too. When I jot down a few notes, he says for me to look him up on Facebook. He's traveling from Laurel to Newark, N.J., bearing 50 lbs. of pecans for Christmas treats. Pecans are expensive and not as good in New Jersey, where he now lives, he says. He takes the train from Laurel to Newark a couple of times a year, and knows of Lucius Newell.
After we reboard, the train travels at a much faster clip. Our two diesel engines have been replaced with electric ones, which enable us to race along the heavily traveled, densely developed and congested route toward New York City at speeds up to 110 mph. We outrun the traffic on the adjacent freeway. After a succession of suburbs, office parks and coastal marshes, the scenery turns to urban decay very quickly. Baltimore and Wilmington present abandoned buildings and destitute row houses. Though there are a still a few long-distance passengers among us, there are more people coming and going. It doesn't feel like the same train, but it's the one that pays the bills. On my playlist, Scott Miller sings a country song about the Crescent: "It used to be pretty on the Eastern Shore; now it's more New York down to Baltimore."
Hatcher tells me he lost his right hand in an industrial accident, but that it was successfully reattached. I see the stitch marks. He lost some use of the hand, and it hurts most of the time, but he's good, he says.
When we reach Philadelphia, the women from Picayune and Bogalusa part with a long embrace. That is that. Philly, along with D.C. and our final destination, New York, is where the largest number of people get off. Along the tracks, everything in sight is tagged with graffiti, even the steeples of churches, some of it quite accomplished.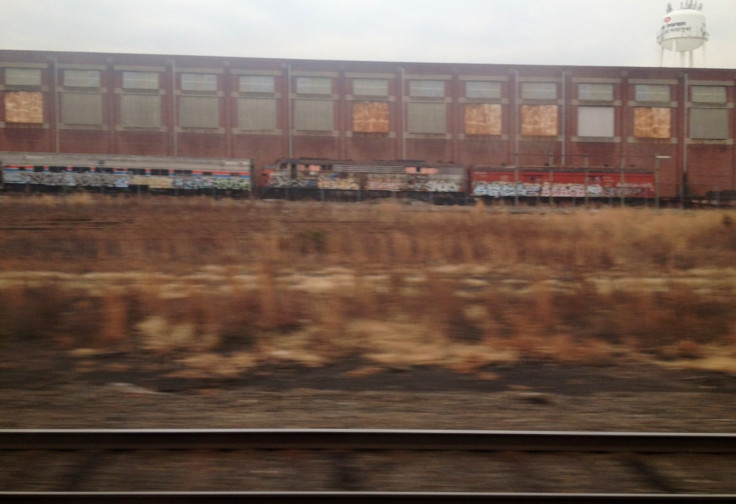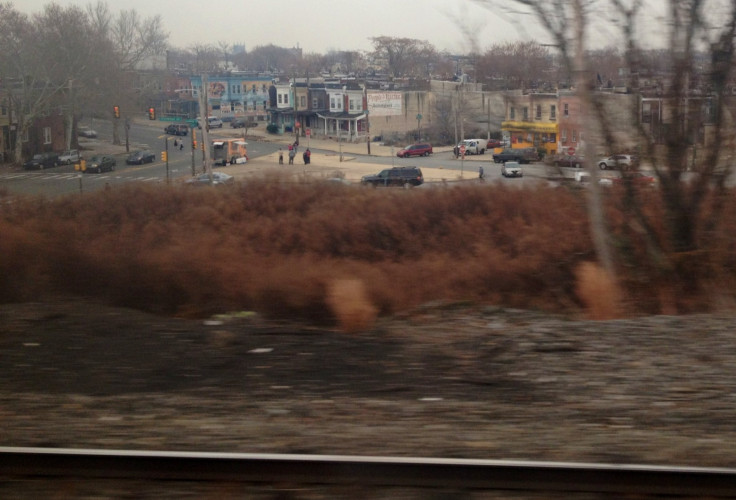 Traveling on toward New York, we pass through a landscape of scrapyards and wooded wastelands punctuated by decaying buildings. The journey is starting to wind down. We can see the end. Before we reach New York, the train suddenly goes underground, into a tunnel beneath the Hudson River, an anticlimax. The woman from Bogalusa, alone now, asks me to retrieve her bags from the overhead and help her carry them to the platform, where a red cap will assist.
Inside Penn Station, as I search for my subway line, it occurs to me that the Crescent is more than a holdout from an antique world. It fills an important contemporary niche. And I think of something Frankie Hatcher said, back in D.C.: "You meet the most interesting people on the train. Everybody got a story."
Follow Alan Huffman on Twitter @alanhuffman1
FOR FREE to continue reading
✔️ Unlock the full content of International Business Times UK for free
offer available for a limited time only
✔️ Easily manage your Newsletters subscriptions and save your favourite articles
✔️ No payment method required
Already have an account?
Log in
© Copyright IBTimes 2023. All rights reserved.