Sub-Prime Auto Loans, Repos And Defaults Are Up, But Analysts Shrug Off Notion Of An Auto Lending Bubble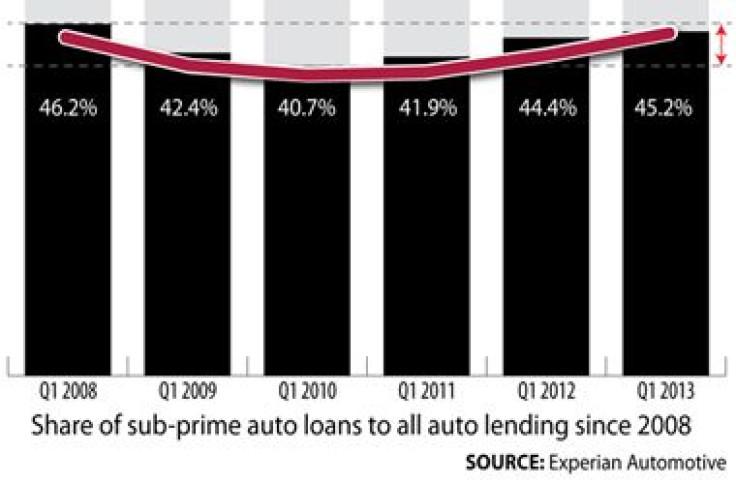 The U.S. auto market is booming and at its current rate has a good shot at hitting pre-recession new-vehicle sales levels by next year, but jobs creation is moderate and overall U.S. economic growth is coming in this year at under 2 percent, which is not great.
Meanwhile, subprime auto financing (auto loans to car buyers who pay more for their financing because they are more likely to default on payments) is rising.
Check out this chart. It shows that subprime lending is just 1 percentage point lower than it was in 2008 at the start of the auto industry crisis even as the average prime-lending credit score is almost back to 2008 levels. That means that it's easier now to get approved for a regular auto loan but the demand from borrowers with credit scores lower than ideal has been increasing at the same time.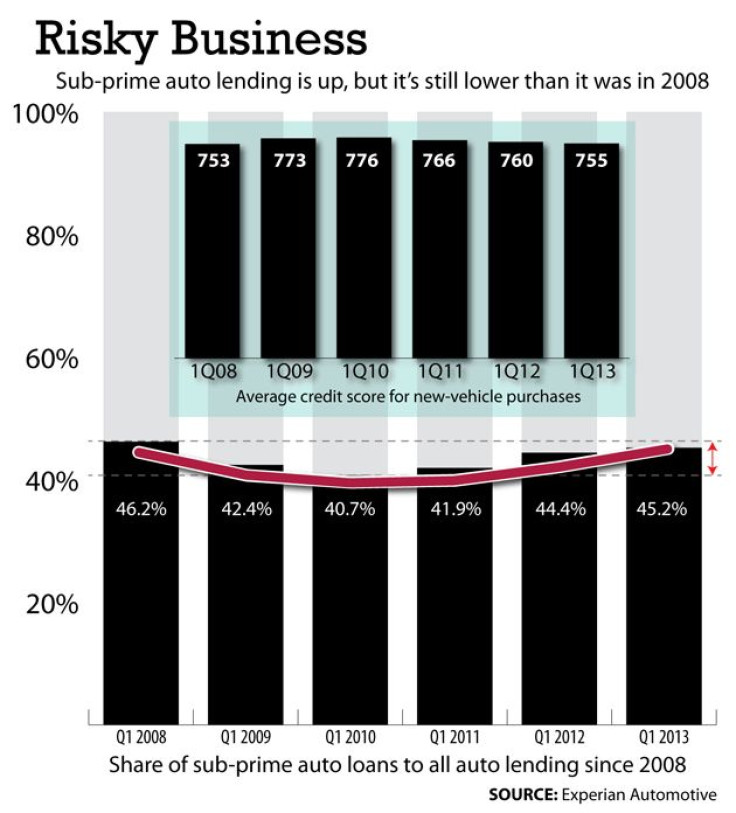 Vehicle repossessions in the first quarter increase nearly 17 percent compare to the same period last year, according to auto sector intelligence provider Experian Automotive, while the average charge-off for bad loans -- that's how much a lender has to write off on borrowers whose appetite for debt was higher than their ability to pay it -- rose by $600 to $7,401.
So is the auto market in a lending bubble similar to housing? Probably not, at least not yet.
One reason is simple: Most Americans need their cars to get to work and will cut back on a lot of expenses in order to stay current with their car payments. About 85 percent of all vehicle purchases are financed.
"During the economic downturn we saw that people were more willing to foreclose on their houses than default on their auto loans, because they're saying 'I gotta drive to work,'" Eric Lyman, who specializes in auto resale valuation for automotive pricing and information provider TrueCar Inc., told the International Business Times. "You have this urban sprawl that was part of the housing bubble that has caused people to be living quite a distance from their places of employment."
Another reason for the relative lack of concern about the rise in subprime lending and repos: the tight used car market. The economic downturn sent car buyers to the used car lots, which pushed prices to near-record highs in 2010, said Lyman. Lenders take this into consideration, because higher used car prices means they can recover more of their loans in the secondary markets.
But used car prices are starting to come down, especially because higher-than-average leases expirations are taking place this year, which will flood the auctions with lots of relatively attractive used car deals. Recent comments by Federal Reserve Chairman Ben Bernanke suggesting interest rates may start rising in the near future could help boost subprime lending, as well as push down new vehicle purchases.
"I would say that's something we should definitely keep an eye on. As we know a big portion of the growth in sales we're seeing is related to the fact that there's 0 percent financing available; even subprime borrowers can get away with 3 to 4 percent on a loan on a new car," Alec Gutierrez, senior market analysts for automotive pricing company Kelley Blue Book Co. Inc., told IBTimes. "I'm not too concerned with repos at the moment. Although lenders are starting to bring in more subprime borrowers, repos still remain relatively low. But if subprime borrowers continue to make up more of the lending pool even as interest rates increase, then I would worry about it a little more."
© Copyright IBTimes 2023. All rights reserved.