'Super Smash Bros Ultimate' Patch Notes: Version 11.0.0 Balance Adjustments, Fighter Changes, New Content
KEY POINTS
Toad Power-Up band can be used as Amiibo for rewards
Other Character Power-Up bands can work as Figure Fighters
Version 11.0.0 update addresses some gameplay issues and character balances
Gamers who have bought the Fighter's Pass Vol. 2 for "Super Smash Bros Ultimate" (SSBU) can now update their copies to version 11.0.0 and unlock Pyra/Mythra. The new addition will take the total number of characters in the roster to 80.
Aside from the new additions to the roster, patch notes for SSBU version 11.0.0 list other changes Nintendo has made to balance gameplay and enhance the overall experience. With Pyra/Mythra's recent inclusion, only two more spots are left for the remaining DLC fighters.
In line with Pyra/Mythra's arrival in "SSBU," new Spirits will be added to the Shop under the Vault option. They include Pneuma, Malos, Lora, Jin, and Amalthus, who are all from "Xenoblade Chronicles 2." Rex's Spirit can also be enhanced.
The version 11.0.0 update will make it easier for "SSBU" players to disconnect other paired controllers from the character selection menu. Users just have to move the cursor over the player bracket of the controller, disable it and then press the "A" button.
Other contents added from "Xenoblade Chronicles 2" are 16 new tracks, four new Smash tag icons, Cloud Sea of Alrest stage, and additional spirits for the Spirit Board.
Players can also dress up their Mii Fighter with new Capcom-related game costumes such as Arthur's Helm/Armor, Hunter's Helm/Mail, Rathalos Helm/Mail, and Felyne Hat. The first one is from "Ghost and Goblins," while the others are from the "Monster Hunter" franchise.
The developers note that Version 11.0.0 will not let players "make videos of replays that contain DLC you have not purchased (fighters, stages, music, Mii Fighter costumes, etc.)."
Those who purchase the Toad Power-Up band at the newly opened Super Nintendo World at Universal Studios in Japan can use it as an Amiibo in "SSBU." It reportedly generates an undisclosed reward, while the other Power-Up bands of Luigi, Peach, Mario, Yoshin, Daisy, and Mario can double as regular Figure Players.
The Version 11.0.0 update will also address gameplay issues and character balances. The full list of what Nintendo tweaked in for each fighter can be found here. The developers will reveal the last two Fighter's Pass Vol. 2 slots by the end of the year.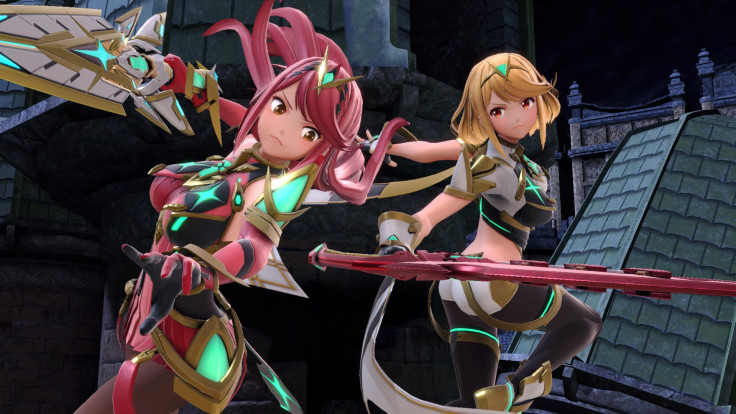 © Copyright IBTimes 2023. All rights reserved.