Super Tuesday Polls Results: Biden Wins Big In South, Sanders Confident He'll Win Nomination
KEY POINTS
Joe Biden takes on the mantle of frontrunner with a dominant showing on Super Tuesday
Before midnight, New York time, Biden had won eight of 14 Super Tuesday states. Bernie Sanders won three states
Biden and Sanders are neck-and-neck in Texas, California and Maine
Update at 7.40 a.m. EST: Joe Biden scored a narrow win inTexas. The Associated Press called the Texas race for Biden at about 1.00 a.m. CST
Original story below:
This race came down to Texas and California but it's clearly apparent Super Tuesday will go to "Comeback Kid" Joe Biden who denied Sen. Bernie Sanders, I-VT, the huge win in Texas he had to have to stay ahead.
The former vice president swept to shocking victories in eight of the 14 Super Tuesday states in the unofficial CNN exit polls as of 11:00 p.m. ET. His astounding wins, in which the southern states went his way, cap a remarkable comeback where his campaign was written off as dead following heavy defeats in Iowa, New Hampshire and Nevada.
On the other hand, front runner Sanders was winning out West. He took three states, was competitive in Texas and looks to win California. As Texas and California account for 48% of the 1,344 delegates at stake, a Sanders win in these states might yet make him the big winner (delegate-wise) in Super Tuesday despite Biden's huge lead in state victories.
With over 55% of the vote counted in Texas, Sanders is in the lead with 28.6% of the vote, Biden second with 28.5% and former mayor Mike Bloomberg, third with 17.2%. There are 228 delegates at stake in Texas.
In California, with only 11% of votes counted, Sanders leads with 28.5%, Bloomberg with 19.0% and Biden with 16.8%. California has 415 delegates, the largest among all the 14 Super Tuesday states.
"I'm here to report: We are very much alive! And make no mistake about it, this campaign will send Donald Trump packing," said Biden to ecstatic supporters in Los Angeles.
Following these early and disappointing results, the Bloomberg campaign is reported to have called for a meeting to reassess their candidate's chances and path forward. Some pundits now expect Bloomberg to pull out of the race and use his immense resources to back Biden. Bloomberg only won American Samoa with its six delegates in Super Tuesday.
Sen. Elizabeth Warren is also expected to drop out of the race after finishing an embarrassing third in her home state of Massachusetts to Biden and Sanders. Pundits noted Biden spent only $11,000 on ads in Massachusetts and still bested Warren.
As of 8:00 p.m. PST, the unofficial CNN exit polls show Biden victorious in Alabama, Arkansas, Massachusetts, Minnesota, North Carolina, Oklahoma, Tennessee and Virginia.
CNN shows Sanders winning Colorado, Utah and Vermont. The last three races still being counted (California, Texas, Maine) are still too close to call as of this writing. Biden and Sanders are neck-to-neck in Maine, separated by less than 1%.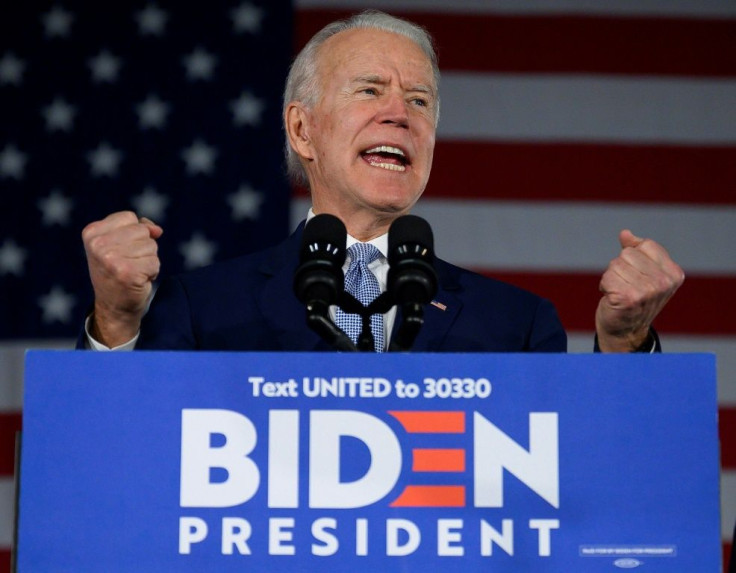 With Texas in a virtual tie, pundits now expect Biden to win the most number of delegates on Super Tuesday. Sanders had expected to win big in Texas and the continuing close race with Biden looks to derail that aim.
Analysts concur the endorsements by former mayor Pete Buttigieg, Sen. Amy Klobuchar, I-MN, and former Texas congressman Beto O'Rourke on Tuesday were pivotal in Biden's strong showing. Biden won Minnesota and performed much better than expected in Texas, which Sanders was supposed to win handily. Sanders, however, remained confident of winning the most number of delegates.
"We're gonna win the Democratic nomination, and we are going to defeat the most dangerous president in the history of this country," said Sanders to cheering supporters in Essex Junction, Vermont.
"We're not only taking on the corporate establishment. We're taking on the political establishment."
© Copyright IBTimes 2023. All rights reserved.
FOLLOW MORE IBT NEWS ON THE BELOW CHANNELS