Super Typhoon Haiyan Aftermath: Philippines' Huge Gun Culture Highlights Fears Of Looting And Violence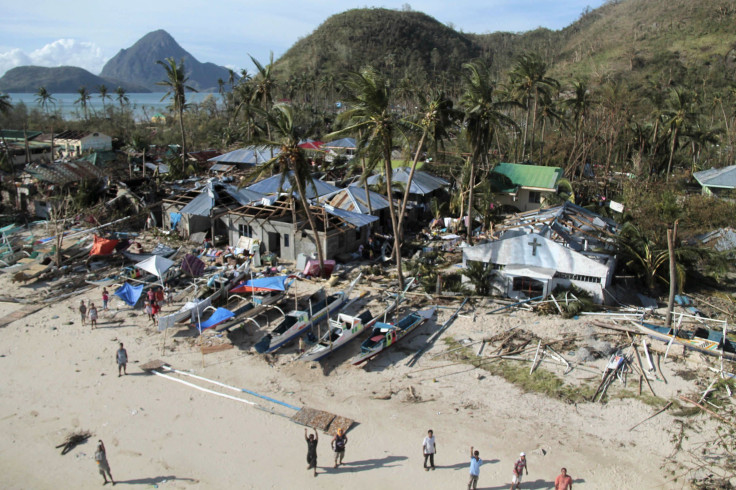 In the aftermath of super-typhoon Haiyan in central Philippines, some survivors are getting what they need by dangerous means. Seeking food, medicine and other essential items, some have resorted to looting and violence, according to various media reports. Associated Press reported that in Tacloban, one of the worst-hit regions of the country, mobs invaded a grain warehouse to take thousands of sacks of rice, triggering the collapse of a wall that killed eight people. That incident sparked a gunfight between looters and security forces. On Wednesday, in another incident near the city's San Juanico bridge, security forces engaged in another battle with armed men, according to local TV reports.
Some 11 million people have been affected by the superstorm that struck the eastern seaboard of the Philippines five days ago, believed be to be one of strongest typhoons in recorded history. Efforts by government and international aid agencies have been hampered by impassable roads and other logistical problems, thereby intensifying the anger and desperation of people trapped in storm-ravaged areas. "There's a bit of a logjam, to be absolutely honest, getting stuff in here," said U.N. aid official Sebastian Rhodes Stampa. "We're going to have a real challenge with logistics in terms of getting things out of here, into town, out of town, into the other areas. The reason for that essentially is that there are no trucks; the roads are all closed."
Filipino officials have said that at least 2,275 people have died in the storm, but that figure is sure to escalate much higher in the coming days. Another 600,000 people are homeless. AP also reported that there have been many reports of people breaking into homes, shopping malls and garages to steal food, water and other goods. Unconfirmed reports indicate that some armed gangs are operating systematically to steal and loot. Still, having imposed a curfew from 8 p.m. to 5 a.m., local police claim the security situation is getting better. "We have restored order," said Carmelo Espina Valmoria, director of the Philippine National Police special action force. "There has been looting for the last three days, but the situation has stabilized."
However, fears of more looting and related violence remain credible – indeed, the Philippines is a nation awash in guns and is no stranger to gun killings and even massacres, particularly ahead of elections (even in the absence of natural disasters that threaten massive social upheaval).
In the Philippines, politics and extreme violence go hand in hand. For example, in November 2009, almost 60 people, including reporters, were killed in Ampatuan, Maguindanao province, by members of a rival clan ahead of an election that would determine the local governor. The dead were quickly buried in mass graves. In that atrocity, some 100 men loyal to the powerful Ampatuan clan assaulted an election convoy of the rival Mangudadatu family. Police eventually arrested almost 200 people, including members of the Ampatuan family, as well as police officers, soldiers and militia men.
Such indiscriminate killings underscore the endemic violence and widespread gun culture of Filipino society. The situation has gotten so out of control recently -- the country has seen a number of shootouts and massacres -- that Philippine President Benigno Aquino has pushed for the campaign to remove unlicensed weapons from the streets and put a dent in the country's huge and lucrative black market for guns. On New Year's Eve 2012, stray bullets from a shootout killed two children, while a drug-addled gunman murdered seven people in a slum, which was followed by the massacre of 13 people in a gambling turf war.
Ed Quitoriano, an independent consultant who advises foreign embassies on security risks, told Radio Australia that the demand for guns in the Philippines comes from civilians' distrust of authorities they regard as corrupt and/or incompetent. "The guns are being used by civilians, generally for protection," he said. "It's in the house, you carry it, and in the face of crime, criminals, you use it for yourself because you don't trust the police." Quitoriano blames the government for the proliferation of illegal guns since they have no effective way of destroying them upon confiscation. "There is no gun manufacturer that can directly upload or unload supply to the market," he said. "It's the government agency that sets the quota for imports ... and it also has control over confiscated weapons."
Some in the Philippines buy and trade guns simply to raise quick cash when necessary. "Why do I trade guns? Because there is a demand for it. And it's extra income," Jomari Paraas, a former communist guerrilla and current community organizer for a nongovernment organization, told Agence France-Presse. Buyers of illegal guns run the gamut of Filipino society, from crime-weary housewives to political bosses who hire private armies for protection. "They [revolvers] are light and easy to move, and in demand from many people because they primarily use it for self-defense," Paraas said. "Higher-caliber guns and automatic rifles can also be bought, at a higher price."
The Philippines, whose gun culture dates back centuries, had 1.2 million registered firearms as of last year, and an estimated 600,000 unlicensed weapons, according to national police statistics. But Quitoriano thinks there might be as many as 4 million illegal guns floating around the country. Quitoriano also told AFP that government officials and military personnel do not aggressively seek to halt the gun trade since some of them profit from it themselves. "Many of the unlicensed guns that leak into the grey market actually come from legal imports and government purchases," he said. "If the public trusted the government more, there would be no need for them to protect themselves by arming."
Indeed, President Aquino himself reportedly owns some 22 guns and appointed a marksman who taught him how to shoot to the position of chief of the Philippine National Police. Ana Marie Pamintuan, a columnist for The Philippine Star newspaper, wrote that a gun ban is unlikely and unrealistic. "In our country, there are administrative orders supposedly limiting the number of guns and the calibers that can be owned by civilians," she wrote. "But there are exemptions, and it's not unusual, especially for people in positions of influence or with the right connections, to maintain mini arsenals at home, legally. You can buy a gun from a licensed importer or from the military and police if you have a good reason and you know the right people."
She added that not even the horrific massacres of 2009 led to tighter gun control measures. "The political will isn't there," she concluded.
© Copyright IBTimes 2023. All rights reserved.