Surgical-Table Selfies Spark Outrage In China, Medical Staff Face Punishment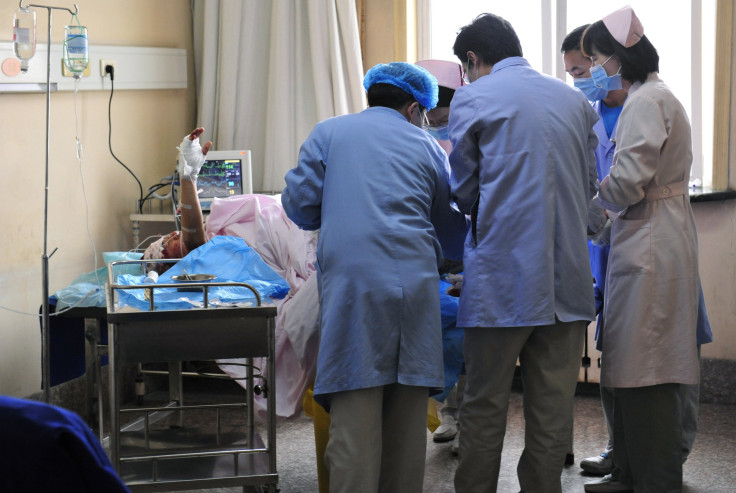 Chinese authorities have cracked down on a dozen health care workers in northwestern Shaanxi province for taking selfies around a patient lying on a surgical table, local media reports said Monday. The photos, which triggered outrage on the country's micro-blogging sites, were reportedly taken at Fengcheng Hospital, a privately-run facility in the city of Xi'an.
Three officials were removed from their positions while the executive president of the hospital has been put on probation. All other medical workers featured in the photos were given a demerit in their record and issued administrative warnings, China Daily reported. Local media reports also revealed that each person in the photo will be fined an amount equal to three months' pay. The selfies showed the doctors smiling and posing near an unconscious patient, Xinhua news agency reported.
An investigation conducted by the city's public health bureau revealed that the photos were taken at a surgery on Aug. 15, The Associated Press reported. The health bureau also reportedly stated that the hospital will have to issue a public apology for the incident.
The photos, reportedly tagged as "surgical table selfies," were later circulated on popular social networking app WeChat and also on the Weibo micro-blogging service, and sparked outrage on social media. The photos reportedly attracted more than 8 million hits, making it the second-most discussed subject on Weibo, the country's Twitter-like site.
Social media users reportedly described the photos as disrespectful, even as others noted that it did not appear as if the doctors took photos during the surgery. A staff member told local media that the patient was a 40-year-old worker who received serious injuries to his leg. The surgery, which lasted for several hours, was critical but the doctors managed to save the patient's leg, and clicked photos to celebrate the successful surgery.
"How horrible! Would they still be able to smile if their loved ones were lying on the surgical table?" one of the users wrote online, while another wrote: "If I were the person on that table I would not thank the doctors even if it was a successful operation."
© Copyright IBTimes 2023. All rights reserved.