Swastikas Found On Hanukkah Wrapping Paper, Walgreens Pulls From Shelves [PHOTO]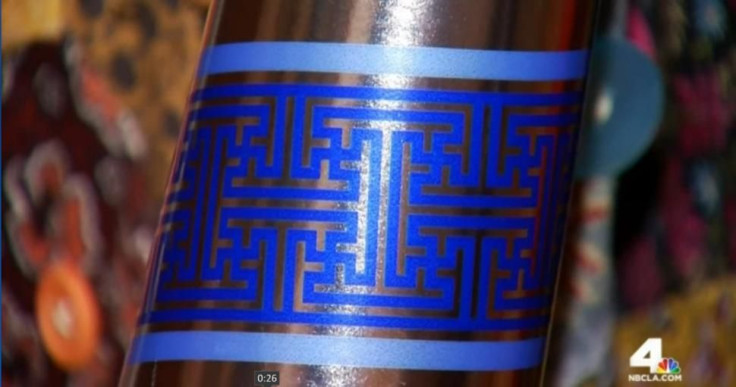 When Cheryl Shapiro visited the holiday aisle at her local Walgreens in Los Angeles over the weekend, she was shocked to spot Hanukkah wrapping paper with a geometric border design that had a swastika shape in it. Shopping with her grandson at the time, Shapiro alerted the store's manager, who promptly removed the gift wrap, and at least one other Walgreens in the area has done the same.
"I told them I wanted this taken off the shelves immediately -- not just your store, but national," Shapiro, who is Jewish, told NBC LA. "I was really putting my foot down because I was appalled by this."
Walgreens spokesman Phil Caruso said the company would remove the rolls from shelves. He did not provide an estimate on how many rolls of the wrapping paper the major drugstore chain sells.
"I saw it immediately. I think I have a good eye," Shapiro told KABC, adding that she called her rabbi when she returned home. "He couldn't believe it," Shapiro said. "I'm still very upset about it, that something like this could be on the market."
The swastika appears as a sacred or decorative element in various cultures, but the Nazis' use of it during the Holocaust makes it anathema to Jews.
While some are as outraged as Shapiro was about her discovery, others say she was overreacting.
"This is not a swastika. In art/design/history this is called a 'meander' and it was common in Ancient Greece," redditor NotCohen wrote about the design. Redditor sRazors96 said the pattern "looks similar to the Golden Dawn's logo," referring to the emblem of Greece's far-right political party, which has been described as neo-Nazi.
This isn't the first time swastikas have been spotted on holiday wrapping paper. In November 2009, an Orlando woman spotted the Nazi symbol on wrapping paper bought at a Dollar Mania store. At first, she did not notice the symbol, but then it struck her when she started wrapping her presents.
"I asked myself, is it really what I think it is? Am I making something out of nothing?" Casey Lehman told WESH 2 at the time. It turns out the pattern was an ancient Sanskrit symbol from Hinduism that means good luck. Still, not everyone will see it that way.
"If I had sent this out on my Christmas gifts and someone had pointed it out to me, I would have been mortified. I would have been really embarrassed," Lehman said.
© Copyright IBTimes 2022. All rights reserved.
FOLLOW MORE IBT NEWS ON THE BELOW CHANNELS