Syria, France Deadliest Countries For Journalists In 2015: Report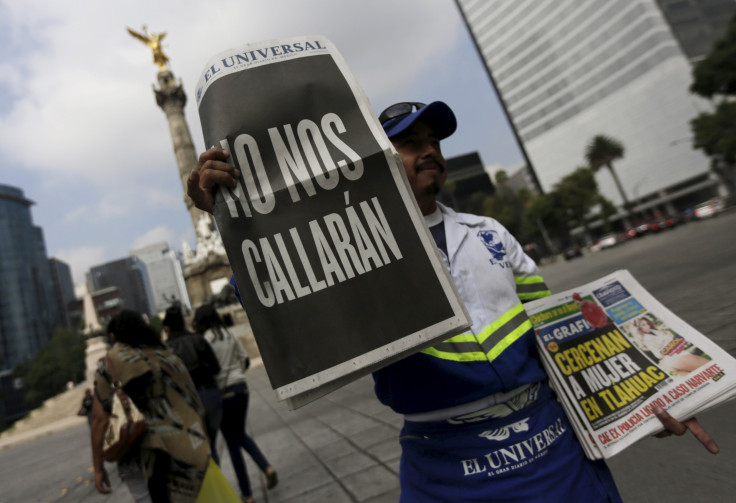 It's been another deadly 12 months for journalists around the globe, with 69 killed in work-related incidents, according to a year-end report released Tuesday by the Committee to Protect Journalists (CPJ), a press freedom organization based in New York City. Syria and France were the two deadliest countries for journalists, with militant groups -- including the Islamic State group and al Qaeda -- claiming responsibility for a total of 28 deaths of journalists.
"This is one of the highest years for non-state actors, specifically criminal militias that have inflicted the most pain on journalists -- and that includes kidnapping and killing them," said Sherif Mansour, CPJ's Middle East and North Africa program coordinator. "Islamist militia groups have been able to go beyond their borders and reach the heart of Europe and France."
Eight journalists were killed in France in connection with a terrorist attack against the satirical publication Charlie Hebdo in January. Al Qaeda in the Arabian Peninsula claimed responsibility for the attack. Thirteen journalists were killed in Syria this year, reflecting lower numbers than in past years, as fewer media outlets operate in the country and many local journalists have fled a conflict that has left more than 200,000 people dead.
The stranglehold that the Islamic State group -- also known as ISIS or ISIL -- holds on parts of Iraq and Syria has made it difficult to investigate and confirm other cases. While Iraqi forces managed to recapture the city of Ramadi from ISIS on Sunday, Mansour warns that more violence against journalists is likely.
"It seems that they [ISIS] are not on the rise anymore -- by most guesses they are on the demise -- but that doesn't mean they are stopping or decreasing the targeting of journalists. On the contrary, I think they are picking up their operations against journalists," Mansour said.
Filmmaker Naji Jerf was killed in Turkey near the Syrian border in broad daylight Sunday. Jerf was part of the journalist group Raqqa is Being Slaughtered Silently, which has documented life and abuses under ISIS. No group has taken responsibility for Jerf's death.
While in previous years the deaths of journalists were highly concentrated in major conflict zones, the report found that in 2015 journalists were targeted around the globe, with at least five killed in Bangladesh, Brazil, Iraq, South Sudan and Yemen. Additionally, at least 110 journalists were jailed on anti-state charges in 2015, showing the challenges faced from governments as well.
The statistics for 2015 take into account deaths up to Dec. 23. More than two dozen additional cases are still being investigated to determine whether the deaths were related to the journalists' work. In 2014, 61 journalists were killed because of their work. CPJ has tracked the deaths of journalists around the world since 1992.
© Copyright IBTimes 2023. All rights reserved.
FOLLOW MORE IBT NEWS ON THE BELOW CHANNELS