Syrian Refugees Crowned King In The World Of Asylum Seekers; Others Fake It Till They Make It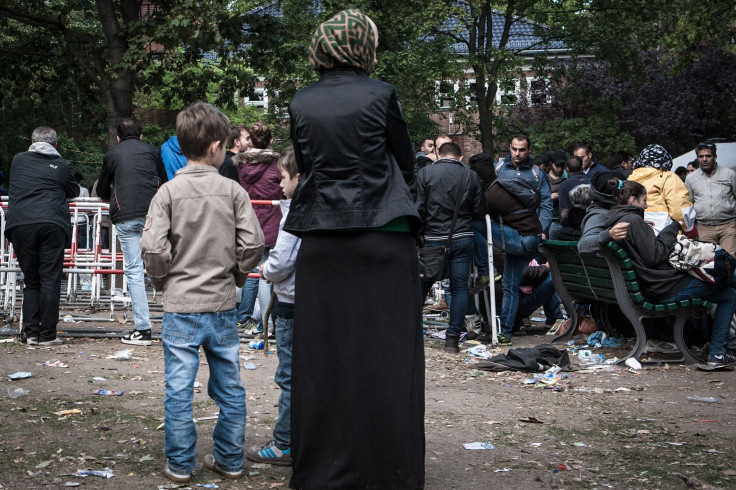 BERLIN -- Abdo is angry. He grinds his incongruously luminescent orange sport shoes into the dirt. The 27-year-old Egyptian is standing outside the State Office of Health and Social Affairs (LaGeSo), where hundreds of refugees are waiting to register their asylum applications. He gives only his first name, citing security risks to his family in Alexandria. Many refugees, he says, have false documents or profess to have none, in order to improve their chances of receiving official asylum status -- and in doing so make it harder for everyone else.
"I have met Moroccans, Tunisians, Algerians who want to come to Europe. They think they will get here if they say they are Syrian or Egyptian," Abdo says. "But their accents and dialects are different. As soon as they open their mouths, you know they are lying."
In deciding who will receive asylum and who will not, European governments distinguish between migrants who are making the journey for economic reasons, such as a higher standard of living or improved job opportunities, and refugees who are fleeing war and persecution. Certain nationalities are much more likely to be successful. It's an unsavory game where police brutality, government repression and violent insurgencies count for more.
The unpalatable truth is, in the battle for Europe, some refugees are more equal than others. Syrians, fleeing a vicious civil war that's displaced 7 million people, are almost always granted asylum – in 2014, Germany approved 99 percent of their asylum applications. Last month, the affluent West European nation decided to suspend the European Union's Dublin Regulation, which requires refugees to register for asylum at their first point of entry. But this loosening of EU rules applies only to Syrian refugees. Asylum seekers from elsewhere, who have journeyed through other EU member states to get to Germany, are liable to be deported.
Syrian Asylum Applications in European Countries | FindTheData
With thousands of refugees seeking to cross EU borders every day -- around 340,000 since January -- competition for resources is fierce. The journey, over land and sea, through Balkan forests and central European cities, takes weeks and is fraught with danger. Threats of drowning, dehydration, detainment and deportation lurk ever near. Fear is a constant companion. "There are so many sleepless nights," Ahmed Ataya, a 22-year-old Syrian refugee, tells International Business Times.
Given such an inhospitable environment, refugees will do everything in their power to maximize their chances of staying in their host country of choice.
Last week, German customs officials seized packages containing Syrian passports intended for illegal sale to asylum seekers. The EU border agency Frontex reported that a lucrative industry has built up around falsifying papers, especially in Turkey, which is a major transit point for refugees heading to Europe.
Fabrice Leggeri, a Frontex official, told French radio station Europe 1 that "people who use these fake passports mostly speak Arabic. They may come from North Africa, the Middle East, but they have the profile of economic migrants," he said.
The accounts of refugees in Germany support these allegations. Ataya, who arrived in Germany almost three years ago from Erbin, a besieged suburb of Damascus, says migrants commonly assume Syrian identities on arrival in Europe.
Sometimes, he says, they don't even speak Arabic. "On the journey [from Turkey] I saw Pakistanis, Afghans, even Indians, who said 'I am Syrian.' Some of them couldn't even say that."
Palestinians, Iraqi and Lebanese have a better chance of pulling off their deception, as the dialect is similar, although differences in tone and accent can betray their true origins. Syrians from the eastern city of Deir ez-Zor sound similar to Iraqis, but deft questioning can quickly unveil an imposter.
"I ask a few simple questions. 'Which town are you from?' 'Where did you study?' 'Where were you working?' And when the answers dry up, I know they're not who they say they are," Ataya explains.
The German authorities aren't blind to the issue. In a statement to IBT, Monika Hebbinghaus, a LaGeSo spokeswoman, said, "It's the responsibility of the Federal Office for Migration and Refugees to ascertain the veracity of the claims made by asylum seekers."
During the course of the asylum process, which takes at least six months and up to several years, translators are deployed to determine whether applicants' stories match up to the facts. If discovered to be fabrications, they'll be deported, either to their countries of origin, or, if that's not possible, to the first EU member state they entered.
But Abdo is convinced that many slip through the net. He says he's concerned the asylum quotient will be filled by those who don't deserve it. "I'm Egyptian. There are not so many places for us as Syrians. If a man from Algeria says he is from Egypt, he is taking a place from me."
Abdo says fake claimants make it harder for those with genuine claims. "There is less trust. People are more suspicious. You cannot expect a warm welcome."
Others are more forgiving. Some even suggest that the translators act as collaborators, not wanting to risk being wrong and sending migrants to a worse fate.
Yahya Alaous, a journalist in Damascus, in Berlin works mostly as a translator and media fixer.
"Even if the translator realizes," Alaous says, "are they really going to send them back to ISIS?"
© Copyright IBTimes 2023. All rights reserved.
FOLLOW MORE IBT NEWS ON THE BELOW CHANNELS