Syria's Civilian Death Toll: Number Of ISIS Victims In 2015 Is Much Less Than Assad Regime-Inflicted Casualties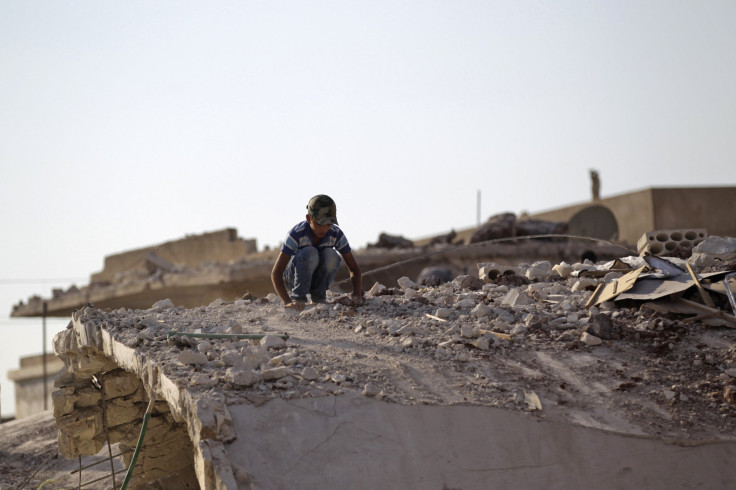 More than 21,000 people were killed in the Syria conflict in 2015, most of them civilians, according to the Syrian Network for Human Rights, the Middle East Monitor reported. The report indicated the Islamic State group, also known as ISIS, has proved less deadly than the Syrian government this year; the regime of President Bashar Assad has been responsible for 75 percent of the casualties, according to the report.
Of the 15,748 people reported killed by government forces, a vast majority, 12,044, were civilians. Thirty-eight percent of civilian casualties were women and children, the human rights group said. For comparison, ISIS was reportedly responsible for the deaths of 2,098 people, which included 1,366 civilians, while Nusra Front, an al Qaeda affiliate in Syria, was responsible for at least 167 deaths, including 89 civilians.
The stark difference in death toll responsibility, however, is not to be confused with a lower degrees of brutality. ISIS has been accused of egregious human rights violations, including mass executions, and has regularly filmed beheadings.
The Syrian Network for Human Rights describes itself as an "independent human rights organization that investigates and documents all violations committed by all parties involved in the Syrian conflict," and is registered in the United Kingdom. The report admittedly underestimated deaths, as documenting battlefield casualties is difficult. The error rate was considered high, as neither the Syrian government nor rebel factions document their casualties, the group said.
The Syrian conflict spiraled into a full-blown civil war in 2011, after a popular uprising turned violent and opposition groups ousted government forces from areas under their control. The Syrian conflict has claimed the lives of some 250,000 people, according to the U.N., and more than half of the country's population of 22 million has been displaced. Millions have fled overseas.
In September, Russian forces began a military campaign in Syria to bolster the embattled leader Assad. Those strikes have killed 849 civilians, including 199 children and 109 women, the report said. Critics of Russian intervention in Syria have alleged that the Russian military has targeted civilian structures in areas controlled by opposition groups to weaken civil society.
Another 132 civilians were killed by Kurdish forces, including four people who reportedly died under torture, and the rights group said 1,121 people were killed by opposition rebel factions, including 1,072 civilians. International coalition forces were said to be responsible for 277 civilian deaths. The Syrian Observatory for Human Rights published a report last month, reporting similar statistics.
© Copyright IBTimes 2023. All rights reserved.