T-Mobile CEO John Legere: Google's Project Fi Is 'Highly Profitable For Us'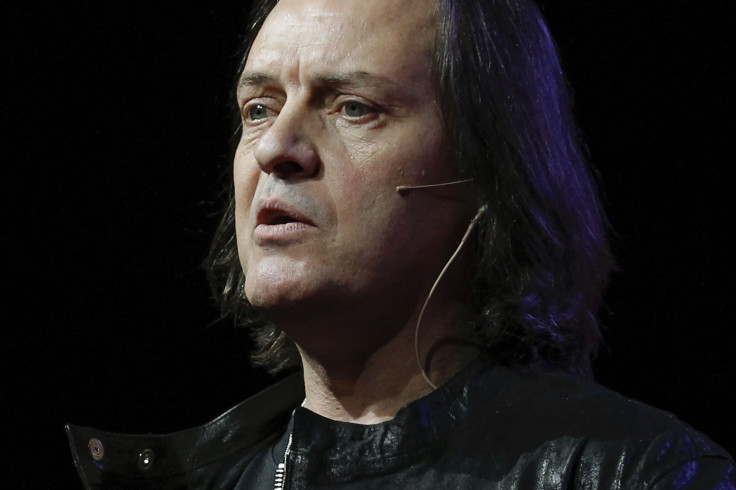 T-Mobile's outspoken CEO John Legere addressed Project Fi, Google's first experiment with entering the wireless carrier market, during a public question-and-answer session livestreamed on Periscope on Thursday. Although it might appear at first glance as if Project Fi would turn T-Mobile and Google into competitors, Google is heavily relying on T-Mobile's network, and Legere sounded genuinely enthusiastic about being Google's partner.
When asked a question about how many subscribers T-Mobile has added thanks to the Project Fi program, Legere mentioned that he didn't have numbers yet, but went on to add:
Google is going slowly, learning from the trial. We're really proud to be a part of it, fascinating to be partnering with them on something that's highly profitable for us. We're not usually in things for the good of our heart.
This is perhaps the best spin that T-Mobile can put on Project Fi, which calls into question the current carrier paradigm in the United States. Although Google insists that its wireless service is an experiment, it does things very differently from plans one can purchase from carriers like T-Mobile.
Project Fi is carrier agnostic, using the best Internet connection available, whether that's signal from T-Mobile, Sprint, or a Wi-Fi network, and does not come with data allotments. Instead, Google charges $10 for 1GB of data and refunds customers down to the cent for data they don't use. It's not hard to see the way Project Fi -- if it becomes a model for future wireless plans -- might eventually cannibalize the demand for T-Mobile plans.
But Google doesn't own its own wireless network, so it's purchasing wireless from T-Mobile and Sprint to resell, and according to Legere, selling its service to Google is profitable. The question about Project Fi also gave Legere an opportunity to slam rival Sprint, which he rarely passes up. (Last week, he got in a public Twitter spat with Sprint CEO Marcelo Claure.)
"I've heard a number of people say, who are on the trial, they've never seen their phone go to Sprint. And I had predicted that, because it goes on strength of signal, 80 to 90 percent of the time you leave Wi-Fi it'll probably go to T-Mobile, and that's what I've been seeing as well," Legere said.
Currently, signups for Project Fi are invite-only, and the service requires customers to purchase a $500 phone, the Nexus 6, either at full price or through an installment plan. So it's safe to say that there aren't a lot of Project Fi subscribers yet.
T-Mobile held its Periscope conference to announce free 4G LTE roaming to Mexico and Canada for some of its wireless plans. Legere mentioned that T-Mobile previously allowed customers to roam in those countries, but they were often throttled to lower data speeds, meaning that 50 percent of smartphone owners turned their devices off when they crossed the border into those countries. T-Mobile will partner with the "No.1 and No.2 carriers in both Mexico and Canada" to enable its new roaming feature, which becomes available on July 15.
During the freewheeling one-hour press conference livestreamed on Periscope, Legere touched on several aspects of T-Mobile's business. He briefly shared second quarter preliminary results, saying that T-Mobile added 2.1 million net customers during the quarter, although over half were on less-profitable pre-paid plans. He also mentioned his public spat with Claure, and revealed that he watched the Mayweather-Pacquiao fight over an illegal Periscope lstream.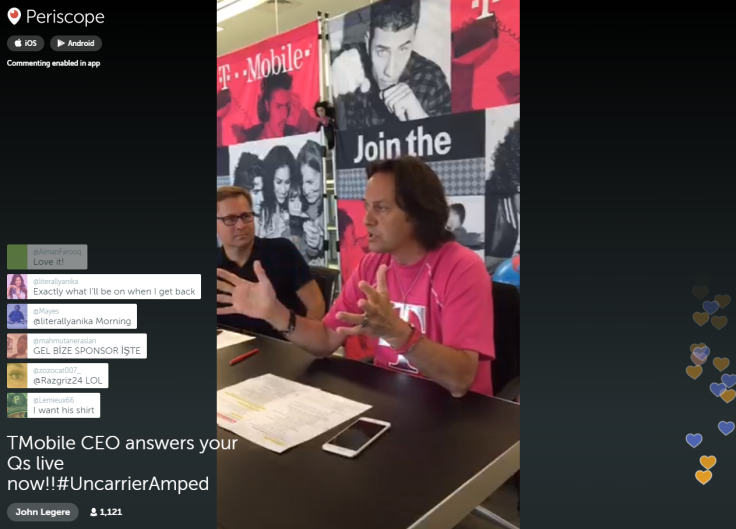 © Copyright IBTimes 2023. All rights reserved.