Takeru Kobayashi Vs. Joey Chestnut: The Big Fat Hot Dog Fight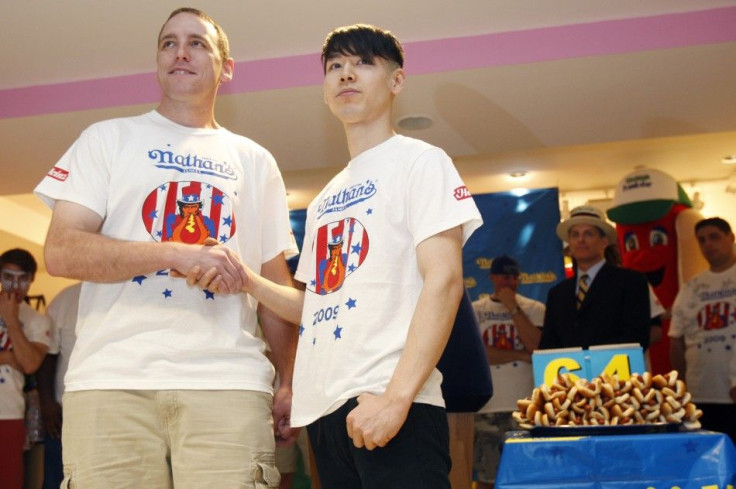 At the Fourth of July Nathan's International Hot Dog-Eating Contest in Coney Island, N.Y., Joey Chestnut scarfed down 68 hot dogs to win the 2012 title. But across town, his competitive eating rival, Takeru Kobayashi, ate 68.5 hot dogs at the Crif Dog Classic.
Kobayashi was, by all accounts, the competitive eating world's superstar for years, winning the Nathan's title from 2001 to 2006. In his first year of competition, he ate twice as many hot dogs as his closest competitor. Indeed, when competitive eating went mainstream thanks to ESPN in 2004, it was the slight Japanese wonder who captured the world's imagination. How could such a small man eat so many hot dogs?
Kobayashi is widely credited with popularizing the sport, turning the annual hot dog-eating contest into a must-watch Fourth of July event.
A contract dispute, however, forced Kobayashi out of the Nathan's competition two years ago. Essentially, the Nagano, Japan, native refused to go along with Major League Eating's restrictive limits on endorsements and remuneration.
My belief is that the organization that produces the event cannot be the same agency that also owns the athletes, he recently told SBNation. My belief is that there should be a body governing the contest... that each eater should belong to their own agent or their own agencies. The same organizing people cannot be the same body organizing the eaters.
Kobayashi sees himself as a freedom fighter of sorts and has chosen to navigate this niche industry alone, turning down a three-figure MLE contract on principle to instead perform at freak events around the world to make a living.
His row with the MLE went down amidst the competitive eating world's first big rivalry: Kobayashi vs. San Jose, Calif., native Joey Jaws Chestnut.
Chestnut easily took the mustard yellow belt this year at the Nathan's International Hot Dog-Eating Contest in Coney Island, besting his main rival by 16 hot dogs.
I feel good; it was a great win, Chestnut said in his victory speech, adding that he wished he could have eaten a record number of hot dogs for the audience. I tried my best. I'm looking forward to next year already.
Chestnut is now tied with his former rival with six consecutive wins at the event. Kobayashi had held the record from 2001 to 2007 before Chestnut began his dominance, beating Kobayashi until his controversial exit.
In 2010, Kobayashi was arrested when he ceremoniously stormed the stage at the Nathan's Fourth of July competition. Last year, he began his journey back to the top by holding a rival competition on the roof of a Manhattan bar, polishing off 69 dogs and buns in 10 minutes -- one more than the world record and seven more than Chestnut did at Coney Island.
MLE president George Shea sneered at the stunt:
The champion of the world is crowned in Coney Island, Shea said at the time. Always has been, always will be. He put a tin crown on his head and called himself king.
Chestnut too was unfazed.
I think even Kobayashi would agree that the record still stands at 68, Chestnut said. And if he wants to compete with me on the Fourth of July, he knows what he has to do: sign a simple contract and man up.
Yet, that's hardly Kobayashi's style.
This year, the eating sensation formed his own hot dog-eating competition. The contest takes its name from a newer New York hot dog institution, Crif Dogs, which entered the market in 2001.
The first annual Crif Dog Classic took place just after 3 p.m. EST Wednesday at Roberta's, a popular restaurant in Brooklyn's hip industrial neighborhood, Bushwick. It was streamed live at SI.com and on UStream.
While Chestnut took home just $10,000 for his Nathan's win, Kobayashi took home $15,000 for the Crif Dog Classic, suggesting that his fight against the MLE may be worth it. But at the end of the day, we are just talking about people shoving hot dogs down their throats.
© Copyright IBTimes 2023. All rights reserved.