Taksim Square Protests Prompt Travel Warnings, Reassurances Over Istanbul's 2020 Olympics Bid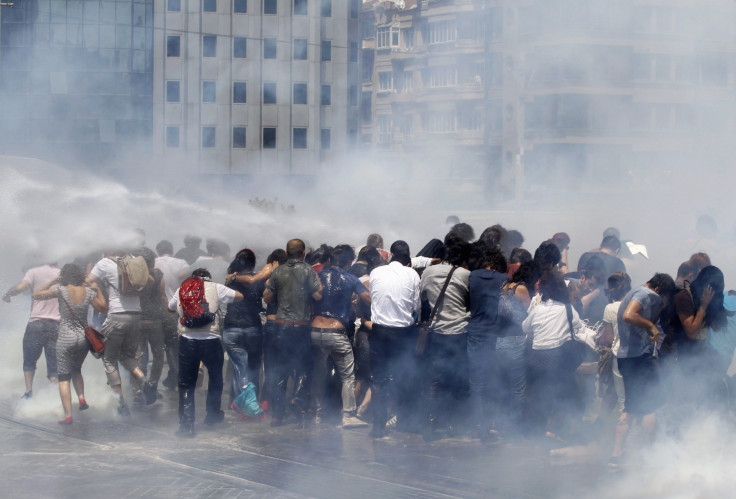 What began as an environmental demonstration against a new development project in Istanbul's Taksim Square on Friday has quickly spiraled into a broader and more violent nationwide protest against what critics call the increasingly authoritarian government of Prime Minister Recep Tayyip Erdogan.
The demonstrations grew in size over the weekend following the heavy-handed police tactics used to break up a peaceful sit-in Friday at Genzi Park in Taksim Square -- a popular transit and tourist hub in the city center. Crowds swelled into the tens of thousands, according to some witness reports, while human rights groups claim hundreds have been injured and many more arrested.
American John Giaimo was in Istanbul over the weekend undertaking studies at Boğaziçi University for an MBA program through New York University. "We were on out way back from sightseeing when we ran into conflicts between the police and protesters. They tear gassed us pretty hard," he wrote in an email to International Business Times. "The next day we were speaking to the protesters and they were all civilized and just trying to send a message to the government. They were very apologetic to us tourists and very welcoming."
Giaimo said that for innocent bystanders and protesters alike "tear gas lived up to its name." The American was staying at the Marmara Hotel right on Taksim Square, but by Sunday afternoon was in the process of being relocated away from the protests.
The first wave of travel warnings for Turkey came on Sunday, beginning with the UK Foreign and Commonwealth Office, which advised against all but essential travel to parts of the country. "Following recent demonstrations in Istanbul and other cities in Turkey in which police used tear gas and water cannons, the possibility of further demonstrations remains high," the travel advisory said. "We advise British nationals to avoid all demonstrations."
The advisory urged travelers to avoid Taksim Square in Istanbul and other areas where protests were taking place, including Ankara and the entire border with Syria. The agency noted, however, that more than 2.5 million British nationals visit Turkey each year and most visits are trouble free.
The Association of British Travel Agents claimed about 15,000 UK tourists were in Turkey over the weekend for the half-term break, but said most would be returning Monday. "The vast majority of people traveling to Turkey shouldn't be affected, but if people are in Istanbul they should avoid central areas where the demonstrations are happening," the association said in a statement.
A widely-circulated Reuters report on Saturday alleged that an Egyptian tourist was critically injured in Friday's clashes between protesters and police. A member of Istanbul Medical Chamber's board told the news agency that a 34-year-old Egyptian woman had a brain hemorrhage after having been "hit by a police gas canister in the crackdown on antigovernment protests in Istanbul's center Taksim Square."
The Egyptian consulate in the city contacted Turkish authorities over the reported incident, however, and found that the woman injured wasn't Egyptian. The consulate has since warned all Egyptian tourists and residents to stay away from Taksim Square and the surrounding areas.
Promoters of Istanbul's bid to host the 2020 Olympics, meanwhile, called the protests a "regrettable situation" and said they were monitoring it "very carefully." They remained confident that the Turkish people were united behind their campaign.
"Despite these recent events, all sections of Turkey remain united in our dream to host our nation's first ever Olympic and Paralympic Games in 2020,'' Istanbul 2020 backers said in a statement on Sunday. "The slogan for our Olympic bid is 'Bridge Together' and there is a common desire to unite in the Olympic spirit and show the world that we can work together for a better Turkey.''
The International Olympic Committee will choose the host of the 2020 Summer Olympic Games in September, with Istanbul competing against Madrid and Tokyo. It's Istanbul's fifth attempt at the honor, and bid leader Hasan Arat told those gathered at a SportAccord conference in St. Petersburg last week that in the past, "Turkey bid for the games as an emerging nation. This time, Turkey is bidding as an emerged nation."
"We have aligned the needs of Istanbul with the needs of the Olympic and Paralympic Games," Arat said. "Our city needs more transportation infrastructure, and we are building it. Our urban population needs more sports facilities, and we are developing them. Our young people need more role models, and the Games offer them. … Istanbul offers a bridge to bring the world's humanity together."
How well Istanbul handles the protests will likely become a major factor in the success or failure of its bid for the Olympic, and if new developments on Sunday night are any indication, the battle is far from over.
Prime Minister Erdogan said on national TV that he would "not yield to a few looters coming to [Taksim Square] and provoking our people, our nation, based on their misinformation." He called accusations that he was becoming dictatorial absurd, saying he was simply "a servant of the people." His government showed no signs of budging on the development project that triggered the protests, while the protesters themselves showed no signs of backing down.
FOR FREE to continue reading
✔️ Unlock the full content of International Business Times UK for free
offer available for a limited time only
✔️ Easily manage your Newsletters subscriptions and save your favourite articles
✔️ No payment method required
Already have an account?
Log in
© Copyright IBTimes 2023. All rights reserved.