Tasers Can Kill, Says American Heart Association [STUDY]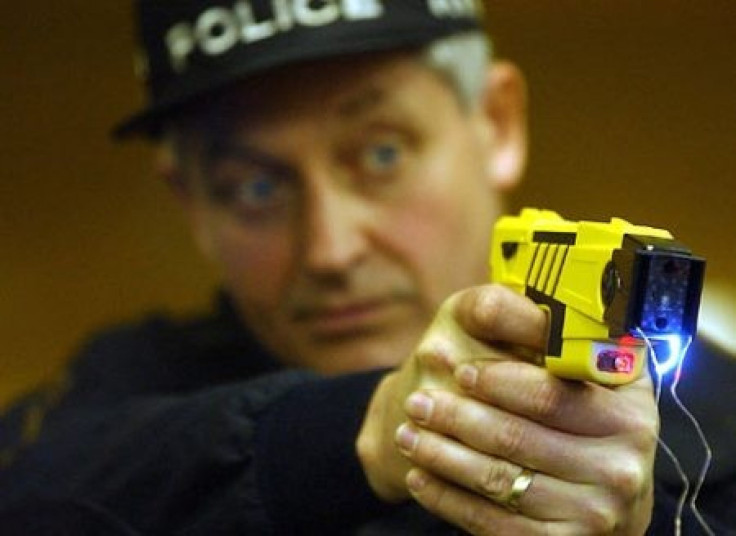 Roughly 16,000 police agencies around the world use Tasers, the electroshock weapons that send electrical currents to disrupt voluntary control over one's muscles, but law enforcement officers only prefer Tasers because they can subdue unruly people in a non-lethal, non-violent way, compared to clubs, gas, and rubber bullets. A new study released by the American Heart Association's journal on Monday, however, provides scientific, peer-reviewed evidence to the contrary.
Dr. Douglas Zipes, professor emeritus at Indiana University's Krannert Institute of Cardiology, discovered that a Taser shock can cause cardiac electric capture and provoke cardiac arrest, since the electrical current can create uncontrolled, fluttering heart contractions and abnormally rapid heartbeats. Furthermore, Zipes found that in eight cases with a Taser X26 ECD -- one of the most commonly used Taser models with police agencies -- seven of the people died. The entire study was published in Circulation, the American Heart Association's weekly journal.
Tasers can administer from 50 kilovolts to more than a million volts of electricity (1 AMP in police-issued tasers reduces the kick considerably), which temporarily immobilizes a person by disrupting the voluntary electrical signals from the brain to the muscles. The devices can be either used at pointe blank range, or shoot wires attached to barbs that can pierce a person's skin from up to 35 feet away. Yet, Zipes' research, bolstered by information from Amnesty International, proves that Tasers are not as non-lethal as they were once believed to be.
Amnesty International has been urging for stricter Taser guidelines. The group said that since 2001, more than 500 people died after getting stunned by a Taser, and while other factors like drug use and prior medical conditions played roles in many of these deaths, a few dozen cases ruled that the Taser contributed directly to the person's death.
Taser International Inc., based in Scottsdale, Ariz., isn't happy about the accusation in Circulation. Steve Tuttle, a spokesman for the company, argued that Zipes' study was far too narrow.
There have been three million uses of Taser devices worldwide, with this case series reporting eight of concern, Tuttle said. This article does not support a cause-effect association and fails to accurately evaluate the risks versus the benefits of the thousands of lives saved by police with Taser devices.
Tuttle also questioned Zipes' personal bias, noting that the doctor had once testified as an expert witness against Taser International.
There are key facts that contradict the role of the taser device in all of these cited cases, and Dr. Zipes has conveniently omitted all facts that contradict his opinion, Tuttle said.
When Zipes heard about Tuttle's comments, he simply disregarded them. He said that his research was vigorously reviewed by several well-respected cardiologists before published by the American Heart Association, and that his testimony and bias was very clearly disclosed in the article. Zipes added that he earns $1,200 an hour.
Mike Allen, a defense attorney and legal expert based in Cincinnati, believes Zipes' study could result in many police agencies across the country to reduce or entirely drop the user of Tasers. He believes that officers' fear of liability in a person's wrongful death could be attributed to those devices.
Dr. Zipes' study just adds credibility to the position that Tasers could be potentially dangerous, Allen told USA TODAY. He is well-respected in the medical community.
Allen said that Taser International has been the target of more than 50 wrongful death lawsuits, but the company had been successful in throwing those cases out of court. Now that there is some scientific evidence and some convincing case studies, police agencies will take a harder look at using these devices.
It's a snowball rolling down the hill that is only going to get bigger, Allen said. Law enforcement agencies now are going to be taking a skeptical look at Tasers. But now they seem to be getting some large judgments against them and that seems to be the trend. There is some evidence the device was not properly tested, and I expect to see potential product liability actions against Taser.
© Copyright IBTimes 2023. All rights reserved.
FOLLOW MORE IBT NEWS ON THE BELOW CHANNELS