Taylor Swift-Miley Cyrus Feud? Swift Believes Cyrus Dissed 'Bad Blood' In Jealousy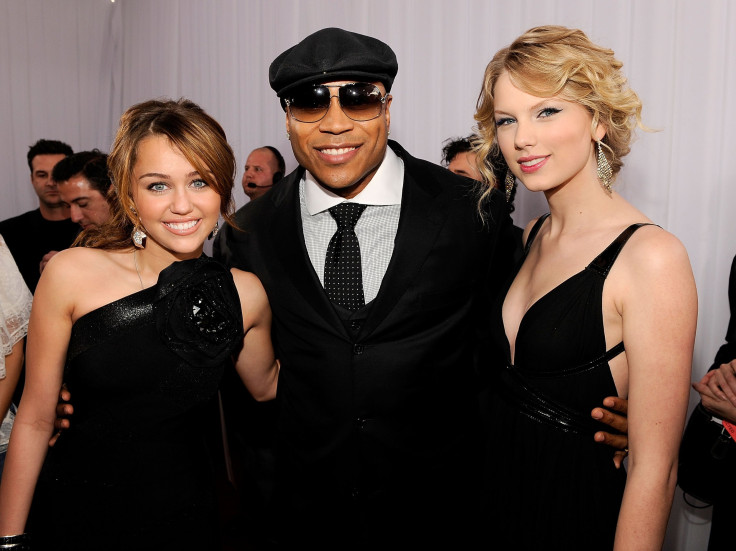 Taylor Swift believes Miley Cyrus criticized her song, "Bad Blood," because she is jealous, Hollywood Life reported, citing sources. In an interview for Marie Claire's September issue, Cyrus expressed her reservations about portraying feelings of violent revenge in song.
"Saying things like this is so typical of Miley. She is desperate for attention and will do anything to get it. It must kill Miley that Taylor has gotten so much attention for 'Bad Blood'. In Taylor's mind, Miley is just being jealous," a source close to Swift told Hollywood Life, adding: "She wants the spotlight on her and taking shots at Taylor is a good way to do it."
The "Bad Blood" video, which features Selena Gomez, Lena Dunham, Kendrick Lamar, Gigi Hadid, Ellie Goulding, Cara Delevigne and Cindy Crawford, among others, has received over 427 million views so far. The song has also received several nominations for the MTV Video Music Awards (VMAs), which will be hosted by Cyrus on Aug. 30.
The "Wrecking Ball" singer told Marie Claire in the interview: "I don't get the violence revenge thing. That's supposed to be a good example? And I'm a bad role model because I'm running around with my t------ out? I'm not sure how t------ are worse than guns."
Speculation of a feud between Cyrus and Swift has swirled around since the former posted a Instagram photo last month of Swift and Justin Bieber with their faces swapped. Swift had responded on the photo saying: "Sending you love."
Other songs nominated for the VMAs include Beyoncé's "7/11," Ed Sheeran's "Thinking Out Loud," Kendrick Lamar's "Alright" and Bruno Mars' "Uptown Funk."
© Copyright IBTimes 2023. All rights reserved.