Ted Cruz Refused To Meet With Muslim Groups, Including One From Texas: Report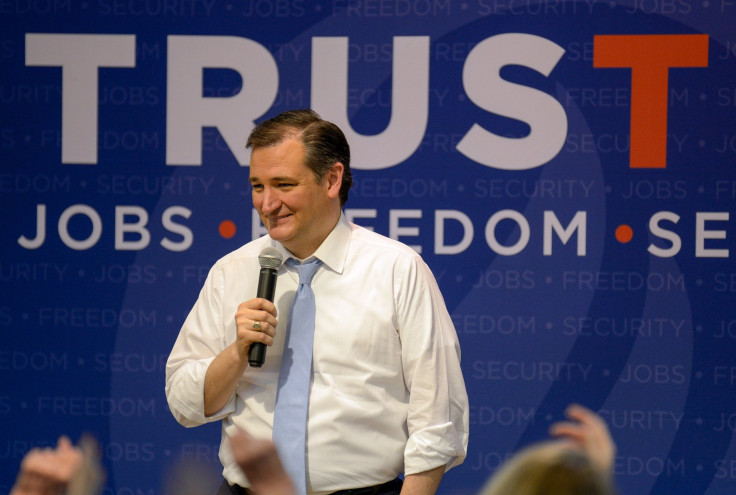 Texas Sen. Ted Cruz — the principal competitor to Republican presidential front-runner Donald Trump — has recently earned the scorn of Muslim-Americans, much like his billionaire rival, who famously called for a temporary ban on allowing Muslims to enter the U.S. The Dallas Morning News reported Cruz and his staff were slammed for refusing to meet Monday with Muslim-American groups, including one from his home state, during National Muslim Advocacy Day on Capitol Hill.
Alia Salem, executive director of the Dallas-Fort Worth chapter of the Council on American-Islamic Relations (CAIR), said her group tried for weeks to schedule a meeting with Cruz's staff in Washington, with no luck. Hundreds of members of the U.S. Council of Muslim Organizations, a coalition of American Muslim advocacy groups, went to Washington to meet with lawmakers on the advocacy day.
Salem said her group "traveled all the way from North Texas to come and meet with our elected officials. I know they have things they have to do, but what I'm concerned about is the complete and utter shutdown, not finding one legislative aide to meet with us," according to the Dallas publication.
"This is indicative of what a Cruz presidency would look like," Salem said later at a press conference Monday. "He has made clear in the media what he thinks about Muslims, how he plans to treat them, and today in his day job, he exhibited no less."
Ted Cruz Presidential Candidate Profile | InsideGov
Salem said the Cruz campaign initially offered to set up a meeting with a Middle East foreign policy adviser, according to the Dallas Morning News, which the group declined because, as American Muslims, they wanted to discuss issues affecting Americans. Efforts to set up a meeting with another staff member failed, Salem said.
The executive director of CAIR, Nihad Awad, told the Dallas publication the denial of meetings could be a political move and that "the feeling I'm getting is maybe this is the election season."
Cruz has angered American Muslim groups before with a statement, following the recent terrorist attacks in Brussels, calling for patrols in Muslim neighborhoods.
"Our European allies are now seeing what comes of a toxic mix of migrants who have been infiltrated by terrorists and isolated, radical Muslim neighborhoods," Cruz said in a written statement issued by his campaign. "We need to empower law enforcement to patrol and secure Muslim neighborhoods before they become radicalized."
CAIR quickly responded. "It's really beyond belief that you have one of the leading presidential candidates calling for law enforcement to target religious communities totally based on the fact that they are of a particular faith," CAIR spokesman Ibrahim Hooper told the Washington Post.
CAIR noted that Cruz recently hired as a foreign policy adviserd Frank Gaffney, whom the Southern Poverty Law Center has called a "notorious Islamophobe." Gaffney said the Council of Muslim Organizations was "working to advance the agenda of the Muslim Brotherhood in the United States" in an editorial for the Hill.
Cruz trails Trump in the race for the Republican nomination by about 200 delegates, with New York set to vote in its primary Tuesday.
© Copyright IBTimes 2023. All rights reserved.
FOLLOW MORE IBT NEWS ON THE BELOW CHANNELS