'Teen Mom 2' Star Kailyn Lowry Responds To Divorce Speculation After Husband Allegedly Spotted In Strip Club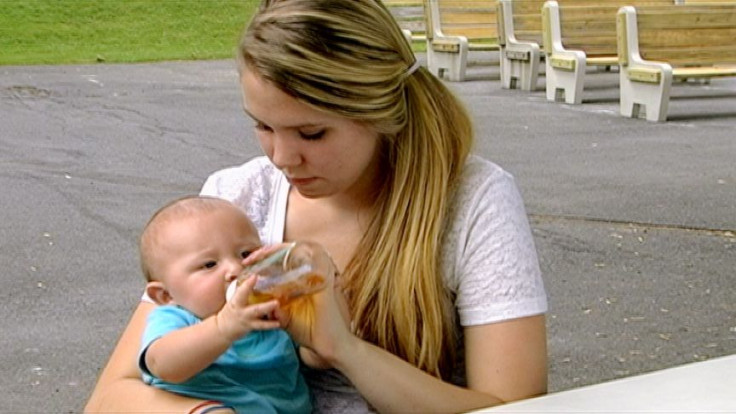 Is "Teen Mom 2" star Kailyn Lowry headed for divorce? In response to recent rumors of an impending split from her husband, Javi Marroquin, the MTV reality star took to social media to deny any marital discord.
The divorce rumors started after a tweet surfaced alleging that Javi, 21, recently made an appearance at a strip club sans Kailyn, 22. On Sunday, the "Teen Mom 2" star addressed the allegations and resulting speculation that she may be divorcing her United States Air Force member beau. "I won't even give them the time of day," Kailyn wrote in response to commenters who claimed a "divorce" would be in her future, InTouch Weekly reports. Javi has yet to address the rumors.
While Kailyn-- who has previously stated that divorce is "not an option"-- denied the allegations that her marriage of two years is in jeopardy, she didn't refute claims that her hubby enjoyed a night out alone. "[I don't care] if he goes to a strip club!" the mom of two wrote.
Rumors of an impending split between Kailyn and her "Teen Mom 2" co-star come after multiple admissions from the pair that their romance is not in the best shape. Kailyn, who also touts herself as an author and clothing designer, opened up about the hardships of her marriage online earlier this month. "Nobody told me marriage was easy, but I never could have imagined the limit it would push me to," Kailyn said on Instagram. "We aren't perfect and we've never claimed to be."
Kailyn, who shared her message alongside a photo of herself posing next to Javi, concluded her post by sharing a special message to her husband. "I've fought harder with you and for you than I ever have for anyone. Now, all I can hope is that we can keep pushing forward and learn from what we have gone through and we are going through. If I posted this saying everything was perfect, I would be lying, because it's not," she said.
In October, Kailyn and Javi's appearance on the Season 5 "Teen Mom 2" reunion special focused on their shaky union. In their segment, Javi confessed to host Dr. Drew that following the birth of their son Lincoln in 2013, their marriage hit a rough patch. "Once Lincoln was born, it was hard for me. It was hard for us. There was a time when I struggled a lot," he said. "I don't feel anything between us."
Following Javi's admission, Kailyn agreed to work on their relationship. "We need time apart and we need time together. I definitely don't feel like we have the together part," she said.
Kailyn and the rest of the "Teen Mom 2" cast — including her 4-year-old son Isaac with ex-boyfriend Jo Rivera — are currently filming Season 6. The series is expected to return to MTV later this year.
© Copyright IBTimes 2023. All rights reserved.