'Teen Mom OG' Reunion Update: Maci, Amber And Catelynn Reportedly Protest Farrah, Leave Stage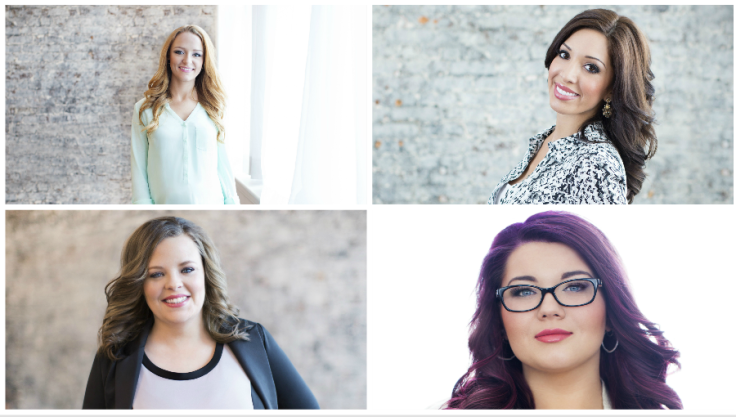 Season 6 of "Teen Mom OG" wasn't without drama, and reports claim the recent reunion special had just as many hysterics. Amber Portwood confirmed that a fight broke out with Farrah Abraham and company at the Sunday taping, and the latest rumor is that Maci Bookout, Catelynn Lowell and Amber walked off stage after Farrah was late to the reunion. The girls have all had a strenuous relationship with Farrah throughout the eight years of the show, but Maci is over the drama.
While websites like Real Mr. Housewife and OK! Magazine aren't always beacons of truth, they seem to have gotten the reports right this time — Catelynn retweeted Real Mr. Housewife's article about the stage walk-off.
Maci questioned where Farrah was when she was missing from the stage. When Dr. Drew Pinsky, the host of the show, said he didn't have an answer, Maci became irritated. "Maci proceeded to tell him that she has been doing this show for eight years, and every year the women arrive on time and do their jobs," an insider told Real Mr. Housewife Monday.
"Dr. Drew tried to talk … but Maci insisted he let her talk. She said this has been a long time coming and that every year the women are professional, and that the three women onstage do their job and never complain," the source said. "She also said that she arrived at 9:30 a.m. and it was now 10 p.m., and the reason it was so late was that Farrah threw a fit this a.m. and made everyone wait for five hours like she does every time."
Maci said she, Catelynn and Amber were just as important as Farrah, and they didn't want to be on her time anymore. That's when all the women left the stage.
The audience wasn't upset by the walk-off. In fact, they gave the stars a standing ovation. "It should be noted that all three women and their men did come out and personally thanked the audience," the source said.
Afterward, Maci shared a tweet that read: "Class is knowing what to say, when to say it and when to stop."
Meanwhile, Farrah's daughter, Sophia, will no longer be on the show because of a fight that occurred after Farrah said Amber's fiancé, Matt Baier, looked like a pedophile. "Amber tried to rush the stage with Matt trying to hit me but failed because she can't aim," Abraham, 25, told Radar Online in an exclusive report Tuesday. "Maci and Catelynn cheered them on."
Farrah said she's worried about her daughter's safety. "Due to the three stooges, I now will not have my child around an unsafe environment," she said about Maci, Amber and Catelynn. "Production is just as much to blame as the girls."
An air date for the reunion special has not been revealed.
Follow me on Twitter @mariamzzarella
© Copyright IBTimes 2023. All rights reserved.