'Teenage Mutant Ninja Turtles 2' Updates: Casting Call For Bodybuilders; Filmmakers' Interview; Leaked Photos From Set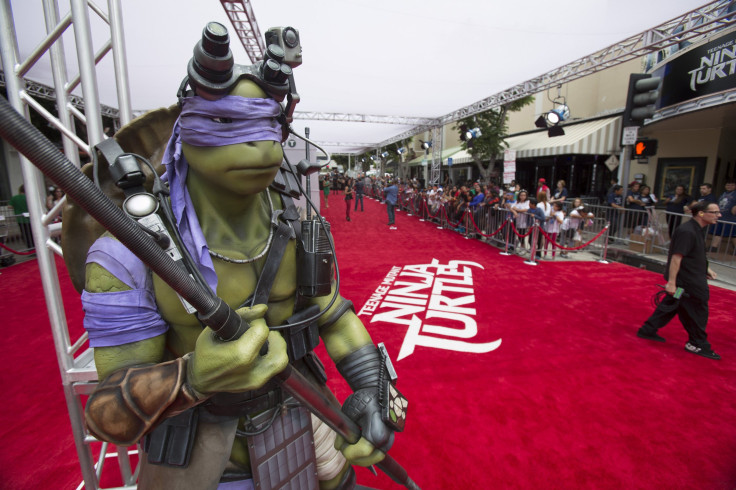 The producers of "Teenage Mutant Ninja Turtles 2" are looking to cast bodybuilders as extras for scenes to be filmed in New York City in July. Meanwhile, Josh Appelbaum, Dave Green, who is directing, and Stephen Amell spoke about the significance of the city in the franchise.
A casting announcement on ClaimFame states that the producers are looking for male bodybuilders who are 6 feet 3 inches tall to 6 feet 5 inches tall. The extra will be the body double for cast member Stephen Farrelly, who is expected to be playing the role of Rocksteady in the forthcoming movie. The applicants have till July 6 to send in their details.
The cast and crew of the movie are currently in New York City to film their scenes. Speaking to USAToday, screenwriter Appelbaum said that just as Batman has Gotham city and Superman has Metropolis, the "Turtles" are among the few superheroes who reside in New York City. He said that going to places like Madison Square Garden, Grand Central and the Hayden Planetarium reflects the "spirit and history" of the franchise.
Director Green noted that since the superheroes are ninjas as well as mutants, they have to live underground and "in the shadows." He explained that the city has an "immense subterranean universe," with a subway system and gas and power lines that run beneath the city. The director added that his team looked at "all these little nooks and crannies of the city," while scouting for locations for "Teenage Mutant Ninja Turtles 2."
Cast member Amell, who plays the role of Casey Jones, said that there is "a certain energy about the city." A bus full of sightseers came around, while he was filming a scene near Times Square and the actor felt that "there were flashbulbs everywhere," when the people in the bus saw the filming crew. Amell said that he had no choice but say "Hiiiii!" to the onlookers. Images from the production set have been leaking online and a new video and images from the set have now surfaced. [Spoiler alert]
This video from the sets of "Teenage Mutant Ninja Turtles 2" shows Megan Fox driving a car with Smell sitting beside her. This set of images from the set show Casey Jones' car and the actor Amell filming a scene. This behind-the-scenes photo shows Amell with Will Arnet, who will be playing the role of Vernon Fenwick.
© Copyright IBTimes 2023. All rights reserved.