Tennis Rankings 2015: Djokovic, Federer, Murray Stay On Top After US Open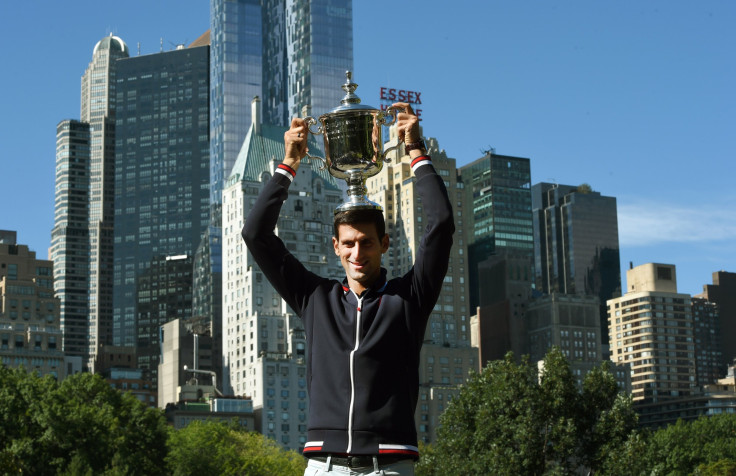 After claiming the second U.S. Open title of his career by downing foe Roger Federer in four tight sets, Novak Djokovic cemented his status as the world's top ranked men's tennis player Monday. In the ATP's latest rankings, the Serbian star remains No. 1 and the rest of the top three holds steady after the final slam of the season.
The 28-year-old Djokovic needed four sets to bounce No. 2 Federer at Flushing Meadows on Sunday, and sewed up his third slam of the year and the year-end No. 1 ranking for the fourth time in his career. Overall, Djokovic's posted an incredible season with seven singles titles and reached 11 tournament finals. According to the ATP, Djokovic becomes just the sixth player in history to finish the year No. 1 four or more times and he's held the distinction for the last 164 weeks.
While reaching new historical heights in his career, Djokovic also opened a wide gap between he and Federer. Djokovic currently has 16,145 points to Federer's 9,405 and No. 3 Andy Murray's 8,660. And after the top three, there's a huge drop off in points with No. 4 Stan Wawrinka owning 6,000 points and No. 5 Tomas Berdych 5,050.
Djokovic, though, seems hungry to finish the year with even more titles.
"It's a fantastic feeling to know I will end the year at No. 1 again," he said. "This is what we fight for since January 1st. We still have a few tournaments left though and I look forward to competing in Beijing, Shanghai, Paris and London."
Federer fell short of his goal of a 17th career slam, but the 34-year-old has still put together an excellent year with five titles and an overall mark of 51-8, including two finals appearances at the U.S. and Wimbledon.
Spain's Rafael Nadal moved up one spot in the rankings to No. 7 despite his unexpected third-round exit at the U.S. Marred by injury and inconsistent play, Nadal failed to secure a slam title in a calendar year for the first time since 2004, but since he didn't appear at last year's U.S. he earned enough points to leapfrog compatriot David Ferrer.
Slipping five spots to No. 14, 2014 U.S. champion Marin Cilic endured one of the biggest drops in the rankings after Djokovic swept him in three sets in the semfinals.
However, France's Gael Monfils suffered the steepest decline, slipping eight spots to No. 24 in the world. The 28-year-old has gone 22-9 on the year, but his first-round exit at the hands of unseeded Ukrainian Illya Marchenko caused him to plummet.
© Copyright IBTimes 2023. All rights reserved.