Texas Set To Execute Marvin Wilson Despite Diagnosis Of 'Mental Retardation'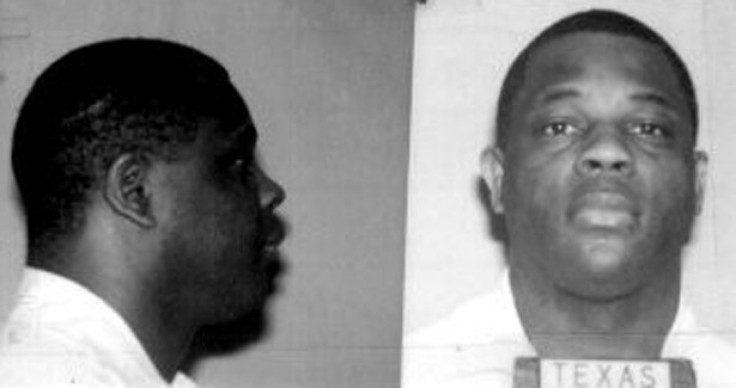 Death row inmate Marvin Wilson's attorneys petitioned the U.S. Supreme Court to stay his execution, set for Tuesday, arguing the convict's date with a lethal injection runs contrary to a 2002 ruling by the nation's highest court. The catch, and what Wilson's lawyers hope will spare his life, remains his I.Q. of 61 coupled with a medical diagnosis of mental retardation.
Texas' counter? Wilson is wholly dissimilar to a fictional character created by novelist John Steinbeck.
The 54-year-old was convicted in 1992 of murdering a police drug informant. His planned execution is becoming another linchpin in the exhaustive battle over capital punishment, this time calling into question who or what exactly determines "mental retardation."
Wilson's execution would stand contrary to the Supreme Court's ruling in Atkins v. Virginia, which blocked the execution of the mentally disabled under the Eighth Amendment's ban on excessive punishment.
"The mentally retarded should be categorically excluded from execution," the court wrote in its decision, due to "their disabilities in areas of reasoning, judgment and control of their impulses."
The decision lacked a formal definition for "mentally retarded," which the Supreme Court intentionally ignored to avoid codifying a means to test mental retardation.
"The Supreme Court doesn't like to micromanage," said Richard Deiter, Executive Director of the Death Penalty Information Center. "Still, it's not a blanket recipe for 'do anything want.'"
The Supreme Court likely assumed "mental retardation" does not constitute a gray area, according to Deiter, who likened it to figuring out someone's age.
"Determining whether someone has mental retardation is a very ordinary process that psychiatrists and psychologists do regularly," he said. "It's an objective factor."
The Texas Court of Criminal Appeals took a different route, and used the absence of strict orders as license to set a threshold which ignores recognized medical testing while daring the Supreme Court to intervene.
It directly rebuked the Atkins decision in a 2004 ruling, decrying the Supreme Court's "categorical rule making such offenders ineligible for the death penalty," going so far as to denying the existence of "a 'mental retardation' bright-line exemption."
Instead, it concocted seven criteria called "Briseno factors," which were based upon the character Lennie Small from Steinbeck's novel Of Mice And Men. In short, the measuring stick allows executions to be carried out if a judge determines the crime was complex enough to require forethought, planning and intricate execution. Wilson met all the criteria. Yet he cannot dress himself properly, match his socks, climb a ladder or mow a lawn.
Lawyers for the convict asked the high court to put a stay of execution until Texas' controversial means of testing mental disabilities is properly challenged.
The same 2004 ruling used against Wilson has been the foundation of at least 10 mental retardation claims being rejected in other death penalty cases. It has been echoed by the U.S. Court of Appeals for the Fifth, which claims mental retardation cases were not grounds for staying executions.
The facts of Wilson's case were also fraught with traps: Wilson was one of two perpetrators, which left him open to the direction of his accomplice; the main witness against him was the accomplice's wife, who testified Wilson admitted to the crime.
During his stint in prison, Wilson was subjected to a battery of tests to determine the borders of his mental limitations, including a 2004 report by Dr. Donald Trahan with the Center for Behavioral Studies in Texas.
"It is evident that the deficiencies in general intelligence and adaptive behavior have been present since early childhood and well before the age of 18," Trahan wrote. "My evaluation of Mr. Marvin Lee Wilson reveals that he does meet the criteria for a diagnosis of mild mental retardation."
His ultimate medical I.Q. of 61 puts him in the lowest percentile of the population, with the literacy level of a 7-year-old.
"If Wilson is executed on Tuesday, Texas will be rendering the US supreme court's Eighth Amendment prohibition on the execution of mentally retarded prisoners a prohibition in name only," said Lee Kovarsky, Wilson's lawyer, according to The Guardian.
Wilson's case has become emblematic of the ripple effects of the Atkins decision, leaving the Supreme Court to bat down cases against borderline or entirely mentally disabled convicts still sitting on death row.
The argument on the 54-year-old's behalf mirror those of Georgia's Warren Hill, who missed a date with death by 90 minutes in July.
Georgia, like Texas, employs a rather daunting burden in diagnosing mental retardation, requiring proof that is "beyond a reasonable doubt."
Several factors could change Wilson's fate over the next 24 hours. The Supreme Court could offer a stay of execution, a lower court could push back as well. Texas Gov. Rick Perry could also intervene -- though the prospect remains unlikely. He vetoed a bill that would have banned the execution of mentally retarded inmates, as well as defined the term, in 2009.
© Copyright IBTimes 2023. All rights reserved.