Off With Their Heads: Saudi Arabia Executes Two Pakistani Drug Smugglers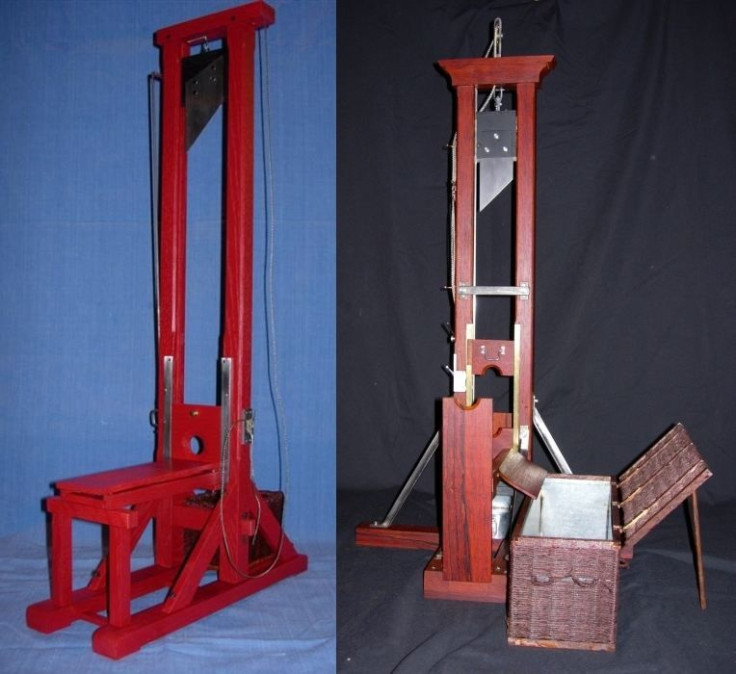 Saudi Arabia beheaded two Pakistanis convicted of drug smuggling, marking the first executions of the New Year, the kingdom's interior ministry announced. The Saudi Press Agency (SPA) reported that Abrar Hussain Nizar Hussain was executed in the city of Jeddah after he was caught attempting to smuggle heroin hidden in his stomach into the country. The other doomed man, Zahid Khan Barakat, was beheaded in the town of Qatif, in the Eastern Province, also for drug violations.
Executions remain rife in Saudi Arabia, given that many crimes – including rape, murder, apostasy, armed robbery and drug trafficking -- are subject to the ultimate punishment under the government's strict interpretation of Islamic Sharia law. But there are some slight discrepancies over how many people were put to death in the kingdom last year – Agence France Presse estimated that number at 78, while Amnesty International said the true figure was 79. Official Saudi figures puts the number of executions at 76 in 2012.
Saudi Arabia and Pakistan have generally enjoyed warm relations, predicated partially on their embrace of Islam as a national identity and political ideology (although such sentiments are stronger in Riyadh than Islamabad). Saudi Arabia is also Pakistan's third-biggest trading partner, after China and the United Arab Emirates, according to Pakistani newspaper Dawn. Moreover, some 1.5 million Pakistani migrant laborers in Saudi Arabia send hundreds of millions of dollars in much-needed remittances back home annually. Thus, Pakistan needs to maintain good relations with the Saudis.
Separately, Pakistan itself is struggling with its own laws regarding capital punishment. Late last year, the Pakistani government decided not to reinstate the death penalty after the expiry of a 2008 moratorium on capital punishment. However, judges in the country often hand out death sentences – the country now has at least 8,000 prisoners on death row. Some voices in the public are clamoring for the state to begin executing criminals amid a tidal wave of criminal violence and terrorism across the country.
Indeed, some readers' comments on the website of the Pakistani newspaper, Express Tribune, generally lauded the Saudis for their extreme punishment as a deterrent to crime, suggesting that Pakistan should begin executing its prisoners. A reader named "Jahanzaib" declared: "If we adopt the same laws [as the Saudis] it would definitely change the current crime ratio in Pakistan. But how can we do this after all [Pakistani governments] make their deals and secure their vote bank through delaying or not implementing the … death penalty to criminals?"
But "Shahryar" countered that capital punishment is not an effective tool against crime in Saudi Arabia. "The crime [rate] in [Saudi Arabia] is growing [on a ] year-on-year basis," he or she wrote. "Car theft, cybercrime, robbery, armed robbery and use of prohibited drugs are increasing." Another reader named "Ammar" who apparently lives in the Kingdom agreed that crime is rising and such punishments cannot put an end to the problem. He particularly blamed the "blacks," presumably immigrants from sub-Saharan Africa. "I am living in Riyadh the capital of Saudi Arabia," Ammar said. "Street crimes in Riyadh are much higher than any city of Pakistan. One cannot go out to the streets in the day light. Black people will come and they will snatch your money and other documents. They will kill you if you [resist]. Almost every taxi driver is robbed by these black people. They drive very [aggressively] on the road and don't care about others and their own life as well."
As for Saudi Arabia executing foreign criminals, Dr. Dilshod Achilov, an assistant professor of political science at East Tennessee State University, noted that the kingdom ranks third in the world in the number of people it condemns to death, behind only China and Iran (while the U.S. ranks fifth, and, interestingly, Pakistan ranks sixth). "Saudi Arabia issues the death penalty approximately three times more than Pakistan does," Achilov said in an interview. "When we consider the population for both countries, the rate of [the imposition of the] death penalty -- per 10,000 people -- is overwhelmingly higher in Saudi Arabia compared to Pakistan."
Despite the fact that Saudi Arabia and Pakistan have strong diplomatic and trade ties, Achilov does not think that Islamabad would become too upset by a foreign government putting its citizens to death, since, they are, after all, people who broke the local laws. "[In the] Saudi context, [the death penalty is] not necessarily an act directed at punishing or insulting Pakistani citizens," Achilov added. "And there is little sense in putting bilateral relations at stake over this." However, Achilov cautioned that if Pakistani authorities felt that Riyadh were to impose capital punishment excessively on Pakistani nationals (or if it convicted people without hard evidence), then it would likely raise a protest.
FOR FREE to continue reading
✔️ Unlock the full content of International Business Times UK for free
offer available for a limited time only
✔️ Easily manage your Newsletters subscriptions and save your favourite articles
✔️ No payment method required
Already have an account?
Log in
© Copyright IBTimes 2023. All rights reserved.