These 'Star Wars' Laser Drones Let You Battle In The 'Star Wars' Galaxy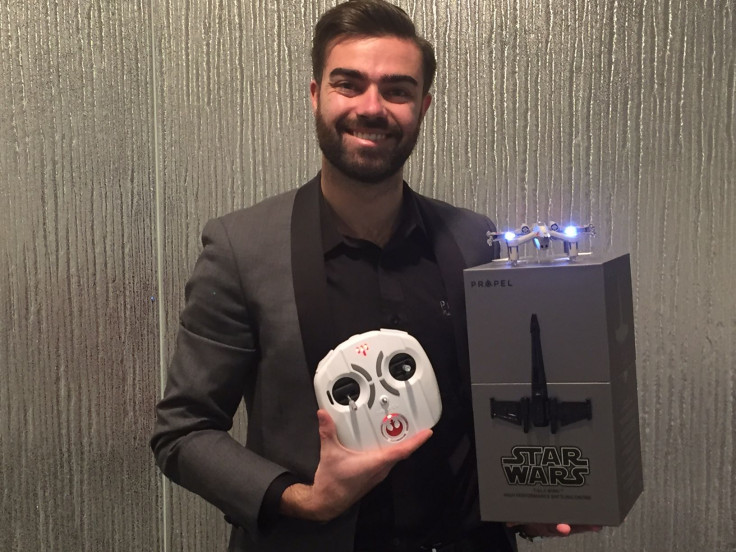 Soon those memories of watching the speeder bikes dive in and out of the forest in Return of the Jedi while blasting lasers at Storm Troopers won't be just a memory, it can be something you do at home. Propel's new Star Wars laser drones will immerse you in multiplayer player battles in the Star Wars galaxy.
You can fly three different ships from the Star Wars saga including the aforementioned 74-Z Speeder Bike, T-65 X-Wing Starfighter and Darth Vader's Tie Advanced X1 drone.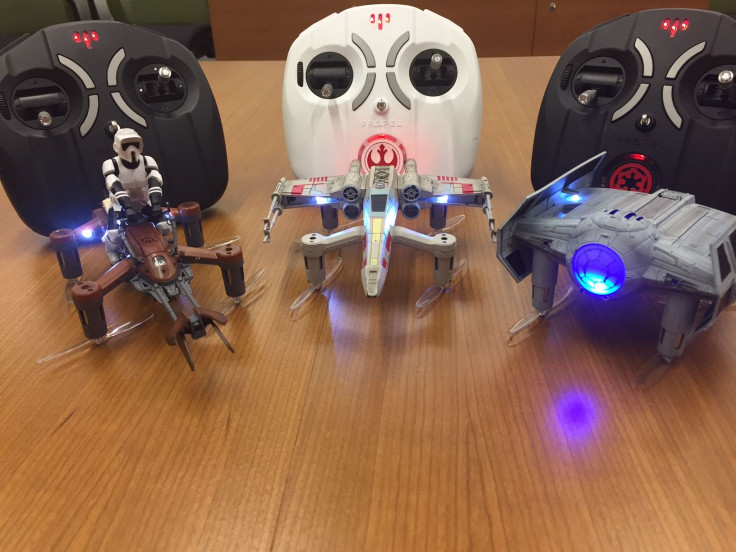 These first-edition quads are presented in a wax-sealed collector's box with a three-dimensional scale model of the ship. When the top of the package is opened, the box lights up and Star Wars theme music plays from the speakers inside the box.
"We're hoping Star Wars fans will go crazy over all three of the Star Wars drones…. Though the T-65 X-wing Starfighter is my personal favorite ship, " Jack Bishop, Head of Development of Propel, told IBTimes, "Every single ship is hand painted. As you can see, there's an extremely high level of detail in each ship. We want to keep them as true to the ships in the Star Wars films as possible."
The Star Wars laser battling drones are operable up to 200 feet away, but with 6 to 8 minutes of battery life, the battles won't last as long as the battles in the iconic series.
All three Quadcopters feature flying speeds of more than 35 MPH, as well as a set of flight control algorithms that allow for several types of multiplayer simulated laser battles.
Up to 12 people can battle simultaneously in a dynamic interactive game. The drones communicate in real-time with one another knowing each player's status throughout different stages of the game. Cues are given through the headphones in the form of a major Star Wars characters like Darth Vader, OB1, etc. Pilots will be told to "watch out" as they are about to get hit.
When you get hit, your controller receives the data from your ship. It will then be broadcasted out to everyone else's controllers in the game.
Bishop says, "If you have one life left and I hit you - my controller knows exactly how many lives your drone has," Bishop said. "Your drone will also know how many lives mine has. So if I only have one shot left, the controller can say to me, "You have one shot, kid. Now go for the kill."
The drones are made out of a material called BP, which allows the drones to be more flexible, the most of the drones on the market.. If your drone crashes against the wall, you don't to worry about it breaking. That's what it's meant to do: battle. Crash into things.
The Star Wars drones have red lasers, just like the movies. You can take your Star Wars drone outside in the evening, and live out fantasies as lasers become visible during multiplayer battles.
You'll also feel like you're in one of the Star Wars movies when flying around one of the Star Wars Laser Battling drones while battling with friends.
"We've included a headphone jack so you can actually plug your headphones into the controller and have a truly immersive experience, " says Bishop. "The sounds that come out of the controller also come through the headphones. You can almost wipe out the sound of the drone by listening to the Star Wars theme song or a track from one of the battle scenes as you're flying around."
Propel's companion app for iOS and Android, which will be coming out later this year will have several features. Using the included controller you will be guided through missions in a Star Wars environment that teaches you how to pilot your drone and become ready for battle. The app also allows users to host events, create different multiplayer games and battle with friends.
"The app will really help beginners learn the basics of flying the drones. The app basically teaches you everything you need to know about flying, especially in a timeframe of 20 to 30 minutes of flying or practicing. I would highly recommend that you do that first. Because when you do take the Star Wars drones out - you've already got a little muscle memory," Bishop said.
Released Dec, 5 each of the Starfighters will retail for $199.99, and will be available at Bed Bath and Beyond, Barnes & Noble, Brookstone, and Best Buy, Kohl's, Fry's Electronics and on both the DisneyStore.com and Propelsw.com.
Bishop tells me there will only be 500 Star Wars Lasers Battling Drones available, so make sure you put your order in, after you see Rogue One: A Star Wars Story in theaters this weekend.
<iframe width="560" height="315" src="https://www.youtube.com/embed/UsIBnXETZDs" frameborder="0" allowfullscreen></iframe>
FOR FREE to continue reading
✔️ Unlock the full content of International Business Times UK for free
offer available for a limited time only
✔️ Easily manage your Newsletters subscriptions and save your favourite articles
✔️ No payment method required
Already have an account? Log in
© Copyright IBTimes 2023. All rights reserved.