Thomas S Monson Cause Of Death: Mormon Church President Dead At 90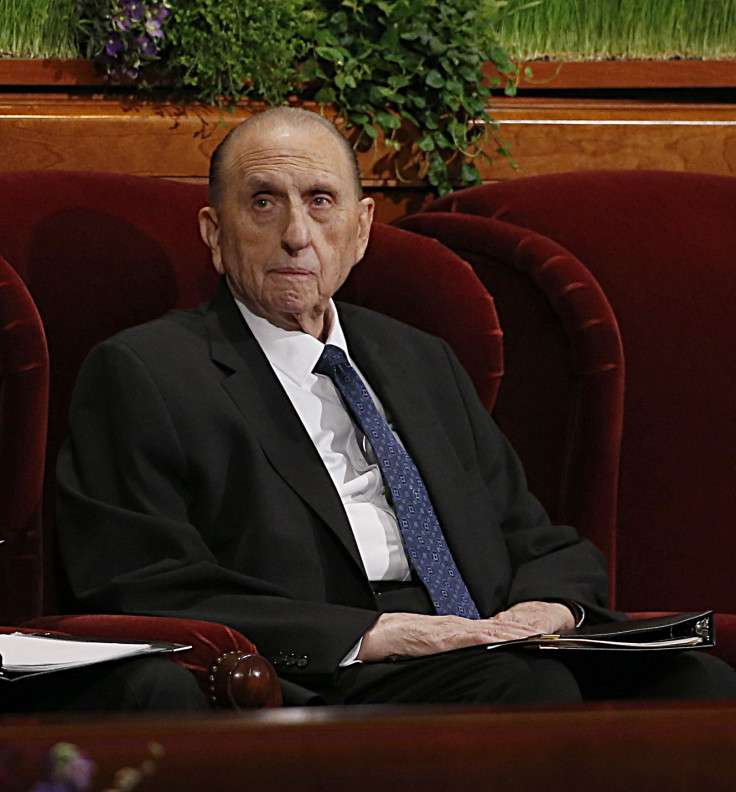 Thomas S. Monson, president and prophet of The Church of Jesus Christ of Latter-day Saints, died Tuesday evening at 10:01 p.m. EST at his residence in Salt Lake City, Utah, a news release from MormonNewsroom.org confirmed.
The release also said he was with family at the time of his death and he died from causes incident to age. He was 90 years old.
"He loved the cultures of the world, and deeply respected them. And particularly the faith of the people," President Henry B. Eyring, who served as first counselor in the First Presidency said after the news of his death on Tuesday.
Monson's successor would not be formally chosen and declared by the Church's Quorum of the Twelve Apostles until after President Monson's funeral has been conducted, according to the news release.
Born in Salt Lake City, Utah, on Aug. 21, 1927, President Monson was an example of one who followed Jesus Christ to the more than 16 million members of the Church around the world. During Monson's presidency, the Church's membership grew from 13 million to over 16 million people worldwide, and dozens of temples were announced and dedicated throughout the world.
President Eyring added, "I don't think it ever was the idea that he thought himself a great temple builder. It was that he saw the blessing of having temples everywhere, and he wanted it for the people."
"When I look at his life, he was a member of the Church everyone could relate to and everyone could feel comfortable in his presence," said President Dieter F. Uchtdorf, second counselor in the First Presidency. "At the same time, when he walked with kings, with prime ministers, with presidents, with representatives of nations, it was the same way. They all felt that he was their friend."
Monson was known for offering charity and assistance to those around him right from the time when he was a young man.
"He had that ability to reach out and rescue somebody; to help somebody; to say, "I have something that will make a difference for you". It has become a moniker of his life," his biographer and historian Heidi Swinton said, Fox13now reported.
Monson became the 16th president of The Church of Jesus Christ of Latter-day Saints on Feb. 3, 2008, after the death of President Gordon B. Hinckley. Prior to that, Monson served as a counselor in the First Presidency under three Church presidents for more than 2 decades, according to the news release.
In the past few years, a decline in President Monson's health became noticeable as his conference talks became shorter than earlier.
Two years ago, Church spokesperson Eric Hawkins released a statement saying: "He comes to the office every day, attends all First Presidency and committee meetings, leads the discussion and makes decisions. The workload of the First Presidency is up to date. President Monson has always been private about his health, but appreciates the prayers and sustaining support of church members, as do all of the First Presidency and the Twelve."
Monson was also not present for two of the sessions of the General Conference last weekend, according to Fox13now.
© Copyright IBTimes 2023. All rights reserved.