Three Years After Gadhafi's Death, Libya Slides Into Civil War As Death Toll Rises In Benghazi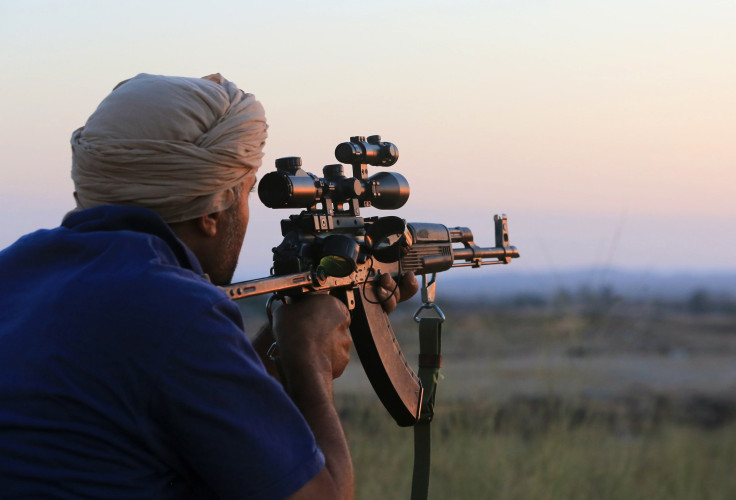 Three years ago on Monday, Libyan dictator Moammar Gadhafi was captured and killed by a rebel militia in his hometown of Sirte, an event that was supposed to mark the beginning of a new, democratic era in the country. But today, Libya is far from stable. The country is sliding further and further into all-out civil war, with pro-government forces battling Islamist militias for power in the eastern city of Benghazi, where the revolution that ousted Gadhafi started in 2011.
More than 75 people were just killed in five days of fighting in Benghazi, Agence France-Presse reported Monday. In the latest day of violence, a woman was killed in a bomb attack that targeted the vacant house of renegade army general Khalifa Hifter, the man who has assembled a militia of former Libyan soldiers and is leading them on a campaign to oust Islamists from the country.
Hifter supported Gadhafi when he was a high-ranking officer, but turned against him in the 1980s during the war with Chad. He is now at the head of a militia that supports moderate values against radical Islam in a campaign called "Operation Dignity."
The new Libyan House of Representatives, which was elected in June, has formally announced its alliance with Hifter on Monday. Parliament spokesman Farraj Hashem said Hifter would now lead Libyan army soldiers as well in the fight against the Islamist militias. But since one of those militias, a coalition of fighters from Misrata called Operation Dawn, seized Tripoli in August, parliament and the rest of the government have all decamped to faraway Tobruk, in the eastern end of the country close to Egypt.
The U.S., along with 13 other countries and the United Nations, signed a communique in September urging all parties in Libya to refrain from violence. The communique also rejected any "outside interference."
But other Arab nations are intervening directly in the conflict.
Last week, Egyptian officials told the Associated Press that Egyptian warplanes, operated by Libyan pilots, were bombing Islamist militias in Libya. Both Libyan and Egyptian officials later denied those reports, and aviation experts said it was highly unlikely that Libyan pilots would have the skills needed.
On Monday, the presidents of Egypt and Sudan said they would support the Libyan military.
According to Libyan media outlets, Prime Minister Abdullah al Thinni is planning to visit Moscow to seek Russian support for the army.
© Copyright IBTimes 2023. All rights reserved.
FOLLOW MORE IBT NEWS ON THE BELOW CHANNELS