Time Inc Goes Public, But Faces Industrywide Challenges
Advertising declines loom as shares hit market post spinoff.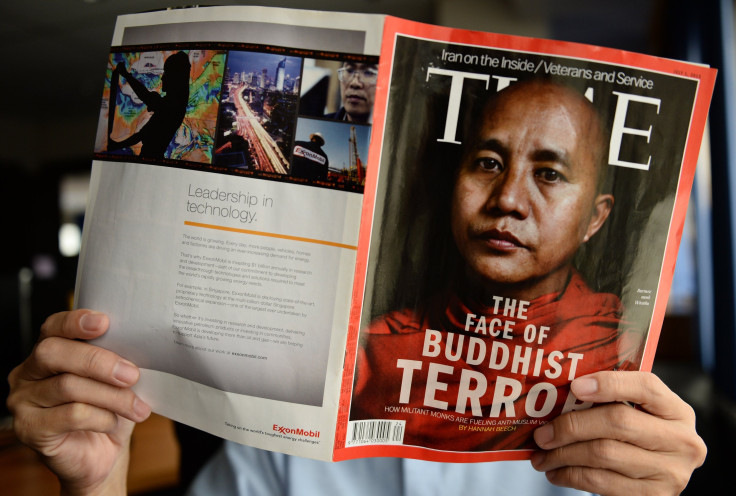 When the opening bell of the New York Stock Exchange rings on Monday morning, companies on the trading floor will be joined by a new addition -- inasmuch as a 91-year-old brand can be described as "new." Time Inc., the U.S. print-media empire, is going public, trading as a separate company after a lengthy spinoff from its far more profitable corporate parent, Time Warner Inc. (NYSE:TWX). Its existence as a standalone entity will test both the sustainability of print advertising and the value of brand recognition in an ever-changing media landscape, where decades-old titles are competing with the likes of BuzzFeed and Vox, and new players are entering the crowded field every day.
So what's a magazine empire worth in an age when consumers prefer shiny screens to glossy paper? Granted, Time's portfolio of more than 90 titles includes some of the most recognized magazines in the world, including People, Sports Illustrated, InStyle, Entertainment Weekly and its flagship Time magazine. But Time Inc. has always been Time Warner's lowest-performing unit. And, it's no secret that its brands face the ongoing erosion of their core business model: print ads. Without Time Warner and its profit-generating divisions --Turner Broadcasting and Warner Brothers Entertainment, in particular -- Time Inc. will be left to fend for itself, for better or for worse. Today, it's the neglected stepchild of a major media conglomerate; tomorrow, it's little magazine company that could.
But can it?
Edward Atorino, a veteran media analyst at the Benchmark Company, said steering the new Time Inc. to long-term success will be an uphill challenge. "Print is in trouble," he told International Business Times. "Print advertising has been going down quarter after quarter for some years. It's a very difficult environment."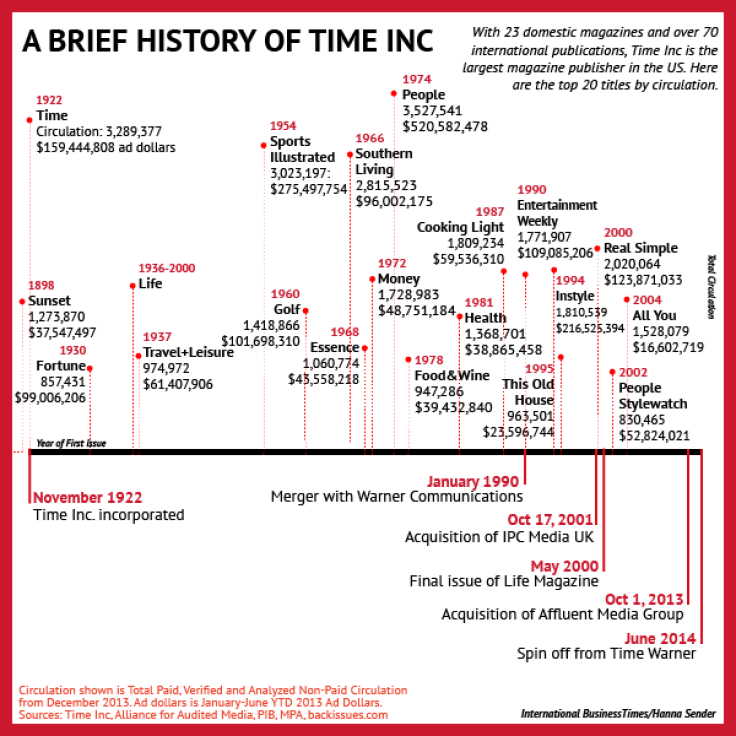 Time Inc. earns more than half its revenue from advertising, and its ad dollars have been slipping along with the rest of the industry. Advertising revenue for the company was $1.81 billion in 2013, down from $1.93 billion in 2010, according to an operating statement filed with the U.S. Securities and Exchange Commission. Circulation revenue, from which Time derives most of its non-advertising revenue, hasn't fared much better, falling to $1.13 billion in 2013 from $1.3 billion in 2010.
You wouldn't necessarily know that to hear Time Inc. executives pitch the spinoff. In a splashy analyst presentation published last month, there's much talk about rank and reach. Time Inc., the largest U.S. magazine publisher, reaches some 100 million American print consumers every month. It has a sizeable and growing share of the total magazine ad market -- 24 percent in 2013 compared to 20 percent in 2009. But it's a bigger piece of a smaller pie, and it's only later in the presentation that we learn the dire challenges facing an industry as associated with the 20th century as horse carriages were with the 19th.
Those challenges include a declining demand for print ads, a struggle to monetize mobile devices and the staggering evaporation of newsstand sales. That no one in the print industry has figured out solutions to these issues appears to be lost on the presentation's "highlights" section, which portrays a company armed with solid cash flow, a collection of leading brands, high audience engagement, and a crack management team with a "proven track record to drive transformation." It's the kind of bravado we're used to hearing from company profiles, but Atorino said optimism alone isn't enough to rescue a company from marketplace realities. "I hate to say people can delude themselves, but they can," he said. "Particularly people in the media business."
Not everyone thinks Time's prospects are so grim. As Barron's reported last month, analysts at Morgan Stanley said Time Inc. shares "look appealing" at about $21, or 10 times projected 2014 operating profit. In further good news, magazine publishing as a whole is expected to resume modest growth in 2015 after years of decline -- a development driven by increases in digital revenue, according to PwC's global entertainment and media outlook for 2014 - 2018.
In the past few months, Time Inc. has done what it can to make itself a more attractive property to shareholders, including trimming its operations with layoffs at Sports Illustrated, Fortune, and, more recently, People (according to a report in AdAge). Some of its titles have begun selling ad space on their covers for the first time. Time is also branching out into the digital realm; just this week it purchased the Seattle-based tech startup Cozi Inc.
Analysts say Time could also increase its prospects by diversifying, following in the footsteps of its closest publicly traded competitor, Meredith Corporation (NYSE:MDP). While known as the owner of such magazines as Fitness and Ladies' Home Journal, Meredith generates more than half of its profit from television stations, and it continues to build that segment of its business, purchasing two local stations late last year. Meredith, in fact, could be more friend than rival. Last year, the company was in serious talks to purchase some of Time Inc.'s signature titles. Those talks fell through, but some analysts now think the two companies could merge after Time goes public, as such a move would clearly make strategic sense.
As of Thursday evening, Time Inc. shares were trading at $23.30 on a "when-issued" basis (meaning the stock has been authorized but not yet distributed). Distribution to current Time Warner shareholders takes place on Friday at 11:59 p.m. ET, and the stock will begin trading publicly on Monday morning under the ticker symbol NYSE:TIME.
One remarkable element of the stock's public debut is how unremarked-upon it is. Consider recent high-profile technology stocks such as Facebook Inc. (NASDAQ:FB) and Twitter Inc. (NYSE:TWTR), which produced endless hours of passionate analysis and speculation in the lead-up to their initial public offerings. Time Inc., conversely, is going public amid little pomp and circumstance. Of more than a dozen media analysts who follow Time Warner Inc., most either didn't respond to IBTimes' requests for comment about Time Inc. or said they simply weren't covering the spinoff.
For anyone who remembers a time when sexy glossies filled our mailboxes and the supermarket checkout line was a buffet of impulse buys, the conspicuous lack of analysis on Time Inc. is a sad sign of what's happened to the legacy of Henry Luce, the publishing mogul who launched the title as the country's first newsweekly in 1923. In fact, it's now hard to remember when magazines were sexy. If Time Inc. can turn that perception around, it will have won half the battle. "There is some magic to making success in the media business," Atorino added. "If you don't have that magic, you're in big trouble."
Got a news tip? Email me. Follow me on Twitter @christopherzara.
FOR FREE to continue reading
✔️ Unlock the full content of International Business Times UK for free
offer available for a limited time only
✔️ Easily manage your Newsletters subscriptions and save your favourite articles
✔️ No payment method required
Already have an account? Log in
© Copyright IBTimes 2023. All rights reserved.