Tokyo Prosecutors Quiz Ex-Olympus President, Others to Follow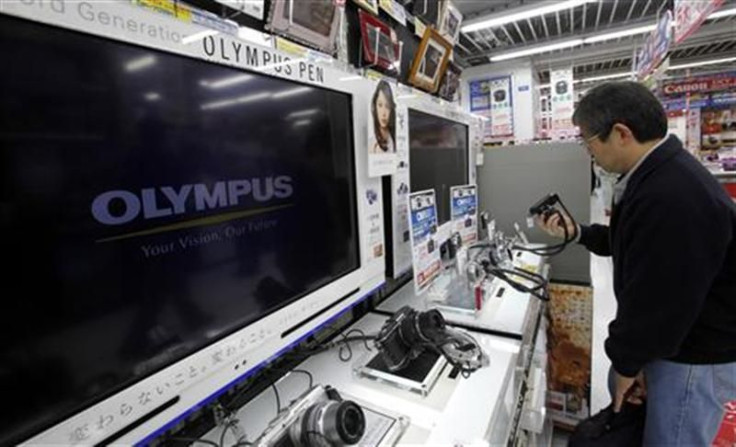 (Reuters) -- Three former executives of Japan's disgraced Olympus Corp face possible arrest this week over their role in a $1.7 billion accounting fraud at the maker of medical equipment and cameras, Japanese media said on Thursday.
Japanese prosecutors began questioning one of the trio, ex-president Tsuyoshi Kikukawa, Jiji news agency said. Two others were also expected to be summoned, with arrests to follow if allegations against them are firmed up, the Yomiuri and Nikkei newspapers said.
The move comes as investors turn their attention to who will take the helm at the once-proud company when its management steps down at an April 20 shareholders meeting over one of Japan's biggest corporate scandals, and whether Olympus will seek a capital tie-up to fix its balance sheet.
Kikukawa, former Executive Vice President Hisashi Mori and former auditor Hideo Yamada have been identified by an Olympus-commissioned investigative panel as the main culprits in the fraud.
They are being investigated for violations of the Financial Instruments and Exchange Law, the Nikkei said. An Olympus spokesman said the company had no information on the reports, but would cooperate fully with investigative authorities.
Last year, the investigative panel found the trio had played leading roles in a 13-year scheme to hide the losses, and they are among 19 executives Olympus is suing over the scandal.
Kikukawa's condominium house was among 20 sites raided in December by prosecutors. The Nikkei said Kikukawa, who took over as president in 2001, was reportedly aware of the details of the cover-up.
Olympus is banking on the April shareholder meeting to mark a turning point in the scandal, with at least six of its 11-member board, including President Shuichi Takayama, set to resign.
The company is likely to pick Takayama's successor from among the three board members the panel said were not responsible for the cover-up - Masataka Suzuki, Kazuhiro Watanabe and Shinichi Nishigaki, said a source familiar with the matter, who did not want to be identified due to the sensitivity of the issue.
The scandal was exposed last October by then-chief executive Michael Woodford, a rare foreign CEO in Japan, who was sacked by the Olympus board after questioning dubious M&A deals that were later found to have been used to conceal the losses.
The affair also fanned concerns about lax corporate governance in Japan generally.
Olympus in December filed five years' worth of corrected financial statements plus overdue first-half results, revealing a $1.1 billion dent in its balance sheet, triggering talk it would need to merge or forge a business tie-up to raise capital.
On Monday, the firm forecast a $410 million full-year loss due largely to its ailing camera operations, but its core endoscope business appeared unscathed by the scandal, and its president said the firm might not need outside capital.
Olympus is also under investigation by law enforcement agencies in Japan, Britain and the United States.
Olympus shares were down 1.2 percent at 1,289 yen on Thursday, while the broader market was a touch higher.
(Writing by Linda Sieg, Editing by Ian Geoghegan)
© Copyright Thomson Reuters 2023. All rights reserved.