'Tokyo Revengers' 221 Raw Scans, Release Date, Predictions And Highlights [Spoilers]
KEY POINTS
"Tokyo Revengers" 220 is titled "Bull's Eye"
The upcoming chapter is set to release on Sept. 8
It will unravel events following the failed assassination attempt on Takemichi
The most recent chapter of the hit manga created by Ken Wakui revealed Takemichi saved Senju and kept his promise to the deity of Brahman, also suggesting interesting events might happen in "Tokyo Revengers" 221.
Chapter 220 Round-Up
Titled "Bull's Eye," the current manga installment shows the events that transpired while Takemich Hanagaki and Senju Karawagi were in the amusement park. Takemichi's vision consumed and troubled him and he feared the things he saw in the vision would happen on that day.
Senju went to the restroom and it was only later that Takemichi realized he should have kept an eye out for the diety of the Brahman gang. Suddenly four ambitious members of the Rokuhara Tandai showed up -- one of them had a gun.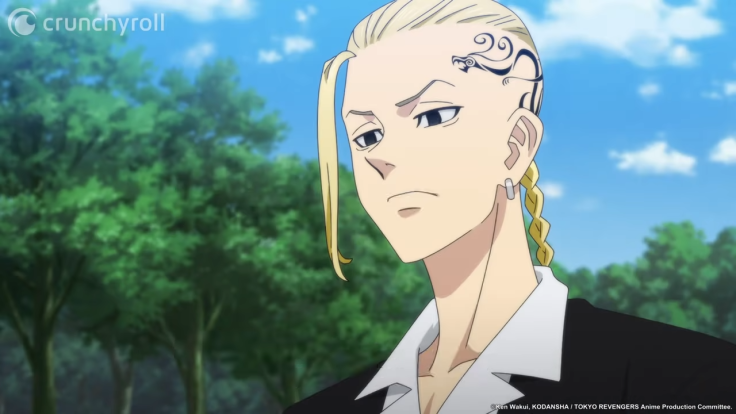 Takemichi thought that his vision tells him Senju is in danger but it turns out he is the target. Apparently, these four Rokuhara Tandai members wanted to climb up the ranks and they believe the only way to do that is to kill the time traveler.
Senju saw what's happening and rushed towards Takemichi to protect him but Takemichi used his body to shield the bullet. They both fell to the ground but it looks like both of them are safe as the gunman missed his target.
Things could get ugly fast right then and there but Draken arrived at the scene, saving the crying hero and Senju.
Chapter 221 Predictions and Spoilers
"Tokyo Revengers" 221 would most likely show the events following Draken's arrival at the amusement park.
Two possible scenarios could happen in the next chapter. One is the Rokuhara Tandai members would become desperate and fight Draken, Takemichi and Senju. The other likely scenario is they will leave the place and run for their lives.
The attempted assassination of Takemichi that endangered Senju could trigger a war between Rokuhara Tandai and Brahman. It could also alter the scheduled epic battle between Kantou Manji, Rokuhara Tandai and Brahman.
Spoilers, Raws Scans and Release Date
"Tokyo Revengers" releases a new manga installment every week and if there are no delays or changes fans could anticipate Chapter 220 to drop on Sept. 8. Spoilers and raw scans usually surface online between Monday and Tuesday. Fans can read the official manga release on Kodansha.
© Copyright IBTimes 2022. All rights reserved.
FOLLOW MORE IBT NEWS ON THE BELOW CHANNELS