Tom Holland Worked As A Bartender In London For 'Uncharted' Role But 'Got Kicked Out'
KEY POINTS
Tom Holland went into a bartending school and did a few shifts at a bar in London to prepare for his role in "Uncharted"
Holland said people started to figure out he was tending a bar and the general manager sort of kicked him out
The "Spider-Man" actor said it was fun bartending undercover, adding he liked to make espresso martini
Tom Holland got candid on how he prepared for his role in "Uncharted," which included enrolling in a bartending school and tending a bar in London.
Holland plays the role of Nathan Drake in the action-adventure film opposite Mark Wahlberg. The "Uncharted" co-stars recently appeared on SiriusXM's "Pop Culture Spotlight with Jessica Shaw," where the "Spider-Man" star shared his preparations for the role.
"For me, one of my favorite things about what we do for a living is when you get the opportunity to learn a new skill for a reason, other than you just want to give it a go," Holland said. "So I went to a bartending school. I ended up doing a few shifts at this bar in London, which was a lot of fun. I really enjoyed it. And it's a nice little set-piece in the movie."
However, it didn't take long for the people to start figuring out that "Tom Holland's bartending at this bar." When the general manager knew about it, "I sort of got kicked out," the actor added.
Despite what happened, the "Captain America: Civil War" actor returned to the bar. "[But] it's a little bit of a rocky relationship," he said. Since his presence gave "them a lot of press," the bar "just shut up and let me back."
"I would go in there and take the bartender's clothes and be in there undercover. It was fun. I enjoyed myself," Holland continued. He even shared the best drink he liked to mix. "I like making an espresso martini. It's a lot of fun," he said.
In his interview with GQ in November, Holland shared that he took shifts at the Chiltern Firehouse, a luxury hotel in central London. It was there where he learned how to mix cocktails, practice trick pours and toss bottles around.
Earlier this month, Wahlberg and Holland also appeared in a joint interview for "Access Hollywood" where Holland shared he thought the fitness massage gun he received from his co-star was a device for some "type of self-pleasure."
Wahlberg poked fun at Holland by jokingly demonstrating how the Power Plate Pulse massage tool was supposed to be used in a video uploaded on Instagram. The "Spenser Confidential" star emphasized that it was for "muscle recovery" and "nothing else."
Holland and his girlfriend, Zendaya, were spotted holding hands while leaving their hotel in New York City for the premiere of "Uncharted" Wednesday evening. Holland sported a light gray suit with a black turtleneck t-shirt and formal black shoes. Meanwhile, the "Euphoria" actress wore an oversized black polo shirt with a black belt around her waist.
"Uncharted" premieres in theaters Friday.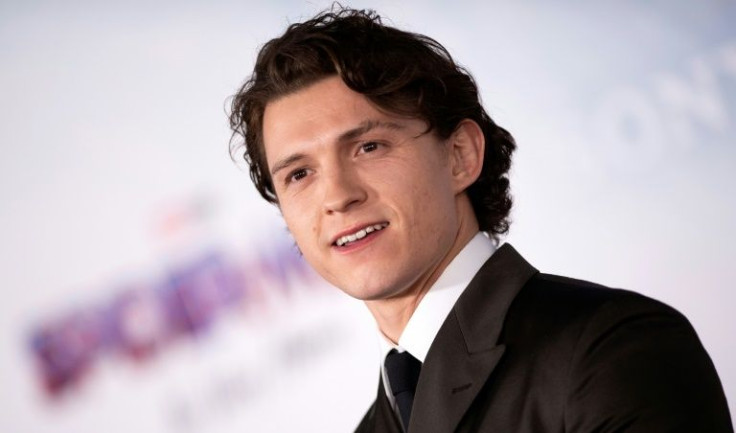 © Copyright IBTimes 2023. All rights reserved.
FOLLOW MORE IBT NEWS ON THE BELOW CHANNELS