Too Big To Succeed? Dewey & LaBoeuf's Demise Mirrors Real Estate Collapse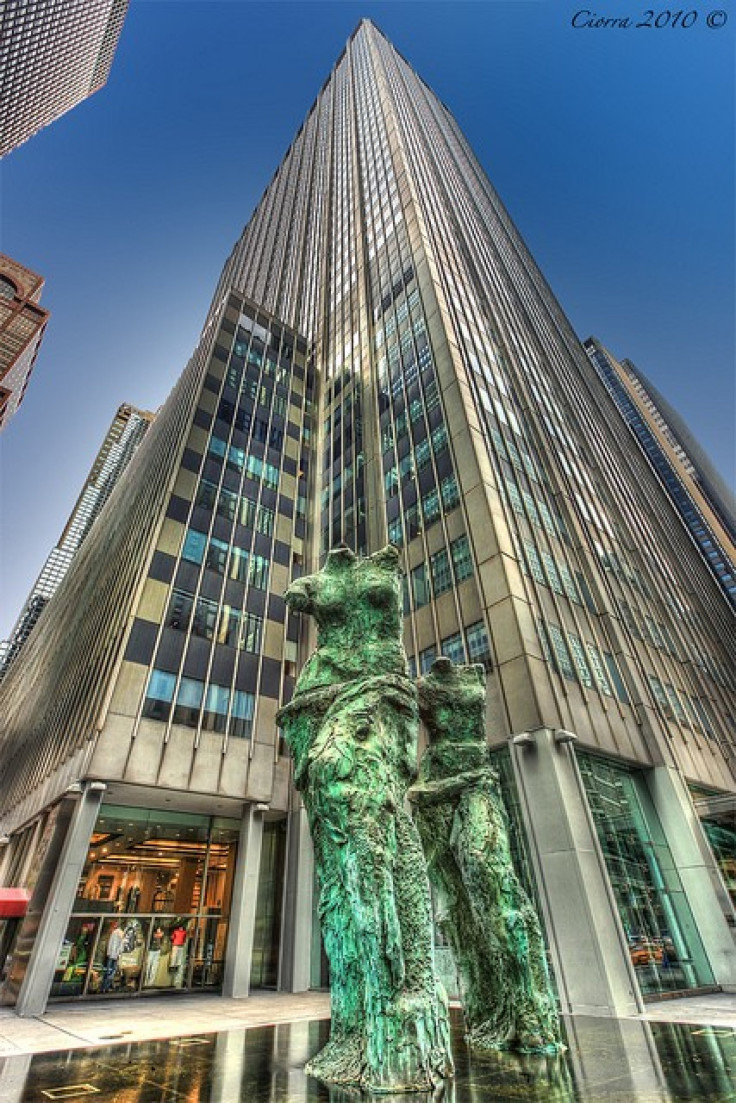 The global headquarters of Dewey & LaBoeuf LLP, a glass-sheathed office tower in midtown Manhattan, has a commanding view of a stretch of Sixth Avenue looking downtown. A pair of statues, designed by artist Jim Dine, rise from the plaza of the stately office, overlooking Rockefeller Center. But now, it will be the law firm's ornate tomb, a reminder of its glory days.
The firm filed for Chapter 11 bankruptcy protection in a Manhattan court Monday in one of the largest collapses in law firm history. Unlike firms seeking traditional bankruptcy protection, Dewey expects to liquidate the firm without further attempts at reorganization or sale. It will retain 90 employees to orchestrate the winding down of its assets, far fewer than the 1,100 lawyers employed during its peak.
The firm's landlords have joined a list of those seeking payment. The Paramount group, landlord of the building, located at 1301 Sixth Avenue, is the company's second-largest unsecured creditor. According to filings, Dewey owes over $3.77 million in May rent and property taxes after leasing approximately 470,000 square feet in the building. Based on the May cost, it paid around $96 per square foot per year in rent and taxes, a rate near the top of the office rental market. (The Paramount Group had no immediate comment.)
Dewey was a global law firm known for a variety of practices, but it was a particular force when it came to representing Manhattan's real estate titans. Stuart Saft, Dewey's former head of global real estate, was one of the most prominent attorneys in the industry, representing developers like Kent Swig, Joe Moinian and the Lower Manhattan Development Corp., which allocated over $2.7 billion in aid after the 9/11 attacks. Like many partners, Saft left Dewey to join rival firm Holland & Knight in April.
Mirrors Implosion Of Clients
In many ways, Dewey's collapse mirrored the 2008 real estate implosion that wrecked some of its clients. Dewey LeBoeuf was born of a 2007 merger of Dewey Ballantine LLP, founded in 1909 and named for the former governor of New York, and LeBoeuf, Lamb, Greene & MacRae LLP. It hired 125 first-year associates within a year of the merger, according to bankruptcy filings, and its swollen salary base would be a key weakness in its final months. Liquidity dried up as the firm guaranteed its top-producing partners, or rainmakers, millions in bonuses -- akin to the Wall Street banks that paid some traders more than others for making lucrative deals. But when Dewey's profit fell $30 million short of goals in 2011, although partners cancelled and deferred compensation of over $100 million, an eventual crisis in confidence led to a mass exodus. Dealbook compared Dewey's disintegration to that of Lehman Brothers.
Now, Dewey must unwind its assets, which largely consist of uncollected fees and a slew of office leases on four continents. Prior to the bankruptcy, it hired commercial real estate broker Newmark Grubb Knight Frank to sublease a portion of the space. Coincidentally, Dewey's descent mirrors a precedessor of its broker, Grubb & Ellis, which also executed a poor merger just prior to the recession and was dragged down by debt and eventually sold to Howard Lutnick's BCG Partners, which had purchased Newmark the prior year.
Dewey's problems were due to specific weaknesses in the company, but other law firms, including Thelen LLP, Heller Ehrman LLP and Howrey LLP, have also been dissolved in recent years. It's not unthinkable that there will be more empty offices to come.
--
© Copyright IBTimes 2022. All rights reserved.
FOLLOW MORE IBT NEWS ON THE BELOW CHANNELS