Top 13 Ultrasonic Doppler Fetal Heartbeat Detector In 2020
This article uses affiliate links, which means if you purchase products through these links, we may earn a commission. Click here to see our
T&C
. For licensing please click
here
.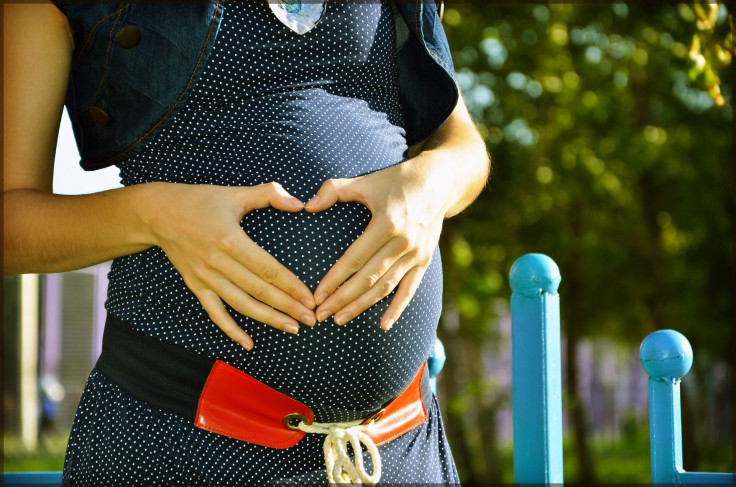 Although it can be delicate and well, painful later on, pregnancy is still a wonderful time for mothers. Most mothers are eager to celebrate their child's milestones, be it their first kick and such. Thankfully, celebrating these milestones has been easier because of the emergence of the fetal doppler, which lets you monitor your child's heart rate and movement while they're still inside the womb.
But with so many to choose from, it can be confusing. Here are some of the best ones you can find in the market today:
1. SpringBud FD-300B Fetal Doppler
Prenatal planning is something many mothers- and parents-to-be are striving for. Luckily the SpringBud FD-300B Fetal Doppler is here to help you do just that. This fetal doppler operates by letting you hear and monitor the heartbeat of your unborn child. It lets you know if everything is fine through the headphones, built-in speaker, and LCD monitor.
Convenient, portable and easy and safe to use due to guaranteed lack of radiation, this fetal doppler should help you be more at ease as you go through your pregnancy.
2. JPD-100B/FL-100B Fetal Doppler
The JPD-100B/FL-100B Fetal Doppler can be used to hear and monitor your baby's heartbeat from as early as the 12th week of pregnancy.
With stable performance and high reliability, this best-selling fetal doppler runs on only a pair of AA batteries to help you begin forming a bond with your child long before they are born. Lightweight, portable and with a built-in speaker and LCD screen, this fetal doppler is perfect for expecting parents.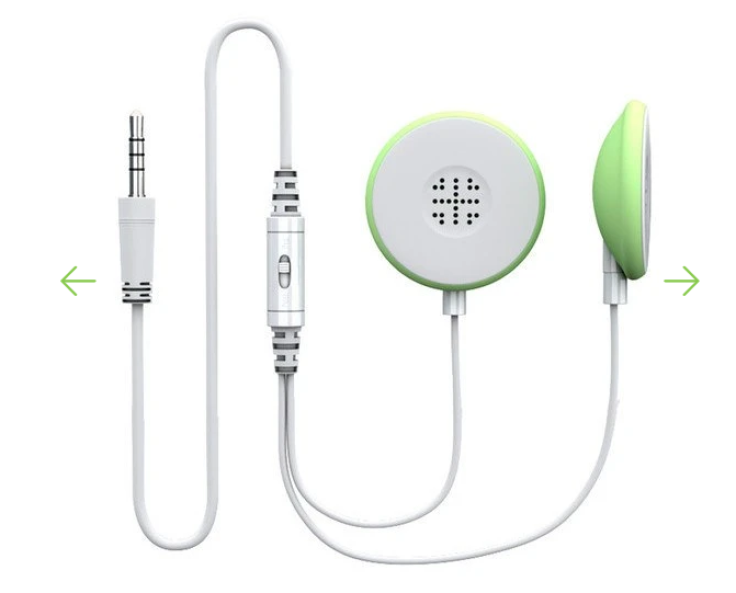 When it comes to fetal dopplers that are more functional than the usual, BellyBuds has it all. Working as a regular fetal doppler that lets you hear and monitor your baby's hearbeat and heart rate, BellyBuds also has the added function of letting memory-shaping sounds play directly to the womb, be it a soothing tune or a classical piece that is known to help develop their brains.
This lets you form a bond with your child even before they're born. Compact, sturdily-build and easy to carry, BellyBuds lets you bond with your bundle of joy anytime, anywhere.
4. Face Lake FD200 Fetal Doppler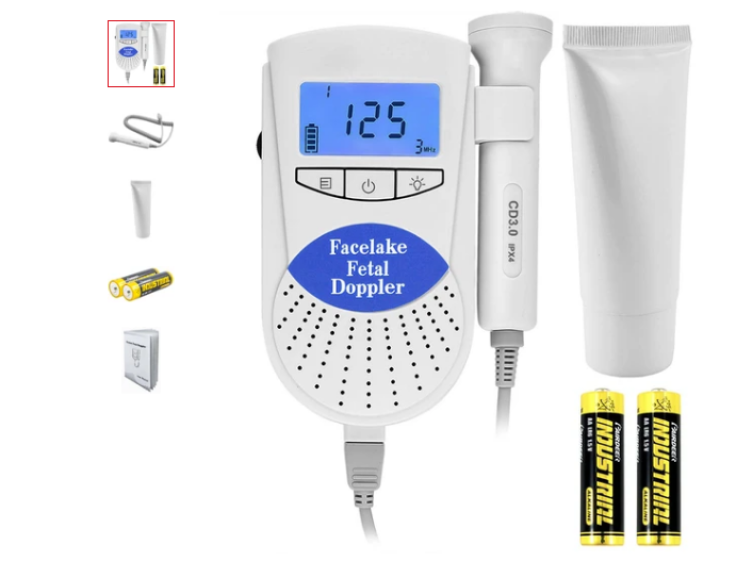 The FD200 is a pocket-friendly fetal doppler that lets you hear hiccups, kicks, and other movements of your unborn child, monitor their heart rate, and amplify the sound of their heartbeat while providing less static.
Powered by 2 AA batteries, this fetal doppler is compact and can be carried anywhere and also features a record button so you can playback the sound of your baby at a later time. Featuring a sturdy build and a backlit LCD screen, this fetal doppler is also FDA and CE approved, guaranteeing that it's indeed safe to use.
5. FIGERM Pocket Unborn Baby Sound Amplifier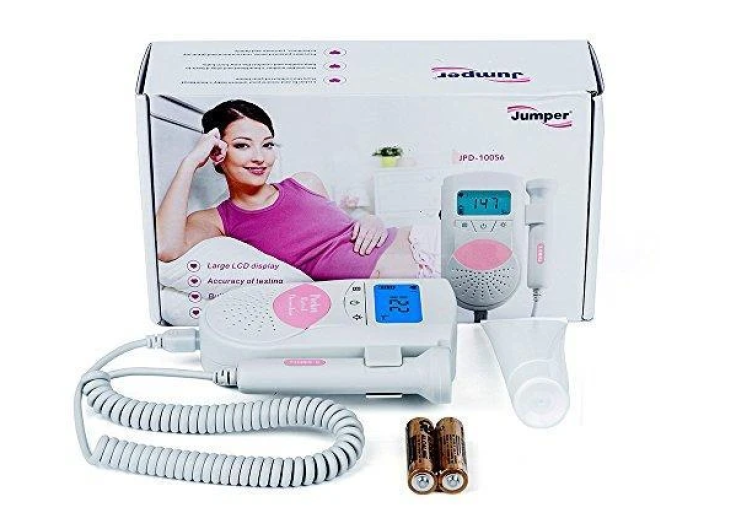 Up next is the FIGERM Pocket Unborn Baby Sound Amplifier, which is specifically made for home use. With the use of a pair of 1.5v batteries, this baby sound amplifier by FIGERM lets you hear the sound of your unborn baby's heartbeat, kicks and other movements through either the speaker or the headphone jack, which fits all types of standard headphones.
Easy to use and very lightweight, the device is also incredibly compact, and can be brought anywhere for easy baby listening. The device also comes with transmission gel.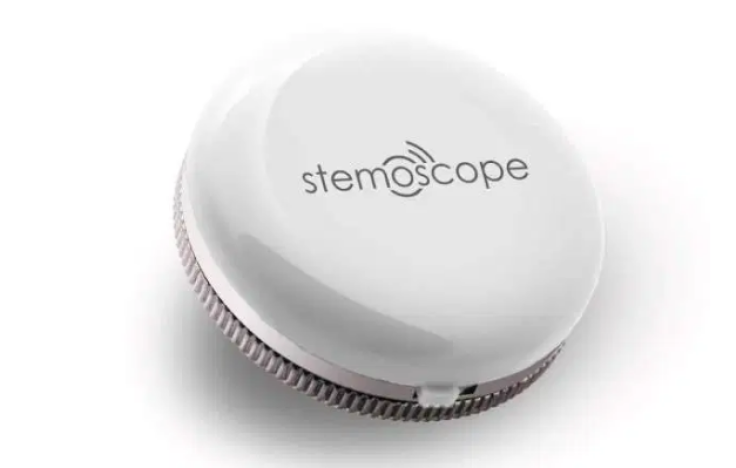 One of the more innovative items on this list, the Stemoscope connects to your smartphone via wireless connection and basically turns it into a fetal doppler, where you can listen to your baby's heartbeat, monitor their heart rate, or even record it for later.
Furthermore, not only can you hear the sounds, but the device also tells you what sounds you are hearing, whether it's their heart, a kick, or even a hiccup. Made with sturdy materials, the stemoscope can also be used by children for STEM Learning. Stocks are running out fast, and the piece is currently on sale.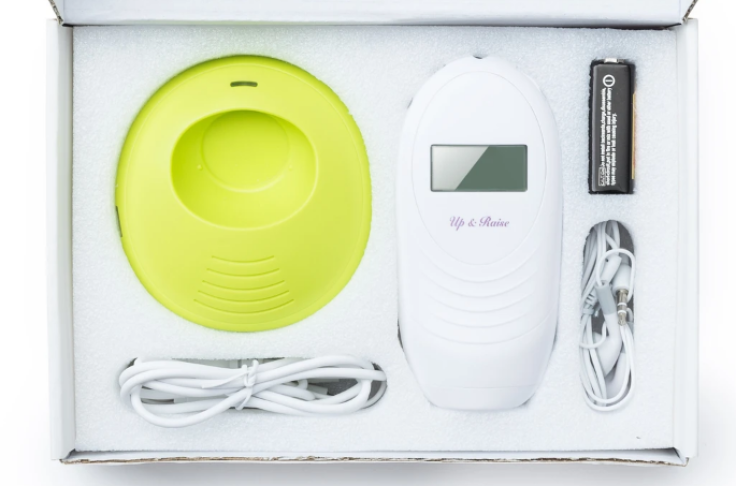 Best used after you reach your 16th week of pregnancy, this fetal doppler from Up & Raise works like a charm by amplifying your baby's heartbeat and letting you hear it through the device's built-in speakers. Additionally, you also have the option of recording your baby's heartbeat and let your partner or friends hear it later.
But if you'd rather listen with your partner, the unit comes with a cable splitter so the both of you can plug in two headphones and listen together. The Up & Raise Fetal Doppler uses a 9V battery, has two-day shipping, and 24/7 customer support from the manufacturer.
8. Sonoline B - Baby Heartbeat Tracker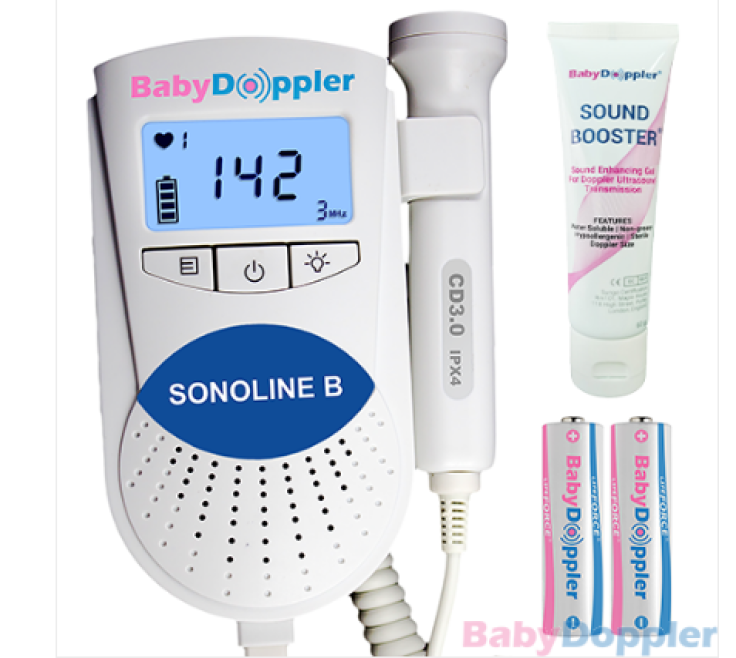 Expecting parents who are excited to hear their unborn child would benefit well from the Sonoline B- Baby Heartbeat Tracker from Baby Doppler.
Incorporating the use of the latest technology in baby listening, this device lets you hear your child's heartbeat with less static than usual, all while the LCD screen displays the heart rate. Currently, the device is on sale, and the product includes unlimited warranty to guarantee you get your money's worth.
9. SpringBud FD-500B FDA Fetal Doppler Detector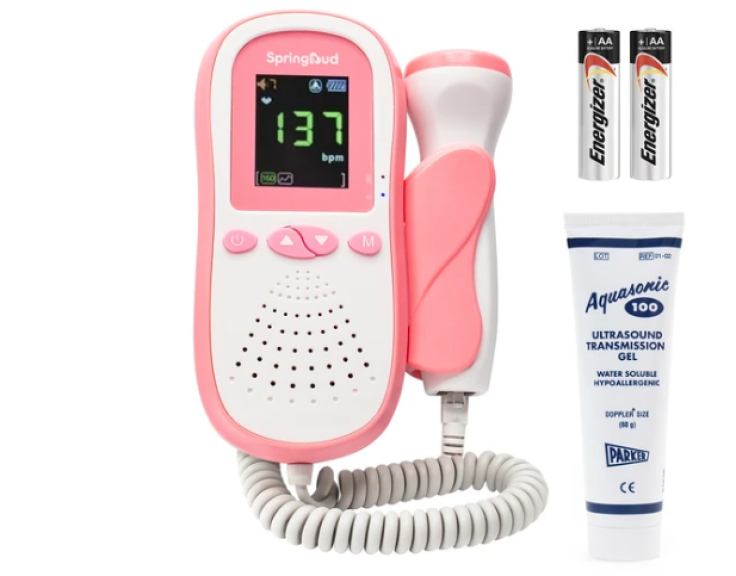 Excited to hear your child's heartbeat in the comfort of your own home? If so, then consider getting the SpringBud FD-500B FDA Fetal Doppler Detector. Specially made for home use, this fetal doppler is easy to use, and only requires ultrasound transmission gel and a couple of batteries to start detecting your baby's heartbeat and even measure its BPM.
Best of all, the product comes with a set of batteries and even a 60g transmission gel pack as a limited time offer. Additionally, the product also comes with a 1 year warranty.
10. EdanUSA Sonotrax II Doppler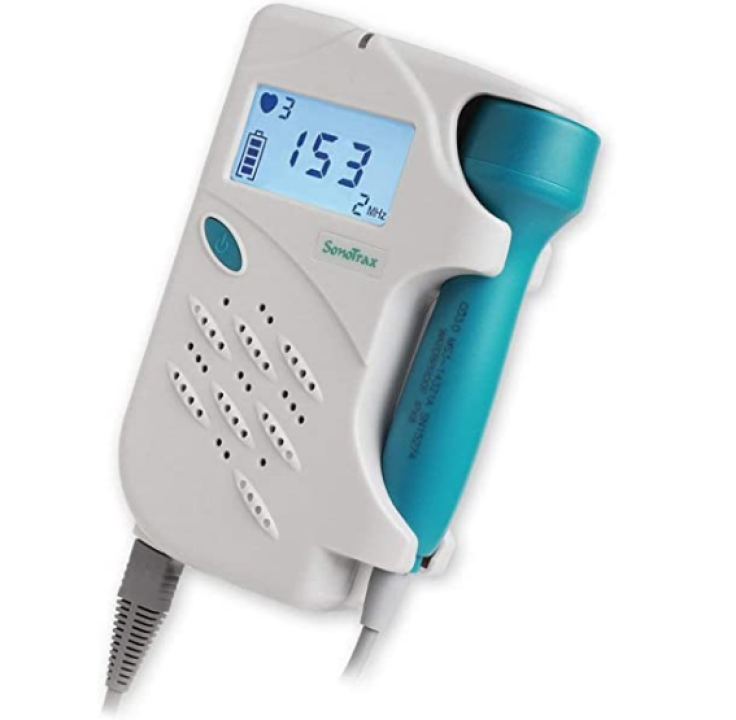 Next on the list is EdanUSA's Sonotrax II Doppler, which features an early detection feature, accurate FHR detection, and even a rechargeable battery to make sure you don't worry about going out to buy more.
While normal fetal dopplers are recommended to be used at least 12 weeks into pregnancy, this device can work as early as nine weeks, and can be used by expectant mothers who want to constantly check their babies, or even practicing midwives. It can also be used with an interchangeable waterproof probe as well.
11. Choicemmed MD800C5 Fetal Doppler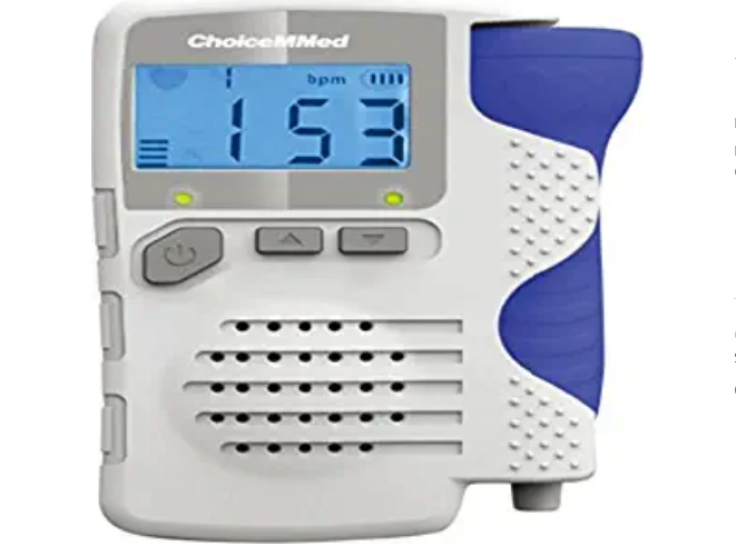 The Choicemmed MD800C5 is one of the most sensitive fetal dopplers around with up to 2mhz of detection. This guarantees the sounds you hear from it while monitoring your unborn child has extra clarity, as well as reduced static. Additionally, the built-in LCD screen also displays volume, battery pecentage, and the heart rate of your baby. Best of all, this device also passes USFDA and CE standards as well as a 1-year warranty, giving you peace of mind whenever you use it to monitor your baby as you go through your pregnancy.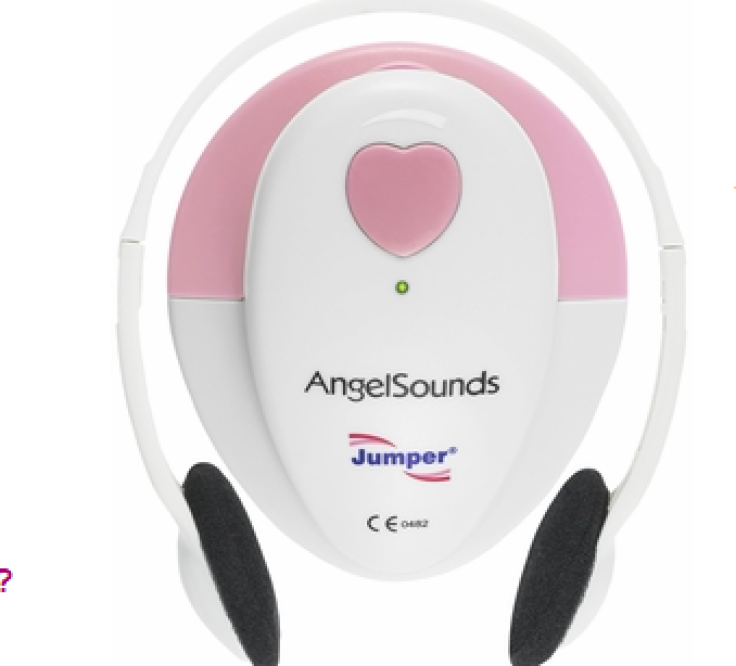 This fetal doppler from AngelSounds is the perfect device for mothers-to-be that are nervous about their pregnancy and want to monitor their baby to make sure everything goes fine. The device works by letting your hear your unborn baby's heartbeat and movement, giving you peace of mind as you go through your nine months of pregnancy. Additionally, expecting mothers who want to make more memories can also record their baby's heartbeat by simply connecting it to a recorder device.
With the AngelSounds JPD-100S, worried mothers can now enjoy the simple pleasure of listening to their baby's heart right in the comfort of their own home.
13. Edan SD1-B Ultrasonic Pocket Fetal Doppler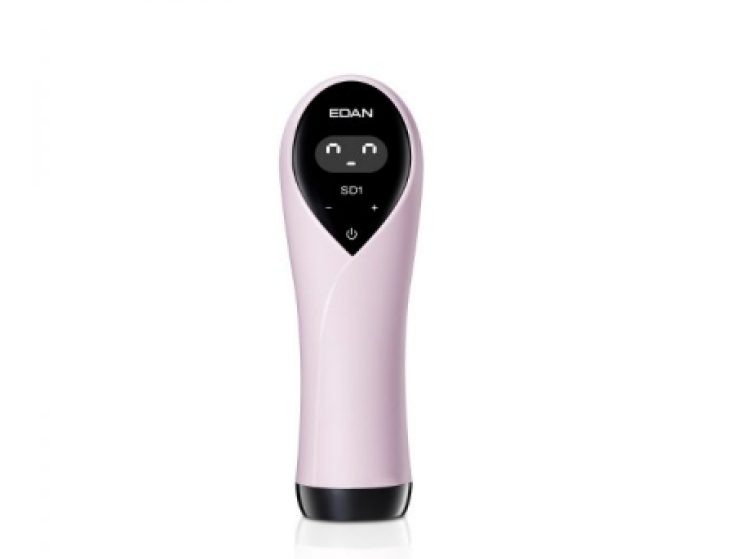 A pocket ultrasonic doppler that can be used in professional clinics, the Edan SD1-B is perfect for mothers-to-be. Combining a built-in speaker with a fetal heart rate digital display, the device works by using its 3MHz probe to detect your child's heartbeat, letting you track the growth of your baby.
Additionally, you can also pair the device with your phone via bluetooth to monitor your baby's health, giving you better peace of mind as you go through this delicate but beautiful period in your life.
FOLLOW MORE IBT NEWS ON THE BELOW CHANNELS