Toronto New Year's Eve Events 2016: The Best Parties, Performances And Shows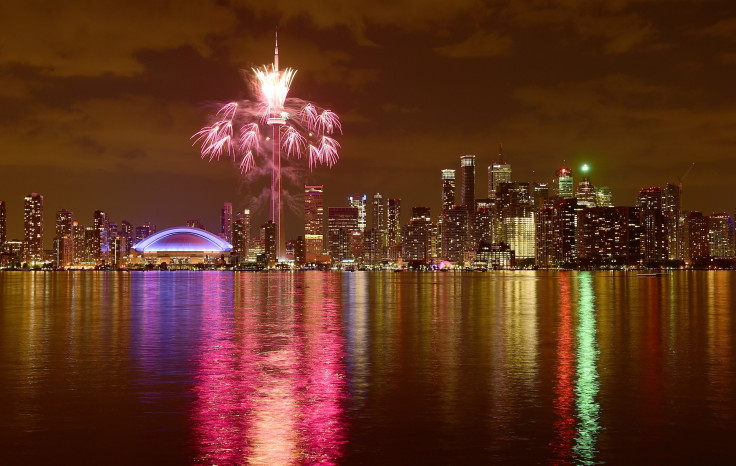 Still trying to figure out how to ring in 2016? If you're in Toronto, look no further. The Canadian city will be the host to tons of sparkly soirees to send out the old, and welcome in the new. Here are some of the best parties, performances and shows at all different price points around Toronto:
Skating Party at Nathan Phillips Square -- For families, the city's deputy major Denzil Minnan-Wong will host a free, all-ages skating party featuring musical entertainment from a live DJ. Food trucks will be on hand, and party-goers count down to 2016 during a firework show.
Cost: Free
Where: 100 Queen St. W
When: 8 p.m. local time
New Year's Eve Comedy Extravaganza -- Let this comedy festival have the last laugh of 2015. Hosted by comedian Shaun Majumder, the night will feature some of the best in comedy. Simon B. Cotter, an award-winning comedian, will headline the show. There will also be musical entertainment from The Two Headed Ian Dury Tribute Band.
Cost: Tickets range from $39.50 to $69.50
Where: Massey Hall, 178 Victoria Street
When: 7:30 p.m. local time
Toronto Operetta Theatre New Year's Eve Gala- The highly acclaimed opera house will hold a celebration that may be one of the most sophisticated in town. Attendees will be treated to a performance of "The Student Prince" followed by a three-course dinner and party at the renowned HotHouse Restaurant and Bar, just steps from the opera house. Guests will be able to dance the night away and cheers with a champagne toast at midnight.
Cost: Tickets range from $187 to $195
Where: 947 Queen St E
When: 6:30 p.m. local time
Dwayne Gretzky New Year's Eve Performance -- Guests at the Danforth Music Hall can dance away the night until the clock strikes 12 as the cover band plays classic tunes such as "Ballroom Blitz" and "Dancing in the Dark."
Cost: Tickets range from $25 to $35.
Where: 147 Danforth Ave.
When: 9 p.m. local time
Bloor Hot Dogs Cinema -- The Toronto cinema will offer an uncovential celebration this New Year's with a screening of the Coen brothers' film "The Big Lebowski." The showing will be followed with a White Russian bar and a free drink and popcorn.
Cost: Tickets range from $17 to $21
Where: 506 Bloor St. W
When: 8 p.m. local time
© Copyright IBTimes 2023. All rights reserved.