Trans Pacific Partnership: House Approves Fast Track Trade Bill In Close Vote; Headed To Senate Next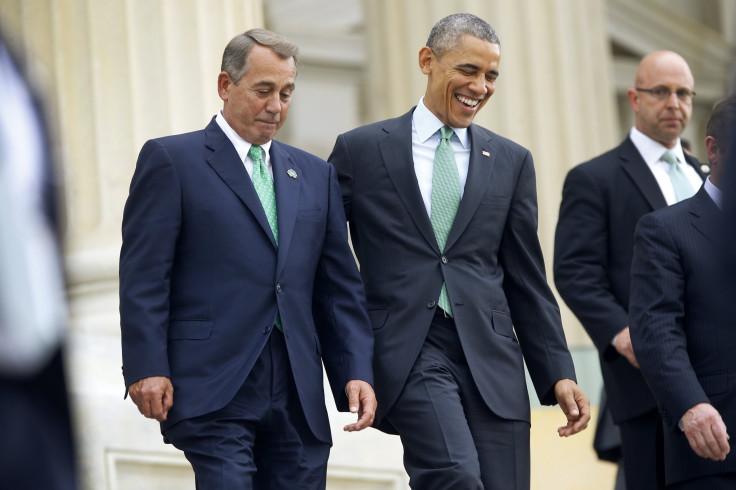 With pledges of help from House Speaker John Boehner, R-Ohio, and Senate Majority Leader Mitch McConnell, R-Ky., the House of Representatives voted for a six-year renewal of trade promotion, giving the president fast-track trading authority. The bill now heads to the Senate and, if passed, will make it easier to enact the Trans-Pacific Partnership, a 12-nation trade pact with Asia-Pacific nations touted by President Barack Obama.
Boehner and McConnell issued a rare joint statement Wednesday pledging their support to ensure that both the Trade Promotion Authority (TPA) and Trade Adjustment Assistance (TAA) bills -- both widely seen as essential preliminaries to approval of the Trans-Pacific Partnership -- reached the president's desk.
"We are committed to ensuring both TPA and TAA get votes in the House and Senate and are sent to the president for signature," the two Republican leaders said.
The bill passed the House 218-208, with 190 Republicans and 28 Democrats voting in the affirmative. There were 10 abstentions.
The proposal has faced harsh criticism and opposition from both the right and left. Jim Dean, chair of the liberal advocacy group Democracy for America, implored Democrats not to vote for the bill and urged constituents to punish those who did. "Any Democrat in Congress who trusts John Boehner or Mitch McConnell to pass trade adjustment assistance, that will actually help working families, deserves to lose their job," said Dean, according to USA Today.
The push against TPA and TAA has been largely the work of labor unions, who say the trade bills would hurt American workers. AFL-CIO President Richard Trumka celebrated TPA's earlier defeat in the House as a "significant day," and unions around the country have put pressure on lawmakers to oppose the bill, with some spending hundreds of thousands of dollars on ads to oppose Democrats who pledged to vote for fast-track.
"American workers came together and spoke with one voice about the path their country and economy should follow," Trumka told Politico.
On the right, Jim DeMint, former South Carolina senator and current president of the Heritage Foundation, a conservative advocacy organization, came out strongly opposed to both TPA and TAA, in an op-ed for the Daily Signal.
"Human rights, worker safety, and environmental protection are worthy goals but should not be shoehorned to fit into or alter an unrelated trade agreement," DeMint wrote. "I know free trade, and this isn't it."
DeMint largely expressed opposition to the Trade Adjustment Assistance portion of the bill, a key provision in the bill that Republicans have objected to and Democrats have said is a necessity to pass the trade bill.
"Research by The Heritage Foundation and many others shows that TAA does not help participants get back on their feet," DeMint wrote. "An evaluation by Mathematica found the program financially hurt not only the taxpayers but even the participants themselves. The Government Accountability Office confirmed these retrained workers make less money than their non-TAA-assisted counterparts."
© Copyright IBTimes 2022. All rights reserved.
FOLLOW MORE IBT NEWS ON THE BELOW CHANNELS