TPP Agreement: Where Do 2016 Presidential Candidates Stand On The Trans-Pacific Partnership?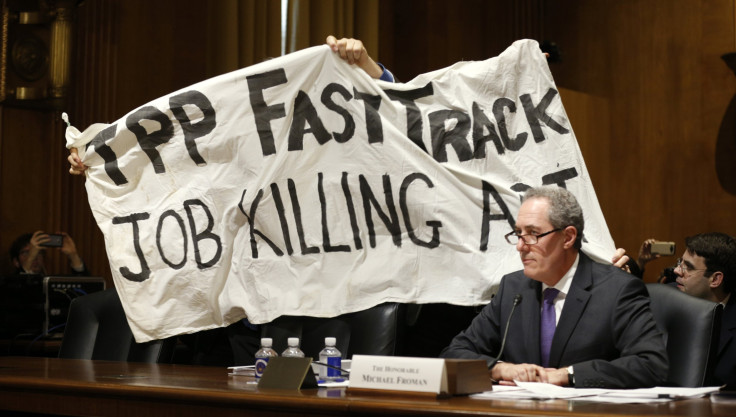 A controversial trade deal among the U.S. and other North American, South American and Asian nations and the mechanism to approve the pact are making for some strange bedfellows. President Barack Obama is pushing for the deal, known as the Trans-Pacific Partnership, and he enjoys the support of 2016 Republican candidates including former Florida Gov. Jeb Bush, ex-Texas Gov. Rick Perry and U.S. Sens. Rand Paul of Kentucky and Ted Cruz of Texas. Meanwhile, Obama has no backing for his trade agenda among Democrats seeking to succeed him in the White House. Former Maryland Gov. Martin O'Malley and Vermont Sen. Bernie Sanders oppose the TPP, while ex-Secretary of State Hillary Clinton has yet to take a firm stand.
The trade deal -- which is being negotiated among 11 nations: Australia, Brunei, Canada, Chile, Malaysia, Mexico, New Zealand, Peru, the U.S., Singapore and Vietnam -- would cover 800 million people and represents 40 percent of global gross domestic product, according to the U.S. Trade Representative's office. It's unclear exactly what is in the deal since it is being negotiated in secret by leaders of the 11 countries. The fast-track legislation was set for a Tuesday afternoon vote, but some Senate Democrats opposed to the bill said they would block it, meaning it wouldn't come up for debate, Politico reported.
The Republicans who support Obama's negotiations on the TPP and legislation that is known as Trade Promotion Authority, which provides a fast-track for trade deals that leaves Congress without the ability to amend the pacts, say the pending trade agreement will reduce the costs of doing business in the countries involved in the deal. But the Democrats who aren't siding with the president say the TPP will harm American families by diverting jobs overseas and lowering wages domestically.
"The Trans-Pacific Partnership is a disastrous trade agreement designed to protect the interests of the largest multinational corporations at the expense of workers, consumers, the environment and the foundations of American democracy," Sanders said. "It will also negatively impact some of the poorest people in the world."
O'Malley hit a similar note during an interview with NPR, saying he also was against the legislation tied to the deal because lawmakers won't actually be privy to its details until they vote. "What's wrong with it is first and foremost that we're not allowed to read it before representatives vote on it," he said late last month. "What's wrong with it is that right now what we should be doing are things that make our economy stronger here at home. And that's my concern, that the Trans-Pacific Partnership, this deal, is a race to the bottom, a chasing of lower wages abroad. And I believe that that does nothing to help us build a stronger economy here at home."
Clinton was evasive on the possible trade deal during a campaign stop in New Hampshire in late April despite siding with Obama on the pact when she was secretary of state, the Washington Post reported. "Any trade deal has to produce jobs and raise wages and increase prosperity and protect our security," she said. "We have to do our part in making sure we have the capabilities and the skills to be competitive."
While Obama usually faces resistance from Republicans on almost every part of his agenda, the two sides generally agree on the trade deal.
"Instead of just talking about a so-called 'pivot to Asia,' the Obama administration should prioritize negotiating the Trans-Pacific Partnership by year's end," Paul said in an Oct. 23 speech.
In an April 21 Wall Street Journal op-ed co-authored with Rep. Paul Ryan, R-Wis., Cruz said the TPP and another potential trade pact with European nations "would mean greater access to a billion customers for American manufacturers, farmers and ranchers."
Perry also came out in support of the deal. "Gov. Perry has always supported free trade and its positive impact on economic growth and job creation," a spokesman told Breitbart. "He believes America can achieve robust economic growth and job creation, similar to what has occurred in Texas, with trade agreements like the Trans-Pacific Partnership."
Bush announced he was in favor of the deal while also taking a swipe at Clinton. "I haven't changed in my view even though Hillary Clinton has," he wrote on Medium, suggesting the Democratic frontrunner was pandering to the left, which generally opposes the pact. "It is time to move forward as even recent Democratic presidents have recognized  -- and Secretary Clinton shouldn't stand in the way for political gain."
Not all 2016 candidates on the Republican side are with Obama on the trade deal. Former Arkansas Gov. Mike Huckabee expressed concern over fast-tracking the pact and how American workers will be affected. He also referred to the practice of other countries devaluing their currencies to hike the cost of exports and make imports cheaper.
"When there's cronies involved and getting a special deal and when other countries are cheating and Americans lose jobs, I'd like to think the U.S. government would stand up for the U.S. workers rather than let them take it in the backside and somehow just have to tough it out." Huckabee said, according to Politico.
Former Hewlett-Packard CEO Carly Fiorina, who announced earlier this month she would seek the GOP nomination in 2016, said she was troubled by the secrecy of the agreement. "The truth is, we don't know what's in this deal. I think it's important to understand some of the fine print of what's in this deal," she said on "Meet the Press" Sunday. "For example, is China allowed to join this Pacific trading agreement in a couple of years, yes or no?"
FOR FREE to continue reading
✔️ Unlock the full content of International Business Times UK for free
offer available for a limited time only
✔️ Easily manage your Newsletters subscriptions and save your favourite articles
✔️ No payment method required
Already have an account?
Log in
© Copyright IBTimes 2023. All rights reserved.