Trevor Noah Has An Offer For President Trump Involving Uganda
Trevor Noah's latest jab at President Donald Trump wasn't on Comedy Central's "The Daily Show." Instead, it was in newspapers across the country.
Noah ran an ad for a fake law firm that's clearly targeted toward one person.
"Are you a soon-to-be ex-president? About to lose legal immunity? Has your lawyer gone to jail? Call the very fine people on YOUR side," the full-page ad for "Trevor Noah & Associates & Sons presidential attorneys" reads.
The ad encourages readers to call 1-210-WH-CRIME (1-210-942-7463), which is a functional phone number. Callers who are the President are told to press 1 at which point they are offered an escape to Uganda, which does not extradite to the U.S.
"It's a beautiful country with a strong, goat-based economy," Noah's voice says. "At any time on or before Jan. 20, 2021, I can transfer you—and any member of your family you actually like—to Uganda. I can provide this service for, oh, I don't know, $10 million? Let me know."
Callers who press 2 are treated to a different voice. "Congratulations on not being the president," she says cheerfully. She encourages callers to visit votevotevote.com and make a plan for election day.
Deadline reports that Noah's advertisement appeared Thursday in the New York Times, Washington Post and Los Angeles Times. The ad comes as "The Daily Show" is nominated for five Emmys, including Best Variety Talk Series. The Emmy voting period ends next week.
Trevor Noah was trending on Twitter Thursday both for the funny ad and the South African comic's serious comments about Jacob Blake made during the Wednesday night show. Blake was shot seven times in the back while walking to his car in front of his children.
"Why do some people get shot seven times in the back, while other people are treated like human beings and reasoned with and taken into custody with no bullets in their bodies?" Noah asked.
"How come Jacob Blake was seen as a deadly threat for a theoretical gun that he might have and might try to commit a crime with, but this gunman who was armed and had already shot people who had shown he was already a threat was arrested the next day, given full due process of the law and generally treated like a human being whose life matters?"
"The Daily Show" airs weeknights on Comedy Central.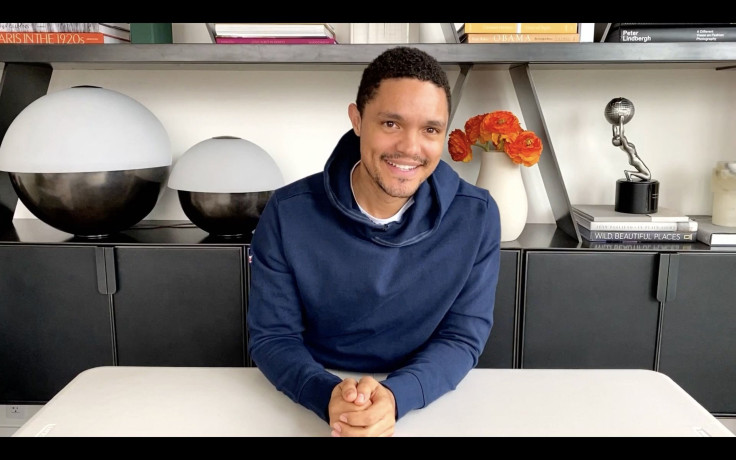 © Copyright IBTimes 2023. All rights reserved.