Tristan Thompson Bonds With True Amid Claims He's 'Done Nothing To Support' 3rd Child
KEY POINTS
Tristan Thompson shared a video from his night out at a restaurant with his 3-year-old daughter True
He said his father-daughter dates with True were his "favorite type of date nights"
Maralee Nichols claimed Thompson hasn't taken any initiatives to get involved in their son's life
Tristan Thompson recently took time to bond with his daughter with Khloe Kardashian amid Maralee Nichols' claims that he hasn't made any effort to meet or support their son.
On Thursday, the NBA player, 30, shared on his Instagram Story a video from his night out at a restaurant with his 3-year-old daughter True, People reported.
In the clip, Thompson smiled as he filmed True sitting next to him eating dinner. He gave his baby girl a kiss on the cheek as she giggled.
"My favorite type of date nights," he wrote alongside the clip.
Last week, Thompson also shared a snap of him hugging True as she smiled sitting on his lap.
His post came shortly after Nichols, with whom Thompson shares a newborn baby boy, criticized him for his alleged lack of support as a father.
While he initially denied conceiving a child with Nichols in March 2021 — while he was dating Kardashian — Thompson confirmed his paternity in January, saying in a statement that he plans to "take full responsibility" for his actions and to "amicably" raise his son with Nichols.
However, earlier this week, Nichols claimed that the Sacramento Kings player hasn't taken any initiatives to get involved in their son's life.
"Despite news reports stating otherwise, Tristan Thompson has done nothing to support their son. He has not made any attempt to meet their son nor has he provided any financial assistance," Nichols' representative said in a statement sent to People Tuesday. "In the future, we hope that reporters covering this situation contact us to confirm any facts before publishing."
The statement came after reports surfaced that Thompson is paying thousands of dollars to Nichols as well as the two other mothers of his children. He also shares 5-year-old son Prince with Jordan Craig.
Thompson's rep has not responded to requests for comment, the outlet noted.
While confirming his paternity on Instagram last month, Thompson also apologized to Kardashian, saying she "[doesn't] deserve this."
"You don't deserve the heartache and humiliation I have caused you," Thompson continued. "You don't deserve the way I have treated you over the years. My actions certainly have not lined up with the way I view you. I have the utmost respect and love for you. Regardless of what you may think. Again, I am so incredibly sorry."
The professional basketball player and Kardashian began their on-again, off-again relationship in 2016. They broke up in 2019 following Thompson's cheating scandal with Jordyn Woods but reconciled in 2020 as they quarantined together during the pandemic.
However, Thompson and Kardashian called it quits once more in summer 2021.
A source told Us Weekly last month that Kardashian will "continue to co-parent" with Thompson and "loves" how he treats True but doesn't plan to get back together with him again.
"Since she has been hurt by him before, she's hardened and is not as sad and torn up about it this time," the unnamed insider said. "[She's] focusing on herself, her business and her daughter."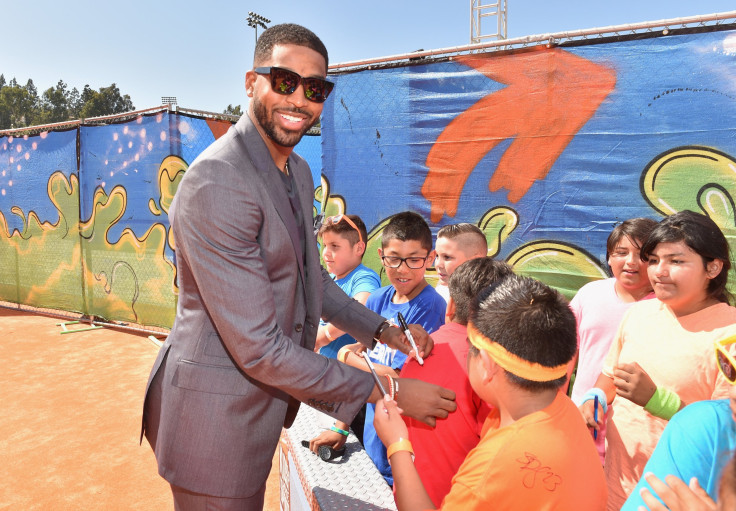 © Copyright IBTimes 2023. All rights reserved.