Trump Approval Rating: 47% Of Americans Disapprove Of His Response To George Floyd Protests
KEY POINTS
About 47% Americans disapproved, while 36% supported President Donald Trump's response to the George Floyd protests
Support for the protests was at 46%, however, 76% disapproved of the looting and violence
At least 47.4% said they will vote for Trump, if the elections were held today
Nearly half of Americans disapprove of President Donald Trump's response to the George Floyd protests, a new poll revealed amid his claims he is the president of "law and order."
Some 47% of Americans did not approve, while 36% supported how Trump handled the protests, riots and incidence of looting that was happening across the country for days following the death of Floyd, an African American who died while in police custody.
The poll, conducted by Nexstar Media and Emerson College between June 2 and 3, also showed while 46% of Americans supported the protests, an overwhelming 76% said they disapproved of the looting and other acts of violence that occurred during the street demonstrations.
During his first address to the nation amid the rallies on Monday (June 1), Trump said he would deploy "thousands and thousands" of civilian and military personnel to go after lawbreakers.
The president also invoked threats of arrests, sanctions and prison time against the anarchists, arsonists, looters, rioters and Antifa, and vowed to protect peace-loving Americans.
"I will fight to protect you. I am your President of law and order and an ally of all peaceful protesters," the president said.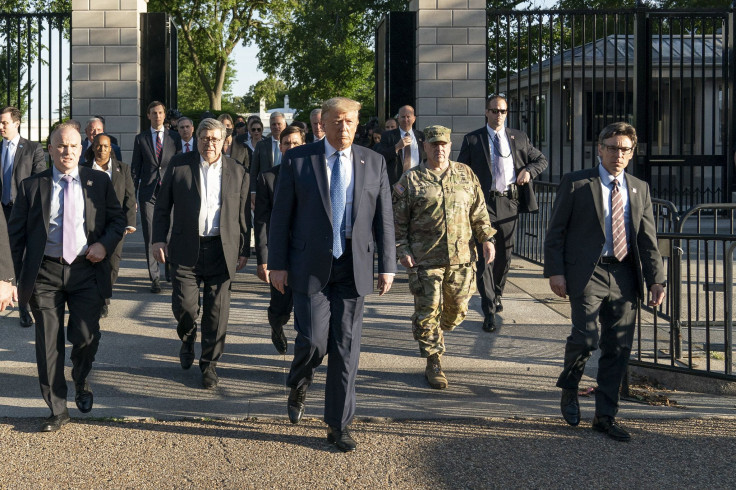 The poll also showed 87% believe Derek Chauvin, the Minneapolis Police Department's former officer accused of killing Floyd, should be criminally charged.
State prosecutors updated the charges against Chauvin to second-degree murder on Wednesday (June 3). His companions, police officers Thomas Lane, J. Kueng and Tou Thao, faced charges of aiding and abetting second-degree murder and second-degree manslaughter, reported Fox News.
However, 42% of Americans believe Chauvin should have been charged with first-degree murder, while only 6% said Lane, Kueng, and Thao shouldn't be criminally liable.
The poll also found 65% were of the opinion white people received better treatment from the police than the minorities. The respondents were equally divided on whether they think the protests will help reduce police brutality, and 54% were hopeful the race relations in America will improve after the rage has subsided.
Even though nearly a majority disagreed with Trump's response, 47.4% said they will vote for the incumbent if the elections took place today, while 43.1% said they would go for Democratic leader Joe Biden. Meanwhile, 9.5% picked undecided.
More than half of the respondents (53.5%) think Trump will continue to stay in the White House for four more years after the November 2020 elections.
© Copyright IBTimes 2023. All rights reserved.