Trump News: Campaign Test Drives Trump TV, Launches Nightly Facebook Live Newscast To Counter 'Left-Wing Media Bias'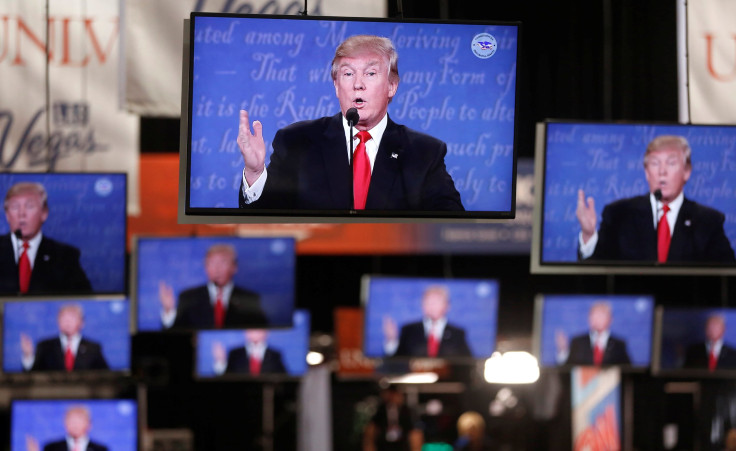 The Trump campaign Monday launched a nightly news show on Facebook Live to counter what Republican presidential nominee Donald Trump has called media bias.
"[We're] excited to be bypassing the left-wing media," host Boris Epshteyn said in opening the inaugural segment, which he co-hosts with fellow Trump adviser Cliff Sims from Trump Tower.
The first 6:30 p.m., 30-minute stream featured Trump campaign manager Kellyanne Conway and Sean Spicer, communications director and chief strategist of the Republican National Committee, Mediaite reported. Conservative pundit Tomi Lahren of the Blaze delivered an opinion segment titled "Final Thoughts."
The show also featured an undercover video from Project Veritas Action purporting to show Democracy Partner's campaign consultant Robert Creamer giving the OK for operatives dressed as Donald Duck to follow Trump to campaign events and ask why he was "ducking" release of his tax returns.
Trump's children and various surrogates are expected to take part as well on subsequent installments.
The show, which will air nightly during weeknights in the lead-up to the Nov. 8 election, is to serve as a lead-in to Trump's nightly campaign rallies, which also will be streamed live.
"This is a historic movement. Together, we will once again make a government by, for, and of the people! Help us close out the final weeks of this campaign strong and win," Trump posted on Facebook Monday.
Epshteyn and Sims said the broadcast is a way to capture Trump's social media prowess, the Hill reported.
Media reports have indicated Trump is considering launching a television network after the election, but the candidate has denied the suggestion. Some suggested the Facebook Live effort is a way to test drive the proposal. CNNMoney reported Trump confidants have held informal conversations about the possibility, including a meeting between Trump son-in-law Jared Kushner and investment banker Aryeh Bourkoff.
"We all know how strong the left wing media bias is. This is us delivering our message to voters," Epshteyn told Wired. "It has nothing to do with Trump TV. It's about using 21st-century technology and communication in a way that's effective."
Before last week's final debate with Democrat Hillary Clinton, Trump's Facebook Live broadcast garnered 200,000 simultaneous viewers, which CNNMoney said is high compared to other viewership figures on the web. After it was archived, viewership rose to 8.6 million Facebook users, CrowdTangle data indicated, topping debate streams from ABC and Fox.
© Copyright IBTimes 2023. All rights reserved.
FOLLOW MORE IBT NEWS ON THE BELOW CHANNELS