Trump Rally In Tulsa: Supporters Flock Into Town, Sparking 'Super Spreader' Fears
KEY POINTS
Trump supporters have been converging at the BOK Center in Tulsa, Oklahoma since Monday
Over 100,000 supporters are expected at Trump's first rally since the coronavirus lockdown
The rally in Tulsa is feared to become a super spreading event despite the safety protocols
Supporters of President Donald Trump are camping out with water coolers, hauling tents and umbrellas, and setting portable chairs at the BOK Center in Tulsa, Oklahoma days ahead of his first campaign rally since the corona virus lockdown.
On Monday (June 15), Robin Stites, a 58-year-old resident of Sallisaw, Oklahoma, secured the second spot in the line forming at the entrance of the rally's venue. Trump's rally in Tulsa will take place on Saturday (June 20) but she told The Oklahoman that she and her friends, who have portable chairs while waiting in line, are prepared to make the sacrifice.
"A week of our lives is nothing for what Trump has done for us," Stites said.
First-time voter, Stephen Corley, 19, said that he is excited about attending the rally as he's "always had an appreciation for Trump." He and his friend, Preston Hanning, 25, have driven by the BOK Center a few times and are packing tents and water coolers to join the line, AZ Central reported.
James Massery, a 57-year-old Trump supporter from Preston, Oklahoma, said that he used his vacation days at work so as not to miss this rally. He believes this will be history in the making as it is the first major campaign rally since the corona virus stalled much of the United States and the rest of the world.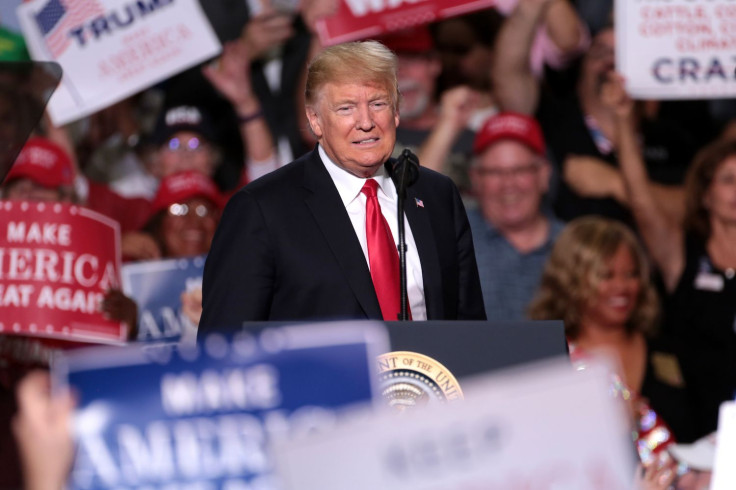 Many fear Trump's Tulsa rally will become a COVID-19 "super spreader" event with over 100,000 supporters expected to attend. A super spreader event happens when many people get infected by a virus through contact with just one infected person during a mass gathering.
Health experts, including Tulsa's Health Department director, Dr. Bruce Dart, had been hoping that Trump's campaign would postpone the rally amid rising COVID-19 cases in Tulsa.
"I'm concerned about our ability to protect anyone who attends a large, indoor event, and I'm also concerned about our ability to ensure the president stays safe as well," Dart said, per NBC News.
Organizers of the Trump campaign have been saying that they will implement safety protocols during the rally. Supposedly they will ask people for temperature checks and offer face masks and hand sanitizers, which they will not require them to use.
They will also ask attendees to sign a waiver stating they cannot sue the Trump campaign if they get COVID-19.
© Copyright IBTimes 2023. All rights reserved.